Chinese cinema is an interesting study. From cult movies like Kung Fu Hustle to IP Man, Kung Fu has played a significant role in the Chinese film industry. However, Kung fu and other martial arts are not the only things that define Chinese cinema. Unlike Hollywood movies, Chinese movies do not focus on glamour, extravagance, and escapism but focus on the realistic and often poignant portrayal of characters and entities which appeal to the emotions of the audiences.
The Chinese movie industry has had a tumultuous history. In the midst of a slew of political, social, and geopolitical turmoils and upheavals like The Cultural Revolution, the industry has survived and thrived.
Here, we bring to you the 20 best Chinese movies of all time, including those outside of mainland China like Hong Kong, to indulge in while delving into this unique industry.
20. Raise the Red Lantern
Director- Zhang Yimou
Writer – Ni Zhen
Cast – Gong Li, Ma Jingwu, He Saifei, Cao Cuifen, Jin Shuyuan
IMDb Rating- 8.1
Rotten Tomatoes Score- 97
Streaming Platform- Amazon Prime
A tragic tale set in 1920s China, this is the story of a young woman, Songlian, a nineteen-year-old grieving daughter who is forced to marry into the wealthy Chen clan as the fourth concubine of Master Chen.
The initial luxuries that she is allowed to indulge in are soon discovered to be temporary and granted only when the master wants to spend the night with a mistress, in which case the red lanterns adorn the chamber of that mistress. Pitted against each other for attention and prestige in the house, she soon realizes that she and the other mistresses are stuck in a place where they are under the whim of a Master.
Drawing a parallel between the then-political situation of China and the story, this is a very metaphorical expression of the real-life situation, embellished with colorful sets and exotic locations and counted amongst the best movies of all time.
19. Devils on the Doorstep
Director -Jiang Wen
Writer – Shu Ping, Shi Jianquan, Jiang Wen, You Fengwei
Cast – Jiang Wen, Kagawa Teruyuki, Yuan Ding, Jiang Hongbo
IMDb Rating- 8.2
Rotten Tomatoes Score- 91
Streaming Platform- Amazon Prime
Set against the backdrop of the Japanese invasion, this film follows the story of a small village where two prisoners of war, one of the Japanese soldiers and another a Chinese translator working for the Japanese army, are deposited in the hands of a peasant, Ma Dasan with instructions to keep them alive for a fortnight. Panic ensues in the village to keep them alive while not letting them escape. When even after the stipulated time, the man doesn't return to take these prisoners, the village struggles with the choice of killing or sparing the prisoners.
What will they do to the prisoners? What will happen to the village when the scheme unravels in front of the armies? Tune in to delve into this deliberate Black and white war drama.
18. Farewell My Concubine
Director- Chen Kaige
Writer- Lu Wei, Lilian Lee
Cast- Leslie Cheung, Zhang Fengyi, Gong Li
IMDb Rating- 8.1
Rotten Tomatoes Score- 87
Streaming Platform- Amazon Prime, Netflix
A historical drama about two Chinese opera artists, Douzi and Shitou, and how their friendship is challenged by the rapidly changing Chinese social and political structure.
Douzi, who has feminine features, is conditioned to play feminine characters even though he struggles initially. Together, both adopt the stage names Cheng Dieyi and Duan Xiaolou and act out the famous play Farewell My Concubine, where Deiyi plays Consort Yu, the feminine character, and Xiaolou plays Xiang Yu. When Xiaolou marries Juxian, a former prostitute, the unrequited love on Douzi's part and Xiaolou's reticence cause the degradation of their friendship.
What is their fate? Tune in to this tearjerker historical drama taken to as one of the best Chinese movies to find out.
Related: The 25 Best Romantic Chinese Dramas to Watch (2023)
17. In the Mood For Love
Director – Wong Kar-wai
Writer – Wong Kar-wai
Cast- Maggie Cheung, Tony Leung
IMDb Rating- 8
Rotten Tomatoes Score- 91
Streaming Platform- Amazon Prime
Chow Mo-wan, an expatriate journalist, and Su Li-Shen, s secretary in a shipping company, are neighbors in a Shanghainese apartment. As their work demands long hours, theirs is just an acquaintance when the earth slides out of their feet, and they realize that their spouses are cheating on them by having an affair. The shared hurt and betrayal result in an unusual friendship between the two blossoms into sweet feelings of romance.
But what is the fate of this unexpected romance? Hesitant to cheat their partners like they were cheated, will the romance come to fruition? Join in on the emotional ride of love, loss, and years gone by.
16. Ip Man
Director – Wilson Yip
Writer – Edmond Wong, Chan Tai-lee
Cast – Donnie Yen, Simon Yam, Lynn Hung, Gordon Lam, Fan Siu-wong, Xing Yu
IMDb Rating- 8
Rotten Tomatoes Score- 86
Streaming Platform- Amazon Prime
The first movie in the movie series, Ip Man, is the story of a talent shoved into the limelight by fate and destiny. Keeping a low profile and focusing on his skills, Ip Man is discovered to the public by a troublemaker boy who saw him sparring with a master.
So begins Ip Man's bumpy road to fame. Want to ride through the bumps with him? Join in on the ride that Bruce Lee's master went through.
15. Infernal Affairs
Director- Andrew Lau, Alan Mak
Writer- Alan Mak, Felix Chong
Cast- Andy Lau, Tony Leung, Anthony Wong, Eric Tsang
IMDb Rating- 8
Rotten Tomatoes Score- 94
Streaming Platform- Netflix
What happens when an undercover cop amongst the gangsters tries to uncover a mole of the gangsters in the cop's search for each other? Absolute mayhem and unforeseen action. When a cop, Chan Wing-Yan, is assigned an undercover mission to be in the midst of Triad, a deadly gang, the Gang head, Hon Sam, sends a Mole Lau kin Ming to the Hong Kong Police Department, unknowing of their same plan.
As both the Triad and Police force realize that they have an imposter in their midst, both try to catch each other by the necks and save theirs. Who will be caught? Tune in to find out.
Related: The 40 Best Chinese Anime to Watch Right Now (2023)
14. Crouching Tiger, Hidden Dragon
Director- Ang Lee
Writer- Wang Hui-ling, James Schamus and Kuo Jung Tsai
Cast – Chow Yun-fat, Michelle Yeoh, Zhang Ziyi, and Chang Chen
IMDb Rating- 7.9
Rotten Tomatoes Score- 97
Streaming Platform- Amazon Prime
A 2000 wuxia movie, Crouching Tiger, Hidden Dragon is a story about a fabled 400-year sword and how it transforms the lives of many when it gets stolen. Set in 19th century China, Li Mu Bai and Yu Shu Lien are two friends being famed Wudang swordsmen and Machete woman warriors, respectively. Both love each other but haven't confessed in a misplaced sense of loyalty to the memory of a common friend, Meng Sizhao, who was engaged to Shu Lien prior to his death.
When Mu Bai decides to retire, he assigns his 'Green Destiny,' a 400-year-old sword, to their benefactor, Sir Te, in Beijing. When the sword gets stolen, Shu Lien embarks on a quest to find it and return it to its rightful place. A sword that can destroy every other sword irrespective of the skills of the wielder, how will Shu Lien save the sword from the thief? Will she be able to do so? How many secrets will the sword be unearthing? Packed with intricate action sequences, a specific broken sword, and lessons about love and life, this movie is a binge-worthy experience. Tune in to find out.
13. Kung Fu Hustle
Director – Stephen Chow
Writer – Stephen Chow, Huo Xin, Chan Man-keung, Tsang Kan-cheung
Cast- Stephen Chow, Eva Huang, Yuen Wah, Yuen Qiu, Danny Chan Kwok-kwan, Leung Siu-lung
IMDb Rating- 7.7
Rotten Tomatoes Score- 90
Streaming Platform- Netflix, Amazon prime
An action-comedy, this movie was written, produced, and acted in by Stephen Chow. With an unlikely hero, it follows his journey from a nobody to a Kungfu master.
With a ruthless 'Axe' gang in play, a screaming Kungfu master, a toad-style Kungfu villain, and loads of humor interwoven, this movie is both hilarious and endearing to the audience. This would have to be every Chinese cinema fan's personal favorite.
12. Kekexili: Mountain Patrol
Director- Lu Chuan
Writer- Lu Chuan
Cast- Qi Liang, Tobgyal (Duo Bujie)
IMDb Rating- 7.6
Rotten Tomatoes Score- 98
Streaming Platform- Amazon Prime
Journalism is often the way how truths are exposed, the public is informed, and changes take place. The movie is based on one such set of true stories told from the reports of a journalist, Ga Yu, where in the pursuit of saving Tibetian antelopes without any government funding, the patrol team is constantly under the target of poachers who do not spare their lives.
The movie has a profound impact on informing the general public of atrocities committed in the region for antelope skins and other illegal hunting by the poachers.
11. The Blue Kite
Director – Tian Zhuangzhuang
Writer- Mao Xiao
Cast- Lü Liping, Pu Quanxin, Chen Xiaoman, Li Xuejian, Guo Baochang
IMDb Rating- 7.5
Rotten Tomatoes Score- 100
Streaming Platform- Kanopy, Ruko
Told from the perspective of a young boy, Tietou is a story of his pains and struggles, as is the mouthpiece of many more such stories of the turbulent times of Chinese history. It follows his life is drastically altered for the worst as China moves from its Hundred Flowers Campaign to the Great Leap Forward and the Cultural Revolution – taking his family, life, and psyche is divided into three episodes, Father, Uncle, Step Father recounting how his family changed for the worse.
This tearjerker was a controversial mine; however, it is still one of the best Chinese movies of all time for its poignant portrayal of real-life based characters.
Related: The 50 Best Chinese Dramas to Watch Right Now (2023)
10. House of Flying Daggers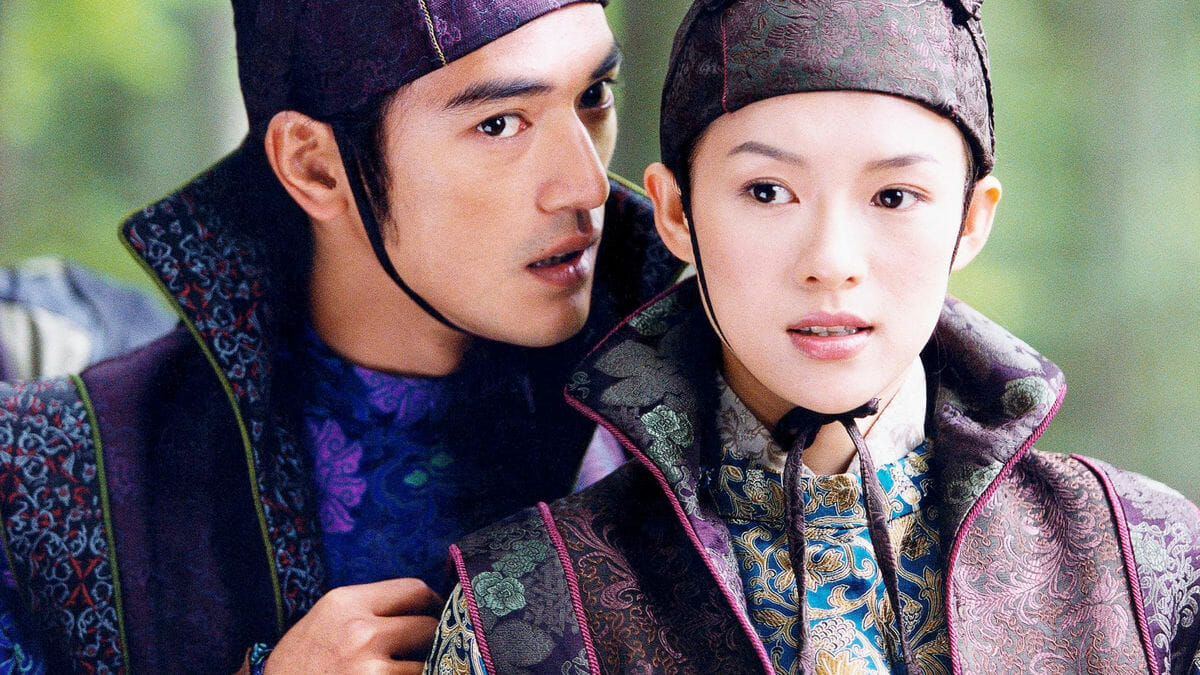 Director-Zhang Yimou
Writer – Li Feng, Peter Wu, Wang Bin, Zhang Yimou
Cast- Andy Lau, Zhang Ziyi, Takeshi Kaneshiro
IMDb Rating- 7.5
Rotten Tomatoes Score- 87
Streaming Platform-Netflix
Created to rebel against the Tang Dynasty, The House of Flying Daggers is the largest rebel group, regularly sparring against the government and helping out the poor. Its members are adept at using special daggers which pierce their targets without exception. This is the story of three people and a love triangle between them, leading to a conflict of interests and a tragic end.
Leo and Mei are members of the House of flying daggers who are undercover, and Jin, a soldier of the Dynasty's army. Leo loves Mei, who falls in love with Jin and thus ensues an emotional battle set in the backdrop of a rapidly ensuing battle between the rebels and the Dynasty's army. What does Fate have in store for these warriors? Binge on to find out.
9. Blind Shaft
Director – Li Yang
Writer- Li Yang
Cast- Li Yixiang, Wang Shuanghbao, Wang Baoquiang
IMDb Rating- 7.5
Rotten Tomatoes Score- 95
Streaming Platform- Amazon Prime
Money meets a lot of needs, and its scarcity of it leaves one not only deprived of the needs but also extremely vulnerable to those who prey on their helplessness. This is the story of two inhuman con men, Song Jinming and Tang Zhaoyang, who used to lure unsuspecting and naive young men who needed money by offering them a job.
The scheme was that they used to lie to the victim, saying they had arranged three jobs in coal mines, two for themselves and one for a relative who hadn't yet come yet, which would be given to the victim. They then murdered the victim in cold blood and claimed the insurance money. How much will be too much when something in the serial killer's plan goes wrong? Tune in to find out.
8. Suzhou River
Director – Lou Ye
Writer – Lou Ye
Cast – Zhou Xun, Jia Hongsheng
IMDb Rating- 7.4
Rotten Tomatoes Score- 90
Streaming Platform- Amazon Prime
The River running through Shanghai has banks of it riddled with empty or dilapidated warehouses, and just the opposite to the city of Shanghai, it has no glitz and glamour to boast of. Set in this background are four lives that somehow interlink and result in tragic love stories. The narrator is a videographer who is never shown, a small crook who loves a rich Chinese woman who dies at his hands, a mysterious performer, and a perfect noir setting; this movie will keep you hooked till the end.
7. Spring in a Small Town
Director- Fei Mu
Writer -Li Tianji
Cast- Wei Wei, Shi Yu, Li Wei
IMDb Rating- 7.3
Rotten Tomatoes Score- 100
Streaming Platform- Amazon Prime
Set against the backdrop of the second Sino-Japanese War, known as the start of World War ii in Asia, the film revolves around how once a prosperous family Dai, is now in dire straits. The film begins with Yuwen's voiceover about how life used to be before the war and how her husband Liyan now mourns it. The arrival of Zhang Zhichen, Yuwen's past flare violently shakes their quiet mourning.
A woman stuck in a loveless marriage when she meets her former love is stuck between loyalty and passion. What will she choose? A study of two strong burning emotions, loyalty and passion, the 1948 movie portrays her moral dilemma to the t. Tune in to watch and experience it.
Related: 40 Best Chinese Historical Dramas of All Time
6. Still Life
Director- Jia Zhangke
Writer- Jia Zhangke, Sun Jianming, Guan Na
Cast- Zhao Tao, Han Sanming
IMDb Rating- 7.3
Rotten Tomatoes Score- 91
Streaming Platform- Netflix
The Three Gorges Dam built on the Yangtze River might be one of the largest dams in the world, but it has become so at a very high cost.
Set in the small town, Fengje, upstream of the dam, the movie depicts some of the millions life upturned by the dam construction. The movie shows how the town is almost submerged and flooded, and the town is dying. Here comes our protagonists, Han Sanming and Shen Hong, who both come to this dying town with their own compulsions. It is through their experiences that we see how deep seating the impacts of displacement are.
5. Red Sorghum
Director- Yi-Mou Zhang
Writer- Chen Jianyu, Zhu Wei
Cast – Gong Li, Jiang Wen, Teng Rujun
IMDb Rating- 7.3
Rotten Tomatoes Score- 85
Streaming Platform- Amazon Prime
Told by the grandson of the protagonist, this tale of his grandmother and grandfather and their unusual love story. The grandson reminisces about his grandmother, Jiu'er, who was of humble background; however, she was arranged to married to Li Datou, a very old man suffering from leprosy. He owned a sorghum wine distillery. After her wedding, when a bandit gang attacked the procession, she was saved by a laborer, the protagonist's grandfather. Soon, Li, her husband, dies, and in the absence of an heir, Jiu'er inherits the failing distillery.
And so began an unusual story of love, loss, and death against the backdrop of Japanese occupation and warring China during the second world war between the countries deemed as one of the best movies of all time from Chinese cinema.
4. Fearless
Director- Ronny Yu
Writer – Chris Chow, Christine To, Wang Bin, Li Feng
Cast -Jet Li, Nakamura Shidō II, Sun Li, Dong Yong, Nathan Jones, Collin Chou, Masato Harada
IMDb Rating- 7.6
Rotten Tomatoes Score- 73
Streaming Platform- Amazon Prime, Netflix
Loosely based on the life of Huo Yuanjia, a famed martial artist who fought many memorable fights restoring China's pride in its martial arts, in his last movie of the wushu action genre Jet Li plays a complete character. Troubled by his asthma in his formative years, Huo learned martial arts in secrecy to take revenge for his father, Huo Endi's defeat by the deception of his opponent.
However, through the years, as his knowledge and skills in martial arts peaked high and earned him fame in Tianjin and beyond, so did his pride and arrogance stemming from his knowledge. However, as a tragedy of epic proportions hits his life and others, too, largely unfolding due to his arrogance and miscommunication, he is struck with remorse and guilt.
A guilty conscience is now what blooms where pride thrives. In his shame, he flees and retires to a sample village where he learns compassion and humility. However, as his destiny drags him to town again, he must face his blunders, past, and penance. Will he be able to save China's pride? A tale of redemption and penance, this is the story of the true nature of knowledge- Compassion and Humility.
3. Big Fish And Begonia Tree
Director- Liang Xuan, Zhang Chun
Writer – Liang Xuan
Voice Cast – Ji Guanlin, Su Shangqing, Timmy Xu, Chin Shih-chieh, Yang Ting, Pan Shulan
IMDb Rating- 7
Rotten Tomatoes Score- 91
Streaming Platform- Netflix
Heavily inspired by ancient Chinese folklore, the animated movie follows the story of a girl, Chun, in a mystical realm beneath the Human world, who has the chance to visit it as a red dolphin after she goes through a coming-of-age ritual. A human body saves her from getting trapped by a fisherman and dying in the process. Being very grateful and enamored, she visits the soul keeper who collects the souls of all to restore his life. However, everything comes at a price. Turning the soul into a fish, she is asked to take care of it, and she names him Kun meaning Big Fish.
A beautiful begonia tree, valiant sacrifices, care, concern, magical beings, and unconditional love, something not everyone can achieve, is what the movie explores delicately interwoven into this gem from the Chinese movies.
2. Yellow Earth
Director- Chen Kaige
Writer- Chen Kaige, Zhang Ziliang (screenplay), Lan Ke (novel)
Cast – Xueqi Wang, Bai Xue, Quiang Liu, Tuo Tan
IMDb Rating- 7.1
Rotten Tomatoes Score- 100
Streaming Platform- Roku
Following the story of a soldier, Gu Qing, who is sent to collect folk songs to use them to propagate communist ideas and his one such excursion. On his most recent trip, he meets a peasant family whose poor patriarch doesn't agree with the communist party and its ideas.
His daughter, Cuiqiao, is more inclined toward the ideology but is under the pressure of family. This is the story of his observations, his relationship with the family, and the girl who does everything in her capabilities to escape the fate her father has charted for her, the arranged marriage to an older man.
1. Drunken Master
Director- Woo-Ping Yuen
Writer- Siao Lung, Ng See-yuen
Cast – Jackie Chan, Yuen Siu-Tien, Hwang, Jang-lee, Dean Shek
IMDb Rating- 7.4
Rotten Tomatoes Score- 80
Streaming Platform- Amazon Prime
It would be blasphemy to talk about Chinese films and not include Jackie Chan's name in the discussion. The movie Drunken Master was one of the movies with a cult following that helped him reach the fandom he has today. Wong Fei-hung, a very molly-coddled young man, messes with everything that comes in his line of sight—flirting, drinking, and being downright shameless.
His father enrolls him under Beggar, a drunken kung fu master who is known for his ruthless training. Will he be able to cope? This action-packed drama-comedy has to be included in the best Chinese movies.