Disaster movies are the ones that show mass eradication which can be natural or man-made. Lately, filmmakers have been seen getting their interest in films with themes of zombies, alien attacks, tsunamis, and catastrophes. Here we present our readers with the best disaster movies on Netflix right now.
Mother nature is varied caring and inspiring but, it can also be terrifying sometimes. Incidents like avalanches and hurricanes threaten the future of Earth and the human race living on it. What would happen if one day there occurs an extinction-level event?
All will be left wondering about what will happen next and about the future of humanity. As a result of such thoughts and worries, many apocalyptic movies are being made that show different scenarios and possibilities of the world coming to an end.
25. The Cloverfield Paradox (2018)
Director: Julius Onah
Writer: Oren Uziel, Doug Jung
Cast: Daniel Brühl, Gugu Mbatha-Raw, Elizabeth Debicki, David Oyelowo and others
IMDb Ratings: 5.5/10
Rotten Tomatoes Rating: 21%
Streaming Platform: Netflix
The Cloverfield Paradox was made with the aim of capitalizing on its already successful franchise. But, it no way stands a chance of being better than its predecessors despite having a fascinating plot and a compelling story with several twists.
The movie begins with a group of astronauts who are seen in a space station in 2028. The reason why they were on board a space station is that Earth went through a global energy crisis. There were desperate attempts to test the Shepherd particle accelerator on the station but, a disaster struck and the result is a paradox.
24.Greenland (2020)
In the upcoming disaster thriller Greenland, Gerard Butler plays a structural engineer who must work quickly to get his family to safety after a catastrophic comet threatens to destroy Earth.
As one of the chosen few to receive emergency sheltering, Butler's John Garrity, his estranged wife Allison (Morena Baccarin), and their young diabetic son Nathan must take a perilous journey to reach an Air Force Base before a catastrophic natural disaster strikes the planet and wipes out the human race.
23. Extinction (2018)
Director: Ben Young
Writer: Spenser Cohen, Eric Heisserer, Brad Kane
Cast: Michael Peña, Lizzy Caplan, Israel Broussard, and others
IMDb Ratings: 5.8/10
Rotten Tomatoes Rating: 32%
Streaming Platform: Netflix
Extinction movie on Netflix falls under the doomsday genre. The movie begins with Peter who is an engineer and is based in the near future. An engineer named Peter is constantly having nightmares in which he sees that an alien invasion could lead to the destruction of life on Earth.
When he goes to visit a psychiatrist, he finds out that other people are also having similar dreams. After the arrival of spaceships, Peter with his family finds refuse amongst the alien soldiers. Later, it gets known that Peter's estranged wife Alice is actually a translucent humanoid figure who can only be saved by a power source.
Later, it is also revealed that Peter is a synth who had their memories wiped off. Synths have been living on Earth since the human rebellion was there against Artificial Intelligence (AI).
22. Pandora (2016)
Director: Park Jung-woo
Writer: Park Jung-woo
Cast: Kim Nam-Gil, Kim Joo Hyun, Moon Jeong-hee, Kim Young-Ae, and others
IMDb Ratings: 6.7/10
Rotten Tomatoes Rating: 14%
Streaming Platform: Netflix
Pyun-Sub is worried about the local nuclear power plant but no one even cares to listen to him. When an earthquake strikes, it causes serious damage to the nuclear plant.
Jae- Hyeok along with his colleagues will now have to stop another nuclear disaster from becoming a reality. Apart from being a thriller, Pandora is also an emotional film.
21. The Midnight Sky (2020)
Director: George Clooney
Writer: Mark L. Smith
Cast: George Clooney, Felicity Jones, Caoilinn Springall, Kyle Chandler, and others
IMDb Ratings: 5.6/10
Rotten Tomatoes Rating: 50%
Streaming Platform: Netflix
In this movie, The Midnight Sky we see an unknown disaster that kills most of the world's population after contaminating the surface with radiation. In such situations, people often resort to finding themselves a new home but, in The Midnight Sky, it was Augustine Lofthouse that was being searched.
He is the only person that is still alive on the Arctic base. He is not well and is hailing health will bring an impending doom. Lofthouse is soon able to remember how Aether will be coming back to Earth shortly. This crew is not aware of the ongoing situation on Earth and thinks that they have lost connection.
So, the responsibility of warning the crew and saving the human race falls on the shoulders of Lofthouse. The Midnight Sky is definitely one of the best disaster movies on Netflix and those who haven't watched it should go and watch it.
Read More: The Best Movies on Netflix To Watch Right Now
20. ARQ (2016)
Director: Tony Elliott
Writer: Tony Elliott
Cast: Robbie Amell, Rachael Taylor, Gray Powell, Jacob Neayem, and others
IMDb Ratings: 6.3/10
Rotten Tomatoes Rating: 43%
Streaming Platform: Netflix
When the fossil fuels and natural gas reserves will get exhausted, humans will see nothing less than a disaster. This is the plot that ARQ follows and the movie has been directed by Tony Elliott. Big companies are seen having a fight with the government over the last remaining oil supplies.
The solution to this energy crisis is with Renton who has a machine that is capable of producing unlimited energy. Renton is seen trapped with his machine as assailants approach his location.
There is another major issue and that is the machine that Renton has created a time loop which means that he is forced to go over the same day again and again. ARQ is a mandatory entry in our list of best disaster movies on Netflix and is a complete entertaining movie.
19. Alive (2020)
Director: Il Cho
Writer: Il Cho
Cast: Yoo Ah-in, Park Shin-Hye, Jeon Bae-soo
IMDb Ratings: 6.3/10
Rotten Tomatoes Rating: 88%
Streaming Platform: Netflix
After the success of the movie Parasite at the Oscars, Korean filmmakers have been blessed with new audiences that are now able to understand and appreciate their work. Alive is a story of the survival of a video gamer in his apartment when Seoul was affected by a zombie apocalypse.
18. Chernobyl 1986 (2021) 
Director: Danila Kozlovsky
Writer: Aleksey Kazakov, Elena Ivanova
Cast: Danila Kozlovsky, Oksana Akinshina, Ravshana Kurkova, Filipp Avdeev and others
IMDb Ratings: 5/10
Rotten Tomatoes Rating: 96%
Streaming Platform: Netflix
Chernobyl: Abyss or Chernobyl 1986 is a Russian movie in which one is able to see the horrifying disaster that happened in 1986 in Chernobyl and how that incident affected the local residents. The plot of the movie revolves around Alexey Karpushin (a firefighter) and his ex-lover Olga Savostina.
Alexey didn't know that Olga gave birth while he was away and now, they are parents to a 10-year-old child.
Initially, the movie is romantic, but Olga tries to end her relationship with him when he comes late to a picnic. Disappointed with this incident, Alexey decides that he will leave town and start a new life in Keiv. He was just about to leave the city when the disaster strikes and gets involved in various rescue missions. The movie shows the direct effect the Chernobyl disaster had on the lives of common people and is a must-watch.
17. Don't Look Up (2021)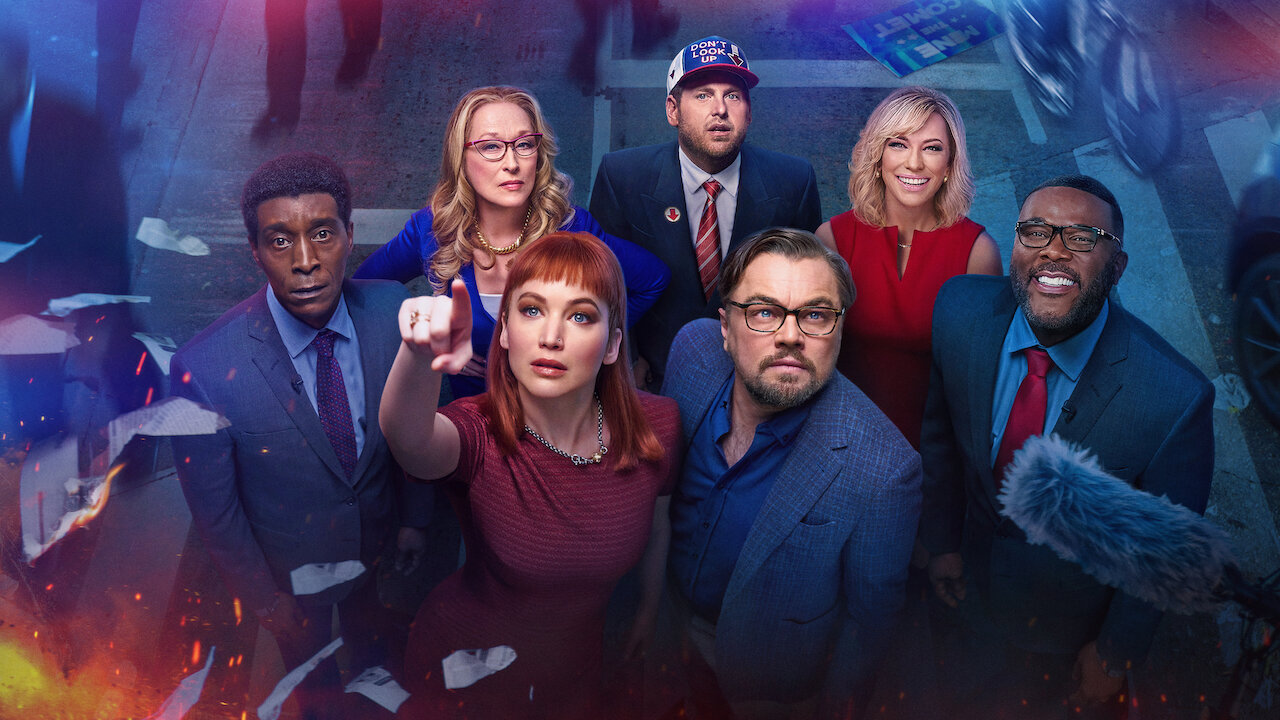 Director: Adam McKay, Jennifer Lawrence, and others
Writer: Adam McKay, Leonardo DiCaprio, Jennifer Lawrence, and others
Cast: Leonardo DiCaprio, Ariana Grande, Jennifer Lawrence, Timothée Chalamet and others
IMDb Ratings: 7.2/10
Rotten Tomatoes Rating: 55%
Streaming Platform: Netflix
Leonardo Di Caprio and Jennifer Lawrence are seen in the movie Don't Look Up which is a nail-biting thriller movie that keeps the viewers glued to their seats until the very end. The movie is based on two low-level astronomers- Dr. Randall Mindy and Kate Dibiasky.
They suddenly come across the fact that there is a rapidly approaching comet that can destroy Earth. Initially, no one listens and believes in them because they have no rank and status. After this, the film shows that these two undergo a massive media tour hoping that there will be someone that will listen to them.
16. The Day After Tomorrow (2004)
The Day After Tomorrow is another film about a natural disaster from Roland Emmerich, the director of Independence Day from 2012. The Coming Global Superstorm, a 1999 book that served as the inspiration for this project, describes a series of catastrophic weather events brought on by climate change that send the Northern Hemisphere into an ice age.
Jake Gyllenhaal and Dennis Quaid play a father and son in the film. Paleoclimatologist Jack Hall, played by Quaid, is pleading with the government to pay attention to his warnings while also trying to get to New York City in time to save his son Sam, who is hiding out in the New York City Public Library and is running out of time.
Read More: The Best Fantasy Movies on Netflix That You Can't Miss
15. Poseidon (2006)
Director: Mike Vogel, Kevin Burns, Richard Dreyfuss, and others
Writer: Wolfgang Petersen
Cast: Josh Lucas, Kurt Russell, Richard Dreyfuss, and others
IMDb Ratings: 5.7/10
Rotten Tomatoes Rating: 33%
Streaming Platform: Netflix
Poseidon is based on a novel by Paul Gallico- The Poseidon Adventures. The film was not able to impress the audiences and critics. In it, stars like Josh Lucas, Kurt Russel, and Richard Dreyfuss were seen. The plot of this disaster movie is based on a luxury ship that gets stuck on New Year's Eve when an event just began on it.
The water makes the ship flip and then this ship started sinking. The passengers need to save their lives and for that, they need to get out of it as soon as possible.
Poseidon is a rare film that was nominated for Oscars and also won a Razzie. The disaster movie failed to impress the audiences, but the special effects didn't fail them as there was a spectacular use of CGI.
14. Twister (1996)
In the disaster film Twister, a divorcing couple finds themselves chasing tornadoes across Oklahoma while also pursuing each other. Jo, a meteorologist played by Helen Hunt, is in charge of a group of storm-chasers who are attempting to use a cutting-edge weather-sensing device.
Jo reconnects with her husband Bill, a storm chaser-turned-weatherman played by Bill Paxton, as they flee for their lives. Twister received praise for being among the best big-budget disaster films of its era and received Oscar nominations for Best Sound Design and Best Visual Effects. As one of Jo's storm chasers, Philip Seymour Hoffman also appears on screen.
13. The Impossible (2012)
The 2012 disaster drama The Impossible depicts the catastrophic 2004 Indian Ocean tsunami that wreaked havoc on the surrounding nations and claimed the lives of more than 220,000 people. It details the terrifying experiences that Mara Belón and her family endured in real life. As the survivor who was in Thailand on vacation with her husband and three sons when the tsunami struck on December 26, 2004, Naomi Watts gives a heartfelt performance.
Watts deservedly received both an Academy Award nomination and a Golden Globe nomination for her moving portrayal; the picture also starred Ewan McGregor and Tom Holland. It was praised for its potent performances and heartbreaking recreation of the natural disaster.
12. The Wandering Earth (2019)
Director: Frant Gwo
Writer: Frant Gwo, Junce Ye, Gong Geer, and others
Cast: Angel Zhao, Jingjing Qu, Mike Sui, and others
IMDb Ratings: 5.9/10
Rotten Tomatoes Rating: 69%
Streaming Platform: Netflix
The Wandering Earth is China's third highest-grossing film in its history and is based on a novel written by Liu Cixin. He is also the first Hugo Award winner in the country. The movie is based in the future, in the year 2061 when the Sun is dying.
Because of the dying Sun, the world is trying to unite Earth with its neighboring solar system. To survive this slow-paced journey on the planet, the human population lives in underground cities, but things don't go well even after this.
There is a gravitational surgeon Jupiter which leads to a risk of Earth getting pulled into its orbit. To stop this from happening, a rescue team is made that has to stop these planets from going on the collision course. The Wandering Earth is a good disaster movie and talks about an extinction-level event.
11. Occupation (2018)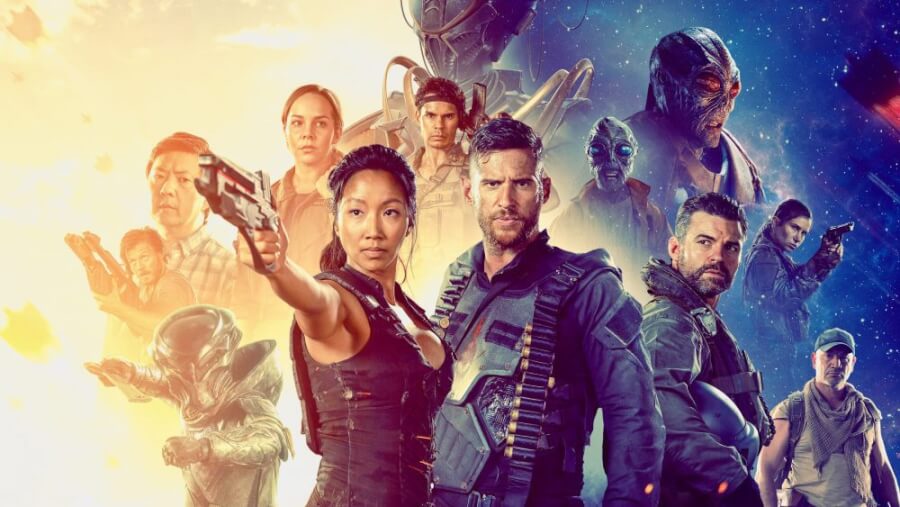 Director: Luke Sparke
Writer: Luke Sparke
Cast: Dan Ewing, Temuera Morrison, Rhiannon Fish, and others
IMDb Ratings: 4.8/10
Rotten Tomatoes Rating: 87%
Streaming Platform: Netflix
Australians are said to be habitual in dealing with giant bests like walking sharks and insects. But what would happen if a normal individual had to face a 150-foot long siphonophore? This question has been answered in the film Occupation.
Occupation is an alien invasion thriller movie in which one can see human rebellion against the heavily armed and huge extraterrestrial. Occupation is not well thought out and made film. It is not like the films that have come from Michael Bay or Luke Sparke or Roland Emmerich.
10. 7:19 (2016)
Director: Jorge Michel Grau
Writer: Jorge Michel Grau, Alberto Chimal
Cast: Demián Bichir, Octavio Michel, Carmen Beato and others
IMDb Ratings: 5.9/10
Rotten Tomatoes Rating: 100%
Streaming Platform: Netflix
7:19 is a disaster film that is an eye-opener and tells the real tale of the 1985 Mexican earthquake. The film focuses on the local people and how they were affected. Primarily the movie is about a group of colleagues who get stuck in their office building.
They see their city turning into rubble and try their best to survive. The disaster however doesn't stop and keeps on taking lives. Viewers wonder if these people will ever get to meet their families or not.
9. 22 July (2018)
Director: Paul Greengrass
Writer: Paul Greengrass
Cast: Anders Danielsen Lie, Jonas Strand Gravli, Jaden Smith and others
IMDb Ratings: 6.8/10
Rotten Tomatoes Rating: 81%
Streaming Platform: Netflix
It is based on a book written by Åsne Seierstad that is titled 'One of Us: The Story of a Massacre in Norway— and Its Aftermath. 22 July is about the terrorist attack that was done in Norway in 2011.
These explosions took at least 80 lives, and this number included the teenagers that were attending summer camp organized by Labor Party. After this incident, a white nationalist was held responsible for the bombings and deaths. Because of being based on real crime incidents, one must watch 22 July.
8.The Perfect Storm (2000)
The harrowing true story of a fishing boat named Andrea Gail getting caught in a furious hurricane on the open sea in 1991 is the basis for the film The Perfect Storm, which is based on the nonfiction book of the same name. Billy Tyne, the ship's captain, is portrayed by George Clooney, and Bobby Shatford, a novice fisherman, by Mark Wahlberg.
The crew's frantic attempts to survive are contrasted with their families' worries in Massachusetts as they travel back and forth throughout the movie. Since the Andrea Gail was never found, no one knows what actually happened on board after its last radio communication, so the majority of the boat scenes were made up.
7. Beyond Skyline (2017)
Director: Liam O'Donnell
Writer: Liam O'Donnell
Cast: Frank Grillo, Bojana Novakovic, Jonny Weston, and others
IMDb Ratings: 5.3/10
Rotten Tomatoes Rating: 67%
Streaming Platform: Netflix
Skyline's sequel Beyond Skyline starts with an alien invasion when Mark Corley (LAPD Detective) is struggling for the release of his estranged son from jail. When the invasion starts, people get sucked into various spaceships. Mark with the other survivors is wandering in the subway tunnels so that they can save other people.
But they get into the alien spaceship instead. Marks then comes across the fact that humans are being converted into bio-mechanical soldiers. Beyond Skyline does not present its viewers with a gripping storyline but is better than Skyline.
6. 3022 (2019)
Director: John Suits
Writer: Ryan Bianco
Cast: Omar Epps, Kate Walsh, Miranda Cosgrove, and others
IMDb Ratings: 4.5/10
Rotten Tomatoes Rating: 52%
Streaming Platform: Netflix
3022 is a science fiction movie that is seen taking the post-apocalyptic world stories to another level. The Earth gets destroyed and there are a few astronauts that see this happening from space. The film is set in the future as we see actors like Angus Macfadyen, Miranda Cosgrove, Kate Walsh, and Omar Epps in this.
3022 shows the consequences the group of astronauts has to face after the crisis, and it is not the usual survival story that is seen in many disaster films. The film has a great beginning, cast, and plot which makes it the perfect watch when one wants to see disaster films.
5. Contagion (2011)
Director: Steven Soderbergh
Writer: Scott Z. Burns
Cast: Matt Damon, Kate Winslet, Jude Law, Gwyneth Paltrow
IMDb Ratings: 6.8/10
Rotten Tomatoes Rating: 85%
Streaming Platform: Netflix
The events shown in Contagion share a similarity with the ongoing COVID-19 pandemic. The film is a smart thriller about how a virus can spread so quickly and kill those who come in contact with it.
It also shows the difficulties the health workers and scientists have to face during this time. Contagion starts with the transmission of a mysterious virus that causes flu-like symptoms in humans.
Beth (played by Gwyneth Paltrow) returns to her home from a business trip she attended in Hong Kong. However, she brings tragedy to her family members. She dies soon, and her son is the next because she had hugged him. His husband is seen to be immune from that infection.
Several days after her death, the gravity of this situation gets noticed as people in huge numbers began to get ill and then die. CDC tries to trace the source of this unknown virus.
4. Geostorm (2017) 
Director: Dean Devlin
Writer: Gerard Butler, Robert Sheehan, Ed Harris, and others
Cast: Gerard Butler, Jim Sturgess, Abbie Cornish
IMDb Ratings: 5.3/10
Rotten Tomatoes Rating: 17%
Streaming Platform: Netflix
What if humans someday find a solution to the climate change issue? What if they find a way to control nature? When some catastrophic events endanger the survival of Earth itself, governments of all the countries come together and create Project Dutch Boy.
Under this project, satellites are employed around the planet and are designed in such a manner that they can prevent natural disasters. They were successful in protecting the planet for two whole years but then something goes wrong.
Two brothers are given the task to check what the malfunction is in these satellites. They need to complete this task before a worldwide geostorm consumes the whole planet.
3. San Andreas (2015)
Director: Brad Peyton
Writer: Carlton Cuse
Cast: Dwayne Johnson, Carla Gugino, Alexandra Daddario
IMDb Ratings: 6.1/10
Rotten Tomatoes Rating: 48%
Streaming Platform: Netflix
San Andreas is an action-adventure thriller in which we see California getting hit by an earthquake of magnitude 9. A rescue pilot (played by Dwayne Johnson) and his estranged wife go to San Francisco from Los Angeles to save their daughter.
Their journey to the north is just the beginning and the worst things happen the moment they think that everything is fine.
2. The Impossible (2012)
Director: J. A. Bayona
Writer: Sergio G. Sánchez
Cast: Naomi Watts, Ewan McGregor, Tom Holland
IMDb Ratings: 7.6/10
Rotten Tomatoes Rating: 81%
Streaming Platform: Netflix
The Impossible is a true story of a family that gets caught in one of the worst natural catastrophes. It is among the best natural disaster movies on Netflix.
This family even in their darkest hours shows courage, compassion, and kindness. The story of The Impossible is devastating and uplifting at the same time. This film is a journey that leads to the human heart directly.
1. 2012 (2009)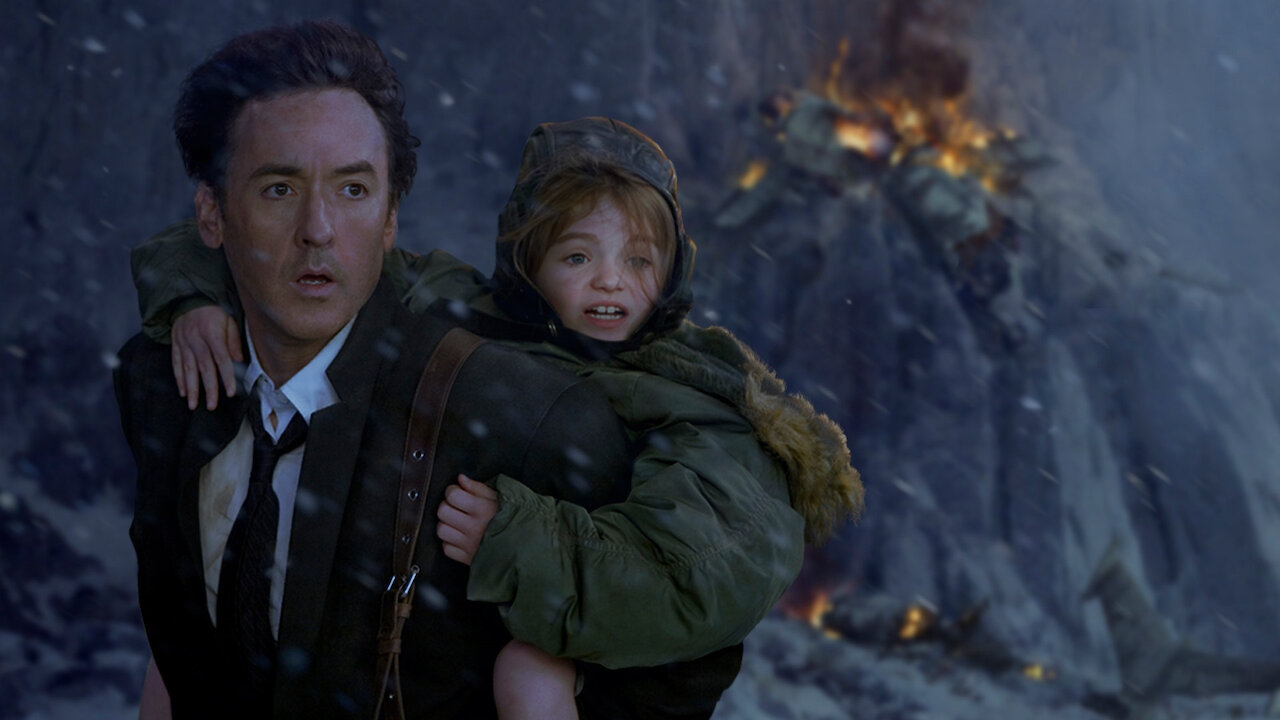 Director: Roland Emmerich
Writer: John Cusack, Chiwetel Ejiofor, and others
Cast: John Cusack, Amanda Peet, Chiwetel Ejiofor
IMDb Ratings: 5.8/10
Rotten Tomatoes Rating: 39%
Streaming Platform: Netflix
2012 is among very famous disaster movies on Netflix. This film is a great action-adventure disaster film and has very fascinating special effects. The audiences will see the world facing a catastrophe just like an apocalypse.
Cities are seen collapsing, there is water everywhere and continents are also falling apart. 2012 tells the tale of the end of the world and the human population. We have tried to cover as many films as possible but might have missed many great disaster movies as well.
Like, an example has been given below. Deepwater Horizon is also a great natural disaster film in which we see Mark Wahlberg, Kurt Russell, and John Malkovich. It is based on the Deepwater Horizon explosion and oil spill incident in the Gulf of Mexico. Deepwater Horizon came in 2016 and was directed by Peter Berg.
With this, we conclude our list of the 25 best disaster movies on Netflix.