Here to find the best movies on Netflix? Movies are best to watch to have some quality time and to have some chill. Thanks to Netflix for catering so many feature films, documentaries, anime, and series that also from different genres like an action thriller, the horror genre, comedy-drama, romance comedy-drama, fictional, supernatural, and a lot more.
It is also letting viewers stream several classic movies, that might otherwise have been lost if not again brought up by Netflix.
There are several other streaming platforms, but Netflix provides the widest range of films and series and thus is the most loved streaming platform. It is hard to tell which ones are the best movies on Netflix right now, yet we can provide you with a list of popular movies that you can start streaming.
40. The Pale Blue Eye (2022)
Run Time: 2 hrs 8 min
Genre: Thriller Horror Mystery
Director: Scott Cooper
Cast: Christian Bale, Harry Melling, Lucy Boynton, Gillian Anderson
This gory thriller is directed by Scott Cooper (Crazy Heart), who previously worked with Christian Bale (Thor: Love and Thunder) on the adaptation of Louis Bayard's The Pale Blue Eye. The Pale Blue Eye stars Christian Bale as a retired detective who reluctantly looks into the strange 1830 cadet murder at West Point Academy.
39. Dog Gone (2023)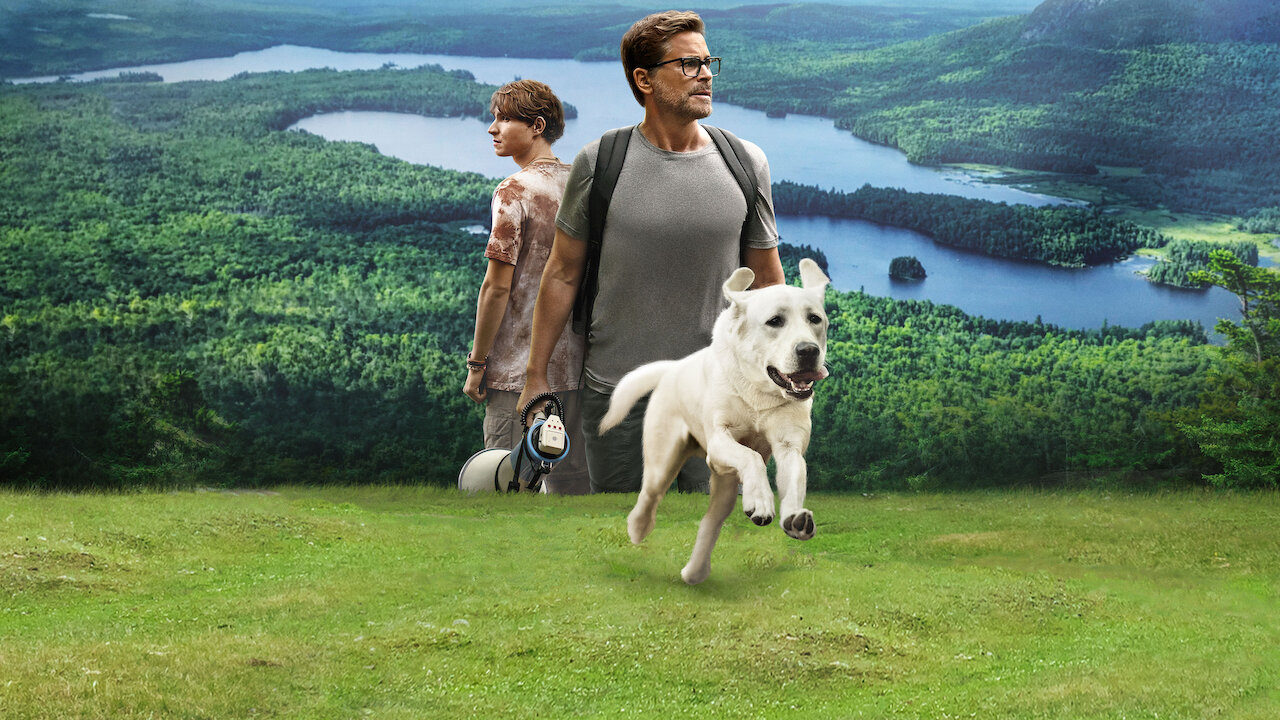 Run Time: 1 hr 35 min
Genre: Biography Drama
Director: Stephen Herek
Cast: Rob Lowe, Johnny Berchtold, Kimberly Williams-Paisley
It is a heartwarming family movie starring Rob Lowe, about a beloved pet dog whose unexpected disappearance prompts a young man to set out with his parents on a life-altering quest to find their furry friend who is in need of life-saving medication.
Dog Gone, which is based on a true story told in Paul Toutonghi's book, is fundamentally about the strained bond between a father (Lowe) and his son (Johnny Berchtold).
38. You People (2023)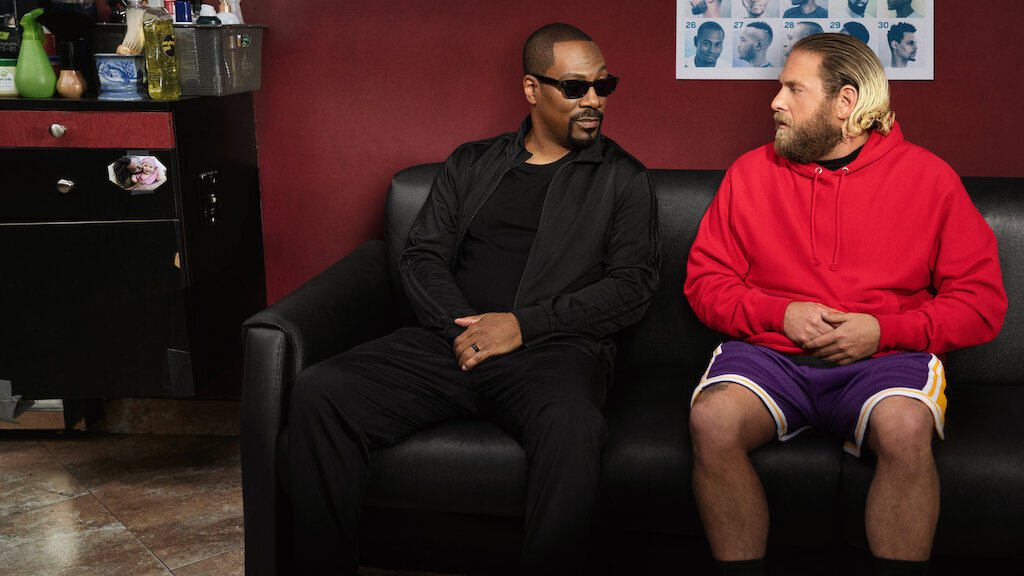 Run Time: 1 hr 57 min
Genre: Comedy Romance |
Director: Kenya Barris
Cast: Jonah Hill, Lauren London, Eddie Murphy, Julia Louis-Dreyfus
You People, a hilarious comedy about racial, familial, and cultural clashes based on a screenplay they co-wrote, is directed by Kenya Barris (Black-ish) and stars Jonah Hill.
Comedy greats Eddie Murphy (Coming 2 America) and Julia Louis-Dreyfus (Black Panther: Wakanda Forever) co-star with Hill in You People, a tale that offers various viewpoints on a universal truth.
37. Jung_E (2023)
Run Time: 1 hr 39 min
Genre: Sci-Fi Action
Director: Yeon Sang-ho
Cast: Kang Soo-youn, Kim Hyun-joo, Ryu Kyung-soo
The science-fiction/action drama Jung_E, which Yeon Sang-ho both directed and wrote the screenplay for, is exquisitely constructed and is set in a terrifying near future. Humans leave Earth and seek refuge in space, which sparks a civil war between the Allied Force and the Adrian Republic.
36. Pamela: A Love Story (2023)
Run Time: 1 hr 52 min
Genre: Documentary
Director: Ryan White
Cast: Pamela Anderson, Gregory Butler, Rob Bowman
Actress Pamela Anderson is taking control of her narrative and allowing director Ryan White to assist her in telling her story in the documentary Pamela: A Love Story, which follows Hulu's critically acclaimed limited series Pam & Tommy.
Pamela: A Love Story carefully examines Anderson's transformation from a dreamy teen to a universal sex symbol caught up in a notorious scandal through her own words.
35. Your Place or Mine (2023)
Run Time: 1 hr 51 min
Genre: Romance Comedy
Director: Aline Brosh McKenna
Cast: Reese Witherspoon, Ashton Kutcher, Zoe Chao, Jesse Williams
Your Place or Mine, written and directed by Aline Brosh McKenna (Crazy Ex-Girlfriend), is a classic rom com in every way. Reese Witherspoon (The Morning Show) and Ashton Kutcher (Two and a Half Men) star in Your Place or Mine, which is set in major cities on both coasts and falls into a number of predictable narrative pitfalls.
34. We Have a Ghost (2023)
Run Time: 2 hrs 6 min
Genre: Comedy Adventure
Director: Christopher Landon
Cast: Jennifer Coolidge, David Harbour, Tig Notaro, Anthony Mackie
In the silly horror comedy, We Have a Ghost, a family that recently relocated to a new town meets the ghost that now haunts their house. The innate playfulness of David Harbour, who thrives in humor with his restrained nature, is beautifully captured by writer/director Christopher Landon in his portrayal of the ghost Ernest.
We Have a Ghost blurs genre lines as it follows how Ernest's exposure causes them to become an overnight sensation, enticing the media, zealots, and the government to go on the hunt for him.
33. Luther: The Fallen Sun (2023)
Run Time: 2 hr 9 min |
Genre: Crime Drama, Mystery, Thriller |
Director: Jamie Payne
Cast: Idris Elba, Cynthia Erivo, Andy Serkis
As John Luther, the disgraced London detective who always gets his man by any means necessary, Idris Elba (The Suicide Squad) reprises his role.
Fundamentally, Luther has always been a fresh take on the Sherlock Holmes character. In this new movie, which is set after the series' events, it appears that he has finally found his Moriarty in the form of the brand-new character David Robey, who is portrayed by Lord of the Rings actor Andy Serkis.
32. The Strays (2023)
Run Time: 1 hr 40 min
Genre: Horror Thriller Mystery
Director: Nathaniel Martello-White
Cast: Ashley Madekwe, Jorden Myrie, Bukky Bakray, Michael Warburton, Caroline Martin
The Strays, a clever movie written and directed by Nathaniel Martello-White, takes a fresh look at classism, privilege, and perception. It is a gripping psychological drama set in a dreamy suburban town, has been compared to Get Out for its use of tension.
31. The Magician's Elephant (2023)
Run Time: 1 hr 39 min
Genre: Animation, Comedy, Family
Director: Wendy Rogers
Cast: Brian Tyree Henry, Natasia Demetriou, Mandy Patinkin, Benedict Wong
The Magician's Elephant is a whimsical and uplifting tale of bravery in the face of the impossibly difficult and is based on Kate DiCamillo's fantastic novel of the same name.
Young orphan Peter (Noah Jupe) agrees to undertake Herculean tasks in order to obtain the prized pachyderm after a fortune teller persuades him that he must pursue a magical elephant in order to be reunited with his sister.
30. Don't Look Up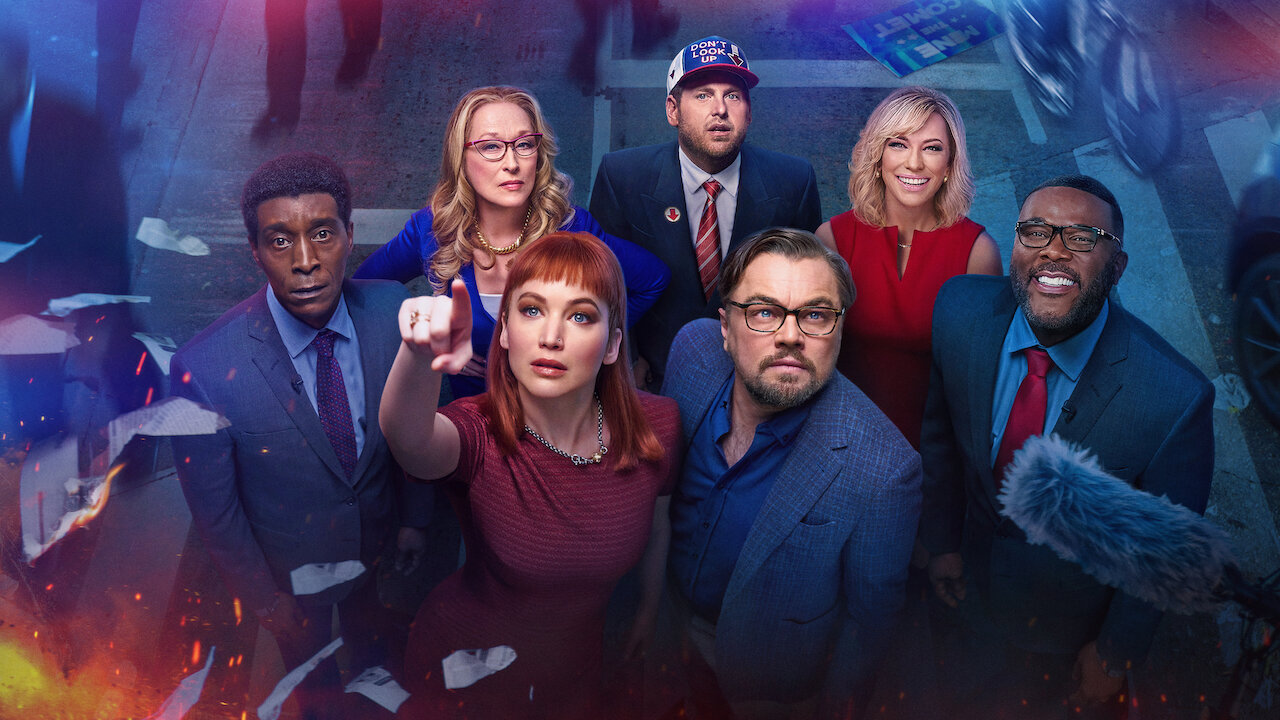 Director: Adam McKay
Writer: Adam McKay
Cast: Jennifer Lawrence as Kate Dibiasky, Leonardo DiCaprio as Dr. Randall Mindy, Rob Morgan as Dr. Teddy Oglethorpe, Jonah Hill as Jason Orlean, Mark Rylance as Peter Isherwell.
IMDb Ratings: 7.2/10
Rotten Tomatoes Ratings: 56%
An astronomy student and her professor come to know that a comet is going to hit the earth soon, but no one is serious about it. The two along with Dr. Oglethorpe tries to take the help of the media and warn the citizen, but it seems all vague.
They even try to warn the President, but everyone thinks they have just gone mad. People paid no heed and continued with their jobs irrespective of the fact that the comet can destroy the earth once and for all. Will they be able to save earth from the comet that is about the size of Mt. Everest?
This film is a comedy-drama with science fiction, drama, dark comedy, fantasy, political satire, and a lot more. It is also at times a tense drama and overall, it is a good movie to watch. Stream it on Netflix and share your loved it or not.
29. His House
Director: Remi Weeks
Writer: Remi Weeks
Cast: Wunmi Mosaku as Rial, Sope Dirisu as Bol Majur, Matt Smith as Mark, Javier Botet and Cornell John as The Apeth, Emily Taaffe as Dr. Hayes, Gamba Cole as George, and Malaika Abigaba as Nyagak.
IMDb Ratings: 6.5/10
Rotten Tomatoes Ratings: 100%
His house has a dark and mature theme revolving around a refugee couple. They somehow succeed to escape the war-affected South Sudan and are looking to have a good life in the future.
They settle in an English town but somehow feel that something is wrong. Some evil influence is disturbing them but what is it? There is an abundant mystery in this film that keeps it ongoing.
It is a popular film that has impacted the audience a lot and has been praised as well. Watch the movie, now streaming on Netflix as soon as possible and share with us, how much you liked it.
28. Marriage Story
Director: Noah Baumbach
Writer: Noah Baumbach
Cast: Scarlett Johansson as Nicole Barber, Adam Driver as Charlie Barber, Laura Dern as Nora Fanshaw, Alan Alda as Bert Spitz, Ray Liotta as Jay Marotta, Azhy Robertson as Henry Barber.
IMDb Ratings: 7.9/10
Rotten Tomatoes Ratings: 94%
This film is a must-watch. It revolves around the marriage story of Charlie and Nicole who tried their best to be in the relationship but failed. They were once the most popular couple but now are going to get divorced but are somehow failing to lead a good life. For the sake of their son Henry, they are trying to have a friendly relationship but that also is getting messy day by day.
This film is highly relatable, and the situations portrayed are extremely natural and obvious. It is a great movie so do try to watch it on Netflix soon.
27. I Am Not Your Negro
Director: Raoul Peck
Writer: James Baldwin, Raoul Peck
Cast: Leander Perez, Dorothy Counts, Joan Crawford, Stepin Fetchit, Willie Best, Mantan Moreland, Clinton Rosemond, J. Edgar Hoover, Kenneth Clark.
IMDb Ratings: 7.9/10
Rotten Tomatoes Ratings: 99%
I Am Not Your Negro is a documentary film and has a high documentary rating as well. It showcases James Baldwin's letter to his agent providing details about his next project named Remember This House. The book was meant to be personal documentation about his three companions, Medgar Evers, Malcolm X, and Martin Luther King Jr. The book had mere 30 pages and thus it is believed, it is not a complete one.
You will get to know several facts and true events that would have been lost or remained unknown to date if this film has not been fabricated. It is now streaming on Netflix so watch it and share your thoughts about it.
26. My Octopus Teacher
Director: Pippa Ehrlich, James Reed
Writer: Pippa Ehrlich, James Reed
Cast: Craig Foster, Tom Foster, Octopus, Pyjama Shark
IMDb Ratings: 8/10
Rotten Tomatoes Ratings: 93%
Take a tour of the underwater with this film and learn how well humans and animals can bond. The story focus on Craig Foster who used to have some quality time for himself and dived daily into the freezing ocean at the tip of Africa. One day he comes across an octopus and kept on tracking its movement and nature.
The two become so close that they forgot about any barriers and loved each other's presence. This film is an excellent example to show how well animals can bond as well. It is a beautiful movie with a well-fabricated plot so stream it now on Netflix.
Read More: The Best Comedies on Netflix To Watch Right Now
25. Raw
Director: Julia Ducournau
Writer: Julia Ducournau
Cast: Garance Marillier as Justine, Ella Rumph as Alexia, Rabah Nait Oufella as Adrien, Laurent Lucas as Father, Joana Preiss as Mother, Bouli Lanners as The driver, Marion Vernoux as The nurse and Jean Louis Sbille as The professor.
IMDb Ratings: 7/10
Rotten Tomatoes Ratings: 93%
The film showcases how the situation can change human beings and make them someone different. Its focuses upon Justine who settles in a new place where the environment is merciless and brutal. To cope with the new situation, she tries her best and even consumes raw meat for the first time. She evolves into a new person and faces several consequences during this process.
It is a well-fabricated film and has attracted a lot of attention and got praised as well. Watch it on the Netflix streaming platform and share whether you loved it or not.
24. The Beguiled
Director: Sofia Coppola
Writer: Sofia Coppola
Cast: Nicole Kidman as Miss Martha Farnsworth, Colin Farrell as Corporal John McBurney, Kirsten Dunst as Miss Edwina Morrow, Elle Fanning as Alicia, Oona Laurence as Amy, Angourie Rice as Jane.
IMDb Ratings: 6.3/10
Rotten Tomatoes Ratings: 79%
The story depicts McBurney as a wounded soldier who needs treatment to walk again. He has been fighting in the Civil war and has got several injuries, especially in his leg. He seeks shelter at a school that is meant only for girls and gets all benefits and treatment.
The girls are restricted from meeting someone from the outside world and on receiving McBurney, they feel pleased and soon everyone tries their luck out to get his attention.
McBurney also enjoys the company of the women and to stay longer, fakes that his injury has not healed totally. He seduces several women and takes pleasure in being with them. His lust eventually ruins him and eventually causes his death. It is an intriguing film with twists and turns so watch it and share your views.
23. Terminator 2: Judgement Day
Director: James Cameron
Writer: James Cameron, William Wisher
Cast: Arnold Schwarzenegger as The Terminator, Linda Hamilton as Sarah Connor, Edward Furlong as John Connor, Robert Patrick as T-1000, Earl Boen as Dr. Silberman.
IMDb Ratings: 8.6/10
Rotten Tomatoes Ratings: 93%
It has been a decade since The Terminator had tried to kill Sarah and John, her son who later becomes the leader to save mankind from machines. In this current era, another enemy comes up which is called Terminator-1000 which is of course more updated and advanced than the previous one. It also wants to kill John. Will the mother-son duo be able to save themselves once again? The film is full of action, drama, and adventure.
This movie is full of action and drama with a high sci-fi rating and not for a second will let you bore. Why wait then? Stream it on Netflix and share your thoughts.
22. A Walk Among the Tombstones
Director: Scott Frank
Writer: Scott Frank
Cast: Liam Neeson as Matthew Scudder, Dan Stevens as Kenny Kristo, Boyd Holbrook as Peter Kristo, Olafur Darri Olafsson as Jonas Loogan, Brian Astro Bradley as TK, Mark Consuelos as Reuben Quintana.
IMDb Ratings: 6.5/10
Rotten Tomatoes Ratings: 68%
The story of A Walk Among the Tombstones focuses upon Matt Scudder who is a private investigator and is now given the charge to find out the killers of a drug dealer's wife. As the story progresses, we get to know that even after being given the money, the kidnappers killed the woman but Scudder refuses to admit it.
Scudder goes deeper into this case and finds out a common link. The killer has done this job more than once and all the victims are somehow connected with a drug dealer. He was on the verge of leaving the case but then a girl is kidnapped, and he is determined to save the girl by any means.
The film is full of mysteries and excitement and the intriguing nature will never let you feel bored. If you are looking for an action thriller, drama, mystery then this film will be the best choice. Stream it on Netflix now.
21. A Monster Calls
Director: J. A. Bayona
Writer: Patrick Ness
Cast: Lewis MacDougall as Conor O'Malley, Liam Neeson as the Monster, Sigourney Weaver as Mrs. Clayton, Felicity Jones as Elisabeth Lizzie Clayton, Toby Kebbell as Liam O'Malley.
IMDb Ratings: 7.5/10
Rotten Tomatoes Ratings: 86%
The film depicts the struggling life of Conor. His mother is ill, his father is settled far from home and he has no such great bond with his grandmother. He is suffering from a serious crisis but one day he comes across Monster in his bedroom at night.
Unlike other monsters, this one is not at all dangerous or wild. He guides Conor on how to be happy and asks him to be confident and have faith in himself which does impact Conor and develop his character.
If you are looking for some films to watch with your child, A Monster Call will be the best choice. It has a charm of its own which is liked by both adults and children so start streaming it on Netflix.
Read More: The Best Netflix Original Movies To watch Right Now
20. The Lost Daughter
Director: Maggie Gyllenhaal
Writer: Maggie Gyllenhaal
Cast: Olivia Colman as Leda Caruso, Dakota Johnson as Nina, Ed Harris as Lyle, Peter Sarsgaard as Professor Hardy, Dagmara Dominczyk as Callisto, Paul Mescal as Will.
IMDb Ratings: 6.7/10
Rotten Tomatoes Ratings: 95%
The Lost Daughter is a great film that is sure to delight you. It narrates the story of a college professor who, to have some quality time for herself goes on a vacation to Italy.
There she meets a young mother and a daughter duo and becomes obsessed with them. She relates that mother with her past and remembers all her memories of her past life, especially during her early motherhood.
It is a decent movie to have some quality time and that is why it is available to be streamed on Netflix.
19. The Exorcist 1973
Director: Willaim Friedkin
Writer: William Peter Blatty
Cast: Ellen Burstyn as Chris MacNeil, Jason Miller as Father, Linda Blair as Regan MacNeil, Max von Sydow as Father Lankester Merrin, Lee J. Cobb as Lieutenant William F. Kinderman.
IMDb Ratings: 8.1/10
Rotten Tomatoes Ratings: 83%
The Exorcist, a 1973 film is loosely based on true events and was one of the most profitable movies during that time. The story focus on Regan, who started acting weirdly. His family became worried, and his mother Chris MacNeil goes to the doctor to treat her daughter.
Things did not improve and a local priest worries that she might have been possessed and seeks to perform an exorcism. He requests the Church for approval and an expert, father Lankester Merrin comes to help them.
Read More: The 25 Best Action Movies on Netflix To Watch Right Now
18. Dolemite is My Name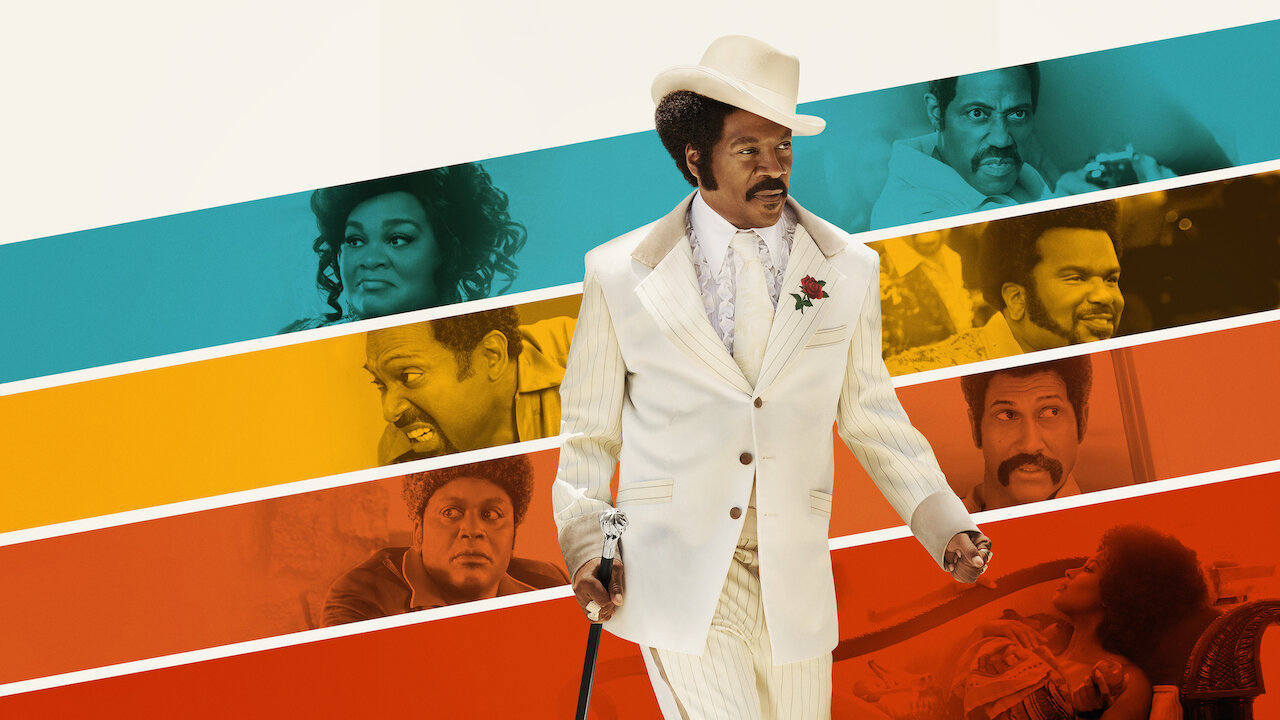 Director: Craig Brewer
Writer: Scott Alexander, Larry Karaszewski
Cast: Eddie Murphy as Rudy Ray Moore, Da'Vine Joy Randolph as Lady Reed, Keegan-Michael Key as Jerry Jones, Mike Epps as Jimmy Lynch, Craig Robinson as Ben Taylor.
IMDb Ratings: 7.3/10
Rotten Tomatoes Ratings: 97%
The story revolves around the protagonist Eddie Murphy, or Rudy Ray Moore who after being turned down several times, finally gets a scope to become famous under the name of Dolemite. He resolves to make a film as well, but will it work out?
His struggle is real to be famous once and for all so watch the film on Netflix and see what happened next.
17. Da 5 Bloods
Director: Spike Lee
Writer: Danny Bilson, Paul De Meo, Kevin Willmott, Spike Lee
Cast: Delroy Londo as Paul, Jonathan Majors as David, Clarke Peters as Otis, Norm Lewis as Eddie, Isiah Whitlock Jr as Melvin, Johnny Tri Nguyen as Vinh.
IMDb Ratings: 6.5/10
Rotten Tomatoes Ratings: 92%
This film depicts the lives of Vietnam war veterans who return to their country and search for the remains of their fallen squad leader as well as some wealth or treasure. It is full of action and drama and is a tribute to those warriors who fought for their country. It has several references to the Black soldiers but is a fictional story.
This movie is a must-watch on the Netflix streaming platform so try to stream it as soon as possible. The drama rating is also quite high so do not miss it.
16. Big Fish (2003)
Director: Tim Burton
Writer: John August
Cast: Ewan McGregor as Edward Bloom, Albert Finney as Edward Bloom, Billy Crudup as Will Bloom, Jessica Lange as Sandra Bloom, Helena Bonham Carter as Jenny, Alison Lohman as Sandra Bloom
IMDb Ratings: 8/10
Rotten Tomatoes Ratings: 75%
The movie revolves around the father-son duo, Edward and William. Edward is on the verge of dying and William has come to see him after several years. They had a very estranged relationship as William thought Edwards always exaggerated events and never did tell the truth.
Edward then goes on a mission to know did his father lay or were the incidents true. Watching this film on Netflix and get to know who was right.
15. Crimson Peak
Director: Guillermo del Toro
Writer: Guillermo del Toro, Matthew Robbins
Cast: Mia Wasikowska as Edith Cushing, Jessica Chastain as Lucille Sharpe, Tom Hiddleston as Thomas Sharpe, Charlie Hunnam as Dr. Alan McMichael, Jim Beaver as Carter Cushing.
IMDb Ratings: 6.5/10
Rotten Tomatoes Ratings: 72%
Crimson Peak falls under the genre of gothic romance and focuses upon the newlywed couple, Sir Thomas Sharpe and Edith. She moves into his gothic mansion where she comes across Lady Lucille, Thomas' sister, and also gets to know that some dark secrets are being hidden from her. Edith has a supernatural power, a power to talk with the dead and via which she wants to know all the secrets.
Will Edith be able to find out the mystery or will she end up realizing that monsters there are just like any other human and made of blood and flesh? Stream it on Netflix and know what happened.
14. The Kindergarten Teacher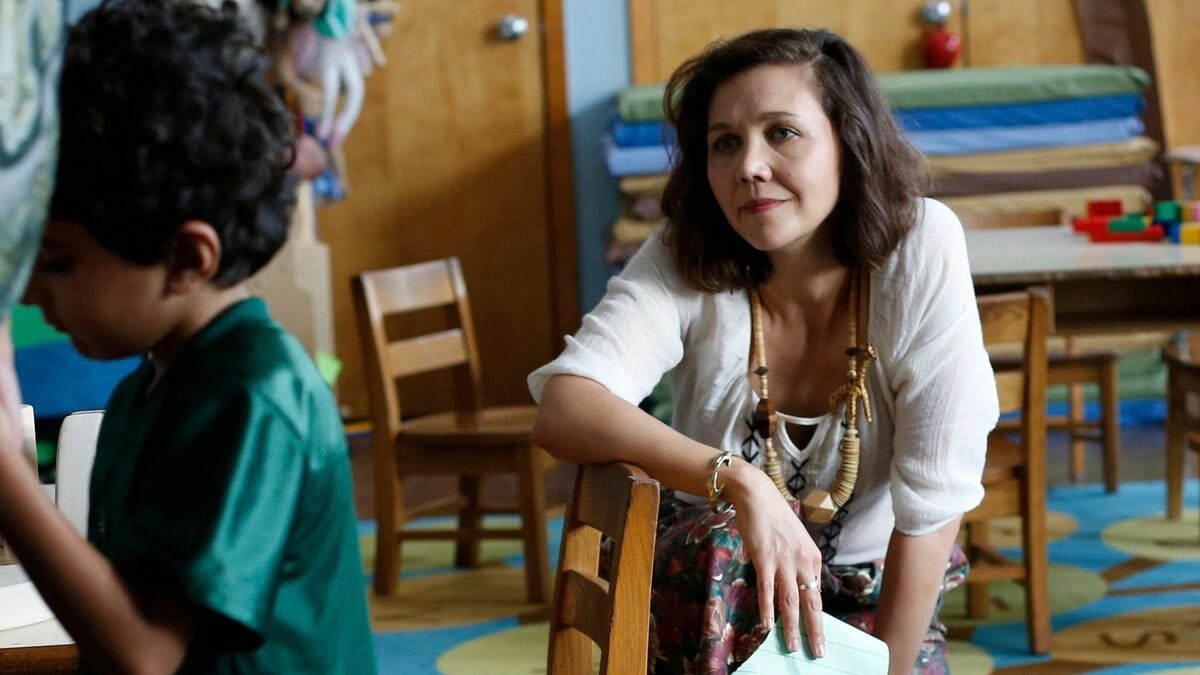 Director: Sara Colangelo
Writer: Sara Colangelo
Cast: Maggie Gyllenhaal as Lisa Spinelli, Parker Sevak as Jimmy Roy, Michael Chernus as Grant Spinelli, Gael Garcia Bernal as Simon, Anna Baryshnikov as Meghan, Ajay Naidu as Nikhil Roy.
IMDb Ratings: 6.7/10
Rotten Tomatoes Ratings: 90%
This film is based on the film by Nadav Lapid that has the same name. This film takes you to your childhood. Its focus is on the relationship of a teacher and student where the former is desperate to take every measure just to let her student prosper in life. Her 5-year-old student has incomparable talent in poetry and to let it grow, Lisa even risks her own life.
This film reflects true relations and is worth watching. Stream it on Netflix and get to know how it ended.
13. How to Train your Dragon 2
Director: Dean DeBlois
Writer: Dean DeBlois
Cast: Jay Baruchel as Hiccup Horrendous Haddock III, America Ferrera as Astrid Hofferson, Gerard Butler as Stoick the Vast, Cate Blanchett as Valka Haddock, Craig Ferguson as Gobber the Belch, Christopher Mintz-Plasse as Fishlegs Ingerman.
IMDb Ratings: 7.8/10
Rotten Tomatoes Ratings: 91%
The first film of this series was released in the year 2010 and this, second part aired in 2014. During these five years, Hiccup and Toothless have been happily living and roaming around in different places until one day they come to know about a new area. This new area is an ice cave that is also the shelter to a huge number of new dragons and the Dragon Rider. To let there be peace, the duo tries their best to save both humans and dragons.
If you love animation, then you must watch this movie as well as all the sequels.
12. Lady Bird
Director: Greta Gerwig
Writer: Greta Gerwig
Cast: Saoirse Ronan as Christine Lady Bird MacPherson, Laurie Metcalf as Marion MacPherson, Tracy Letts as Larry MacPherson, Lucas Hedges as Daniel Danny O'Niell, Timothee Chalamet as Kyle Scheible.
IMDb Ratings: 7.4/10
Rotten Tomatoes Ratings: 99%
The story focuses on Christine Lady Bird MacPherson, who is a high school teenage girl and daughter of Larry and Marion. She is inclined towards adventure and fun but fails to get any of them both at home and school. She also does not belong to a high-class family and goes through a financial crisis as well. The movie is all about her first love, her college admission, and her overall development from a teenager to an adult.
This is one of the best movies on Netflix right now so stream it soon.
11. The Harder They Fall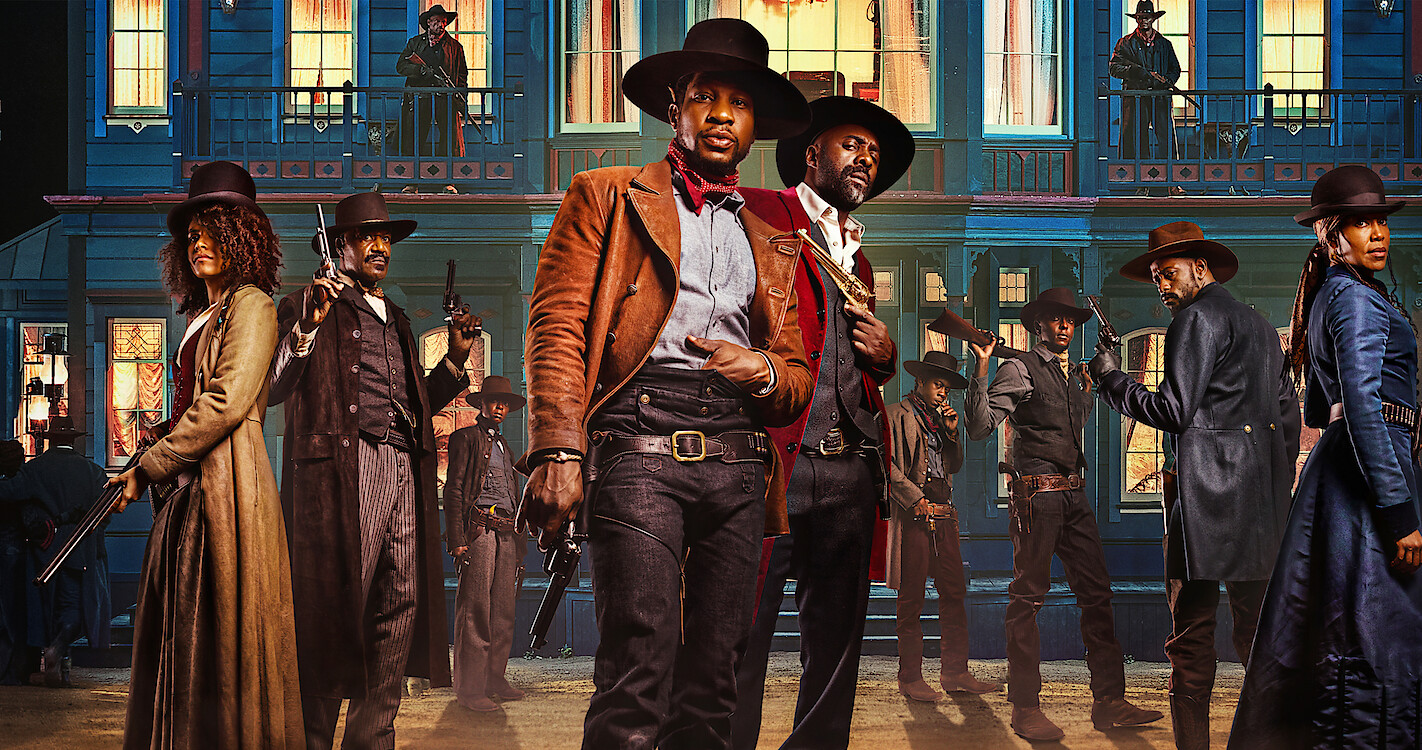 Director: Jeymes Samuel
Writer: Jeymes Samuel, Boaz Yakin
Cast: Jonathan Majors as Nat Love, Idris Elba as Rufus Buck, Zazie Beetz as Stagecoach Mary, Regina King as Trudy Smith, Delroy Lindo as Bass Reeves, Lakeith Stanfield as Cherokee Bill
IMDb Ratings: 6.6/10
Rotten Tomatoes Ratings: 88%
Nat, an outlaw gets to know that Rufus, who is his enemy has been released. Nat cannot stand the thought and gathers his gang to track Rufus. Rufus on the other hand as well teams up with his friends and they are not someone who will lose easily.
If you are looking for some excitement and action, then this movie will be a great choice to stream on Netflix.
Read More: The Best Sci-Fi TV Movies on Netflix For Science Lovers
10. Uncut Gems
Director: Josh Safdie, Benny Safdie
Writer: Ronald Bronstein, Josh Safdie, Benny Safdie
Cast: Adam Sandler as Howard Ratner, Lakeith Stanfield as Demany, Julia Fox as Julia De Fiore, Kevin Garnett as himself, Idinia Menzel as Dinah Ratner, Eric Bogosian as Arno, Judd Hirsch.
IMDb Ratings: 7.4/10
Rotten Tomatoes Ratings: 92%
The film centers around the life of Adam Sandler who was once a famous gems dealer but due to gambling, he has lost everything and now is in great debt.
He always is in search of a big opportunity and one day, after coming across an uncut rock with Ethiopian gems, he thinks this is it. But Adam Sandler realizes that whatever he does, he can never run away from his past.
Watch this film on Netflix and share whether you liked it or not.
9. The Disaster Artist
Director: James Franco
Writer: Scott Neustadter, Michael H. Weber
Cast: James Franco as Tommy Wiseau, Dave Franco as Greg Sestero, Seth Rogen as Sandy Schklair, Ari Graynor as Juliette Danielle, Alison Brie as Amber.
IMDb Ratings: 7.3/10
Rotten Tomatoes Ratings: 91%
Greg Sestero is portrayed to be highly interested in acting and wants to become an actor in the future as well. He comes across Tommy in an acting class and from then onwards, Tommy starts encouraging Greg to be confident and go after his dreams.
The two initially fail but with such determination, can they achieve what they want? Stream this movie and get to know what happened next.
8. Phantom Thread
Director: Paul Thomas Anderson
Writer: Paul Thomas Anderson
Cast: Daniel Day-Lewis as Reynolds Woodcock, Lesley Manville as Cyril Woodcock, Vicky Krieps as Alma Elson, Camilla Rutherford as Johanna, Gina McKee as Countess Henrietta Harding.
IMDb Ratings: 7.5/10
Rotten Tomatoes Ratings: 91%
The story revolves around Reynolds Woodcock who is a famous dressmaker and is helped by his sister Cyril to manage the business. He had been fabricating dresses for very high families as well, from movie stars to royal members. He was determined to remain a bachelor since he was a young man and now for the rest of his life until Alma comes, and he falls in love with her.
It is an intriguing film having abundant dramas in it. If you love drama, then this is a must-watch.
7. The Florida Project
Director: Sean Baker
Writer: Sean Baker
Cast: Brooklynn Prince as Moonee, Bria Vinaite as Halley, Willem Dafoe as Bobby Hicks, Christopher Rivera as Scooty, Mela Murder as Ashley, Valeria Cotto as Jancey, Caleb Landry Jones.
IMDb Ratings: 7.6/10
Rotten Tomatoes Ratings: 96%
This film portrays two worlds, the fantasy world of Moonee and the harsh real world of Halley. Halley has nowhere to live, she and her daughter are homeless, but Bobby does arrange for a space that Moonee is happy to live in and fails to know that there is a world besides the fantasy world in which she is living.
This film has been praised for several reasons but especially for portraying how harsh reality is. How is the mother-daughter going to survive in the long run? Watch it and get your answers.
6. It follows
Director: David Robert Mitchell
Writer: David Robert Mitchell
Cast: Maika Monroe as Jaime, Keir Gilchrist as Paul Bolduan, Daniel Zovatto as Greg Hannigan, Jake Weary as Hugh, Olivia Luccardi as Yara Davis, Lili Sepe as Kelly Height.
IMDb Ratings: 6.8/10
Rotten Tomatoes Ratings: 96%
This is a sort of a weird kind of film where unnatural things start to happen to a young girl who had just been involved in a physical relationship with her boyfriend. She later learns that a curse is following her, and such a curse gets passed to another via sexual intercourse.
She gets helped later by her friends only after they too saw supernatural things happening with her. This film is new of a kind so you can give it a watch.
5. Sleight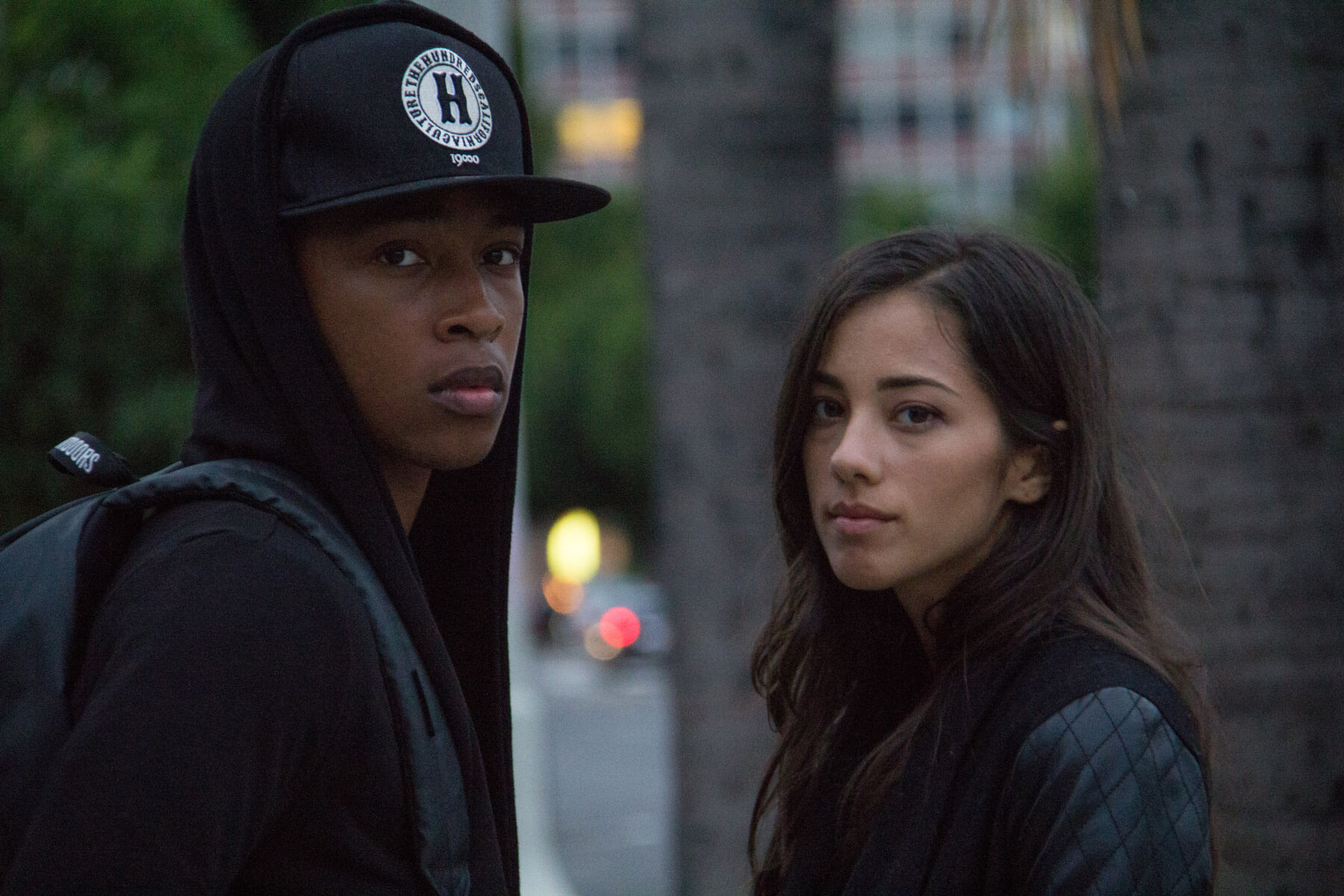 Director: J. D. Dillard
Writer: J. D. Dillard, Alex Theurer
Cast: Jacob Latimore as Bashir Bo Wolfe, Seychelle Gabriel as Holly, Dule Hill as Angelo, Storm Reid as Tina Wolfe, Sasheer Zamata as Georgi, Michael Villar as Packy.
IMDb Ratings: 5.9/10
Rotten Tomatoes Ratings: 78%
This film was first released at the sundance film festival and since then there has been a lot going on around it. The story depicts how a young street magician somehow manages to keep on living with his sister. after their mother's death, Bashir becomes a drug dealer and supports his sister who after some time gets kidnapped and Bashir uses his sleight of hand and strategies to find her.
Watch this film on Netflix and be sure it won't disappoint you.
4. Yes, God, Yes
Director: Karen Maine
Writer: Karen Maine
Cast: Natalia Dyer as Alice, Timothy Simons as Father Murphy, Wolfgang Novogratz as Chris, Allison Shrum as Heather, Francesca Reale as Laura, John Henry Ward as Adam.
IMDb Ratings: 6.1/10
Rotten Tomatoes Ratings: 93%
This film revolves around a Catholic teenager who is devoted to God but somehow fails to live her life the way she wants and always seems to suppress her feelings. Will she live on with the fear of eternal damnation or will she follow her heart and go on doing want makes her happy?
We all must have gone through situations where we had to make hard choices and this film depicts one such incident.
3. Roma
Director: Alfonso Cuaron
Writer: Alfonso Cuaron
Cast: Yalitza Aparicio as Cleodegaria, Marina de Tavira as Sofia, Fernando Grediaga as Antonio, Jorge Antonio Guerrero as Fermin, Marco Graf as Pepe, Daniela Demesa as Sofi.
IMDb Ratings: 7.7/10
Rotten Tomatoes Ratings: 96%
This film depicts mainly the lives of two women, Cleo and Sofia who work for Antonio and look after 4 children. One day Antonio flees away with his mistress leaving the two ladies behind and soon after it is revealed that Cleo is pregnant.
The plot then proceeds to showcase the journey of the two ladies and their care and affection for each other.
2. Mudbound
Director: Dee Rees
Writer: Dee Rees, Virgil Williams
Cast: Carey Mulligan as Laura McAllan, Garrett Hedlund as Jamie McAllan, Jason Clarke as Henry McAllan, Mary J. Blige as Florence Jackson, Rob Morgan as Hap Jackson, Jason Mitchell as Ronsel Jackson.
IMDb Ratings: 7.4/10
Rotten Tomatoes Ratings: 97%
The movie centers around two men when World War ii is just over, and they are finding it hard to lead a good life somewhere near the Mississippi Delta. They witness racism, poverty, and hardship and reflect the true story of people during that time.
It is a great historical film to watch and is thus made available to be streamed on Netflix.
1. Atlantics
Director: Mati Diop
Writer: Mati Diop, Oliver Demangel
Cast: Mame Bineta Sane as Ada, Amadou Mbow as Issa, Ibrahima Traore as Souleiman, Nicole Sougou as Dior, Aminata Kane as Fanta, Mariama Gassama as Mariama.
IMDb Ratings: 6.7/10
Rotten Tomatoes Ratings: 96%
The story focuses on the romantic relationship between Ada and Souleiman, but she has been promised to someone else. All of a sudden, Souleiman and his companions disappear before any prior notice and return only to take back their lovers. Some have even come with the aim of revenge if they are not paid their wages.
This is a romantic drama and has a high romance rating as well. It has included several genres like narrative and supernaturalism as well.
Read More: The Best Thrillers on Netflix Right Now
Conclusion
Movie popularity is based on several things like whether they are horror movies or not as this genre is nowadays most in demand, or whether it has got high comedy rating /horror rating/drama rating/action thriller rating or thriller rating or is it the latest film or an old film, is it a part of film chronicles or not and so on.
Several underrated films are now coming into the limelight for Netflix and that is a good thing since people sometimes do like movies from the old lot. You can also stream decade-old films or remakes that would have been lost if Netflix had not taken the initiative to stream them.
It is hard to say which movies are the best since everyone has a different choice. Just go and stream whatever film you want and share if you like any from the above-mentioned list of movies.
For more such lists, news, latest updates about films and series, stick with us to be sure that you are going to get relevant news. Also do not forget to share which ones you loved and which ones you didn't.