Walt Disney is the world of animation that everyone has grown up with. They have given movies, stories, and characters that are still going on and will continue generation after generation. Undoubtedly, the main characters remember the best Disney movies, but the sidekicks have a different place in the mind.
The Disney animated sidekicks are not just supporting characters but a film's voice, partner, and life.
These sidekicks are not just known as a filler to the movie but have given the viewers the best songs to remember and hum. The big hero of Disney animated features is nothing without Disney sidekicks.
In Disney's history, sidekicks have played a pivotal role and have been adored more than the main character. They have also been the reason for making the main character shine or reach the goal.
Viewers remember the villains like Shan Yu and Maleficient in the Disney films. Still, sidekicks are impossible to forget because their comedy adds life to the entire movie, be it Genie, Jiminy Cricket, or Pumbaa of Lion King. Any Disney character is incomplete without Disney sidekicks. It isn't straightforward to pinpoint the best sidekicks from the movies.
So many of them act as friends, saviors, cupids, and much more. One might be seen saving Moana's boat and helping Mulan, so the other might be seen as a genie granting wishes. Disney movies without official Disney information on the remarkable sidekicks are just unfair.
So, let's reminisce about childhood and the memories with Disney through this article, which will present the 20 best Disney sidekicks of all time, without whom the movies and the main characters would have been nothing but a bland soup. Let's find out who you relate with more and happen to be a massive fan of whom.
20. Meeko/Flit (Pocahontas)
Meeko is a Kleptomaniac raccoon who loves eating, especially the biscuits made by john smith. He is mischievous and greedy but still playful. He is mainly seen around with Flit or Percy. Flit is the hummingbird and makes a fantastic duo with Meeko.
Both act as a devil (Meeko) and a fairy (Flit) on Pocahontas's shoulders. They are the comic and cute characters without whom the animated film becomes incomplete and unimaginable.
This duo is not just on her shoulders but on each other. Meeko never loses a chance to get Flit into trouble in any way. Both of them have opposing views. Meeko supports Pocahontas' love, and Flit supports her father's wishes.
19. Mushu (Mulan)
Mulan without Mushu is just impossible to imagine as he was one of the most important characters who proved that sidekick characters have a significant role to play and cannot be ignored just like that.
Eddie Murphy played Mushu in Mulan and made the audience laugh out loud—the most humorous character in the movie.
He did not just make people laugh but was always there as a supportive friend of Mulan. He had a cause-and-effect relationship with her. He was the cause for Mulan to grow as a character in the film and to drive the story's plot ahead.
18. Timon and Pumbaa (The Lion king)
No one wouldn't have heard about The Lion King, and if this movie is mentioned, it is obvious, say the fantastic sidekick duo Timon and Pumbaa.
They were one of the most loved and remembered characters in the film. They have had punch lines that stick in the mind if once heard.
They brought humor to the film, lighting its mood, especially when Simba loses Mufasa. They did not just make the audience laugh but also showed the value of a friend by lifting Simba from the burden of sorrow he was going through. The easy-going characters who believe in "Hakuna Matata."
17. Flora, Fauna, and Merryweather (Sleeping beauty)
The three good-natured fairies of Sleeping Beauty are not just sidekicks but highlights of the movie that cannot be forgotten.
They supply magic for King Stefan and protect Stefan and Princess Aurora from Maleficient. They are happy and loving fairies who keep Aurora safe, and they shine when they fly. They utilize their magic for service because they are good fairies. According to them, their magic is only meant to do good things.
16. Baloo (The Jungle Book)
The Jungle Book has taught viewers about love and friendship because of Baloo and Mowgli. The Jungle Book might be synonymous with Mowgli, but Baloo as a sidekick cannot be avoided.
Baloo is a fun and caring character that plots ways to fight Sher Khan and has given the viewers incredible moments to remember. And how can one forget his song "The bare necessities," which became one of the iconic songs of Disney and for Disney viewers?
15. Pascal (Tangled)
Tangled means Rapunzel's pet chameleon, Pascal, in the sidekick category, who is just too adorable to take.
Pascal is one sidekick who tries to keep Rapunzel company to remove her loneliness and help her get her freedom. He is the cutest sidekick, without a doubt. He has the power to change his colors but not his loyalty never changes towards Rapunzel. He was her only friend when Mother Gothel trapped her in the tower.
14. Lumiere and Cogsworth (beauty and the beast)
Who does not know the sidekick duo of Walt Disney? Beauty and the Beast is nothing without them and their loyalty toward the main characters. More than a sidekick, they reflect the relationship they share, where Lumiere loves irritating Cogsworth.
This duo is one of its kind as they are the polar opposite of each other which, in turn, leads to multiple comic scenes. Even though they are at odds with one another, they save each other when such a situation appears. Their relationship is the perfect example of frenemies.
13. Gus and Jaq (Cinderella)
Without her sidekick, Cinderella would have never been able to become the cinder Ella we all know. Among all the sidekicks that stood out were Gus and Jaq.
There were a lot of mice, but these two characters were in the spotlight. They helped cinder Ella at every problematic moment,, be it when her dress had to be finished, or she had to be rescued from her stepmother.
They were the most important characters, leading to a happy ending in Cinderella's story. With all the help, they undoubtedly kept the audience entertained without fail.
12. Louis (The Princess and The Frog)
Alligator is a scary animals, but Louis is not on that list. Louis is an alligator who is fond of Jazz. He is a music lover at heart as he can play trumpet and dreams of being in a jazz team of humans someday. He is funny and talented.
This is one alligator in the world who is scared of things but is brave when the situation wants him to be. For example, he can give and do anything to jam with humans in a band.
11. Sebastian and Flounder (The Little Mermaid)
The little mermaid is one of the best Disney movies which cannot be missed. From Princess Ariel to the sidekicks, all of them are lovable characters.
People who have watched The Little Mermaid always wish for a best friend like Flounder. He is adventurous and sticks with the mermaid-like a true friend.
The Jamaican-accented crab Sebastian is the animated movie's great sidekick. He serves as the advisor of King Triton and a court composer.
Even though he has such a high position, he still has the task of looking after Princess Ariel. And he does not look after her out of duty but because he loves her, cares for her, and thus helps her. He is fun, kind, loyal but always anxious and has a sense of urgency.
10. Terk (Tarzan)
Tarzan's big sister Terk loves to be the one to lead and tell people what to do. She is a fun-loving gorilla and best friend of Tarzan. She always tells Tarzan what to do because of her caring nature and her assumption that he wouldn't be able to survive without her.
Even though he can live independently, Tarzan knows that she cares for him though she never expresses that openly.
Terk is not just bossy but funny and adventurous too. So, if one wants to have an imaginative ape best friend aim for Terk only.
9. Tinker Bell (Peter Pan)
Tinker Bell is one of the most famous sidekicks that had a complete movie based on her. She is a sassy fairy, always beside Peter Pan and his exploits. She has a relationship with Peter that elicits jealousy if she sees him with other girls.
And how can someone forget the pixie dust she owns, which lets her fly as long as she wants? She is one of the best and favorite Disney sidekicks. She is so popular that she also became the spokesperson of Walt Disney. One can quickly know she is nearby because of her jingling bells, aura, and dust.
8. Timothy Q Mouse (Dumbo)
This Disney sidekick is more than a sidekick. He is the one who gives voice to the main character.
Timothy and Dumbo have a very close relationship where Timothy is like an elder brother to Dumbo. This relationship is funny and unique because elephants are known to be scared of mice.
However, this Disney movie shatters this claim by showing that anyone can be a friend. Timothy is the opposite of Dumbo and does everything he can to help Dumbo. He is a savior.
7. Seven Dwarfs (Snow White)
Talking about Disney's sidekick without the seven dwarfs is just a crime. They were the first sidekick ever introduced by Disney in their first feature film on the big screen.
They found snow white in their cabin and let her stay. No one can ever replace these seven side kicks yoke because they have an immediate and age-old connection with Disney fans.
6. Little John (Robin Hood)
The bear Little John is the loyal sidekick of Robin Hood. He is talented as a fortune-teller and a duke. He also is an impersonator who impersonates the Sheriff of Nottingham. He also knows archery; in the movie, he is shown as a skilled, well-off fighter.
Throughout the journey, he is a cautious sidekick and keeps his friend safe from any troubles that can happen because of Robin's plans.
5. Jiminy cricket (Pinocchio)
The talking cricket of Disney. He is quite a unique character who dresses well in a derby hat, tailcoat, and umbrella. He is the master of what is right and what is wrong. He is that one character who acts as the moral guide for the viewers of Disney animated movies.
He is presented as the knowledgeable sidekick who sometimes acts as the counselor when needed. He is the guide for Pinnochio to grow and is his official conscience of him. He has also been the one character who has stood alongside Mickey and Tinker Bell as Disney's face.
4. Pegasus (Hercules)
The true definition of the right hand is Pegasus, created by Zeus of Hercules. Frank Welker was the voice behind the steed with wings. He is not just a right hand but the best transportation and backup in battle who would always be there when needed. He is also a loyal friend and a steed with quirky behavior.
He is filled with power, stamina, speed, and insight. In addition, he is famous for his whistling, which adds that extra rhythm to the film. Besides, he is pretty protective and can jump into trouble without thinking twice if it includes Hercules.
3. Sven and Olaf (Frozen)
Sven is a close and super loyal friend of Kristoff. He is the sidekick who has helped everyone in the film, making him a helpful sidekick and an essential character.
He becomes the cupid for the ice harvester to realize his love for Anna. They are best friends in every way and stick together in every situation. He is not just with Kristoff but also with Anna making him everyone's friend.
Olaf is Anna's sidekick, who is cute and energetic. So, if someone feels low, watch him, and you will be energized.
2. Toby (The Great Mouse Detective)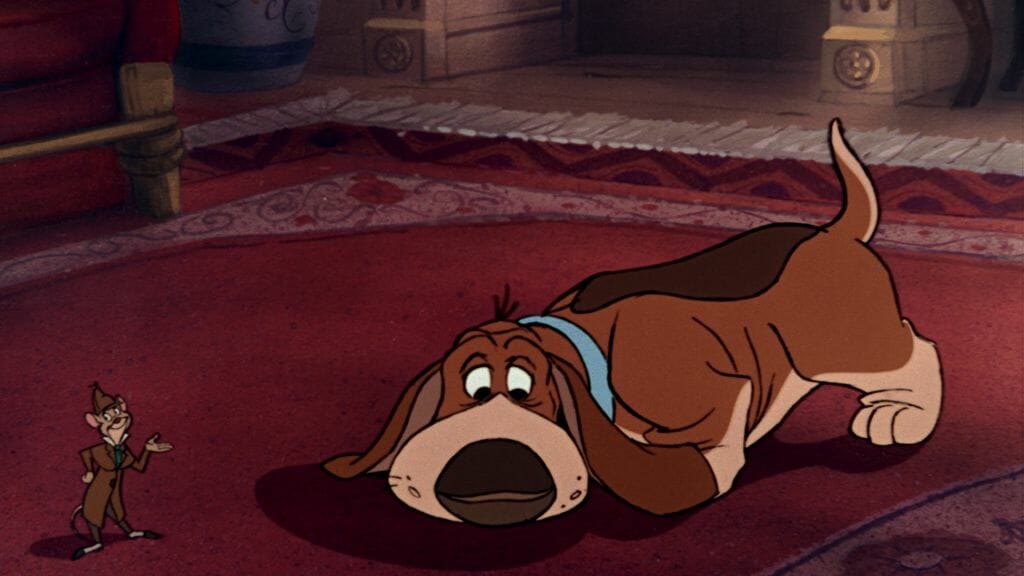 The great mouse detective without sweet Toby is just not complete. He is the hound with splendid smelling power, which is evident because he is owned by "Sherlock Holmes. He helps Basil to solve cases and proves to be a super loyal friend of Basil. He can track, chase, and intimidate anyone who comes near Basil, bringing out his protective side as a sidekick.
He is not just protective of Toby but also sensitive toward Olivia, no matter whether Basil likes her or not.
1. Genie, Abu and The Magic Carpet (Aladdin)
If one has watched Aladdin, one can't forget the three sidekick characters who made Aladdin so famous.
Genie, performed By Robin Williams, is one of those characters that complete Aladdin and is unforgettable. The performance got so ingrained in the audience's minds that everyone once in their life wished for a genie with magical powers to grant three wishes.
He was funny and made out Aladdin stand out like no one, and how can his killer song"Friend Like Me" can be forgotten?
Abu, a kleptomaniac monkey known for being mischievous and a loyal friend of Aladdin who not only helps him to get Jasmine but also helps him to survive; otherwise, no one would have ever talked about the adorable couple Jasmine and Aladdin.
The magic carpet that symbolizes success for Aladdin is not just a carpet but a protector and more than a sidekick. The whole story is incomplete, with the magic carpet with magical powers that leads to Jasmine passing through all the hindrances.