Binge-watching movies and series is a common thing these days and now streaming services are also coming up with great content. HBO Max offers a great selection of sci-fi movies and this genre has always been a treat, like by many as it is a perfect balance between thematic maturity and entertainment. Although best Sci-fi movies on HBO Max don't much prioritize this genre but has an exhaustive collection of the same.
HBO Max has several sci-fi classic movies on its platform and for those who are struggling to choose with which they should start, we have the solution to your problem. Here in the following list, there have been several sci-fi movies mentioned that will be liked by each and every science fiction fan.
20. 2001: A Space Odyssey (1968)
Director: Stanley Kubrick
Writer: Stanley Kubrick, Arthur C. Clarke
Cast: Keir Dullea, Gary Lockwood, Douglas Rain, William Sylvester, and others
IMDb Ratings: 8.3/10
Rotten Tomatoes Rating: 92%
Streaming Platform: HBO Max
Many books have been written on the impact of this movie. Many innovative techniques like rotating sets, suspending actors through wires and zero gravity effects have been used in 2001: A Space Odyssey. This film had a huge impact on the other movies. The fact that this film was made in the 1960s with such great techniques, makes it an interesting watch.
The special effects used in 2001: A Space Odyssey were carefully thought out and executed. The themes included in this were human evolution and artificial intelligence which made it a great science fiction movie and also one of the best films in the history of cinema.
19. Fantastic Planet (1973)
Director: René Laloux
Writer: René Laloux, Stefan Wul, Roland Topor, Steve Hayes
Cast: Jennifer Drake, Eric Baugin, Jean Topart, and others
IMDb Ratings: 7.7/10
Rotten Tomatoes Rating: 91%
Streaming Platform: HBO Max
Fantastic Planet can be viewed multiple times without ever getting bored. The film is one of a kind and watching it feels like a unique experience. Those who haven't seen this 1970s masterpiece are missing a lot of things. The visual scheme of Fantastic Planet can't be compared with any other movie.
18. Tenet (2020)
Director: Christopher Nolan 
Writer: Christopher Nolan 
Cast: John David Washington, Robert Pattinson, Elizabeth Debicki, Kenneth Branagh, and others
IMDb Ratings: 7.4/10
Rotten Tomatoes Rating: 69%
Streaming Platform: HBO Max
Tenet seems to be a lot like Inception at first. Nolan's films show at least one person who is constantly trying to figure out things and this one is a classic Christopher Nolan movie. It is obvious that the audience will get confused as much as the protagonist (here played by John David Washington).
Just like Inception, Tenet also shows a series of heists. Sci-fi movies lovers shall find great enjoyment while watching this big-budget film that released in theatres in 2020.
17. Mad Max: Fury Road (2015)
Director: George Miller
Writer: George Miller, Brendan McCarthy, Nico Lathouris
Cast: Charlize Theron, Tom Hardy, Nicholas Hoult, Hugh Keays-Byrne, Rose Huntington-Whiteley, Riley Kough, Abbey Lee, and others
IMDb Ratings: 8.1/10
Rotten Tomatoes Rating: 97%
Streaming Platform: HBO Max
George Miller's Mad Max: Fury Road is full of action. Several years after the civilization collapsed, Joe enslaves the survivors of the apocalypse inside the empty fortress of the Citadel. When Furiosa attempts to lead the wives in an escape, she finds a partner in Max Rockatansky (played by Tom Hardy). This movie earned many award nominations because of its narrative and characters.
16. Mad Max 2: The Road Warrior (1981)
Director: George Miller 
Writer: George Miller, Brian Hannant, Terry Hayes
Cast: Mel Gibson, Bruce Spence, Emil Minty, Mike Preston, Kjell Nilsson, and others
IMDb Ratings: 7.6/10
Rotten Tomatoes Rating: 94%
Streaming Platform: HBO Max
The original movie of Mad Max showed us a crumbling society that collapsed in the future. George Miller's sequel to this one shows amazing stunts and great choreography. The production design was changed for this movie.
In this one, Max is seen helping a community to fight against a gang of deadly people- Humungous (played by Kjell Nilsson). The Road Warrior is among the most copied film of this decade.
15. Solaris (1972)
Director: Andrei Tarkovsky
Writer: Andrei Tarkovsky, Friedrich Gorenstein
Cast: Donatas Banionis, Natalya Bondarchuk, Jüri Järvet and others
IMDb Ratings: 8/10
Rotten Tomatoes Rating: 92%
Streaming Platform: HBO Max
Andrei Tarkovsky is known to make huge impacts on the cinema focused on various sci-fi films. This movie is a complex one that shows astronauts having wild hallucinations about various things that might or might not be true. The remake of Solaris was made in 2002 with a mixture of romance by George Clooney.
Dr. Kris Kelvin is a psychologist who is sent to a space station that is orbiting around a mysterious planet. He is sent there to investigate the mental crisis being faced by the crew. Initially, Kris believes that they are having hallucinations due to the isolation and separation from their loved ones. Soon, he is confronted by an appearance from his wife Hari who is dead. What does this mean? Solaris is one of the best sci-fi movies that has even been made.
14. Jurassic Park (1994)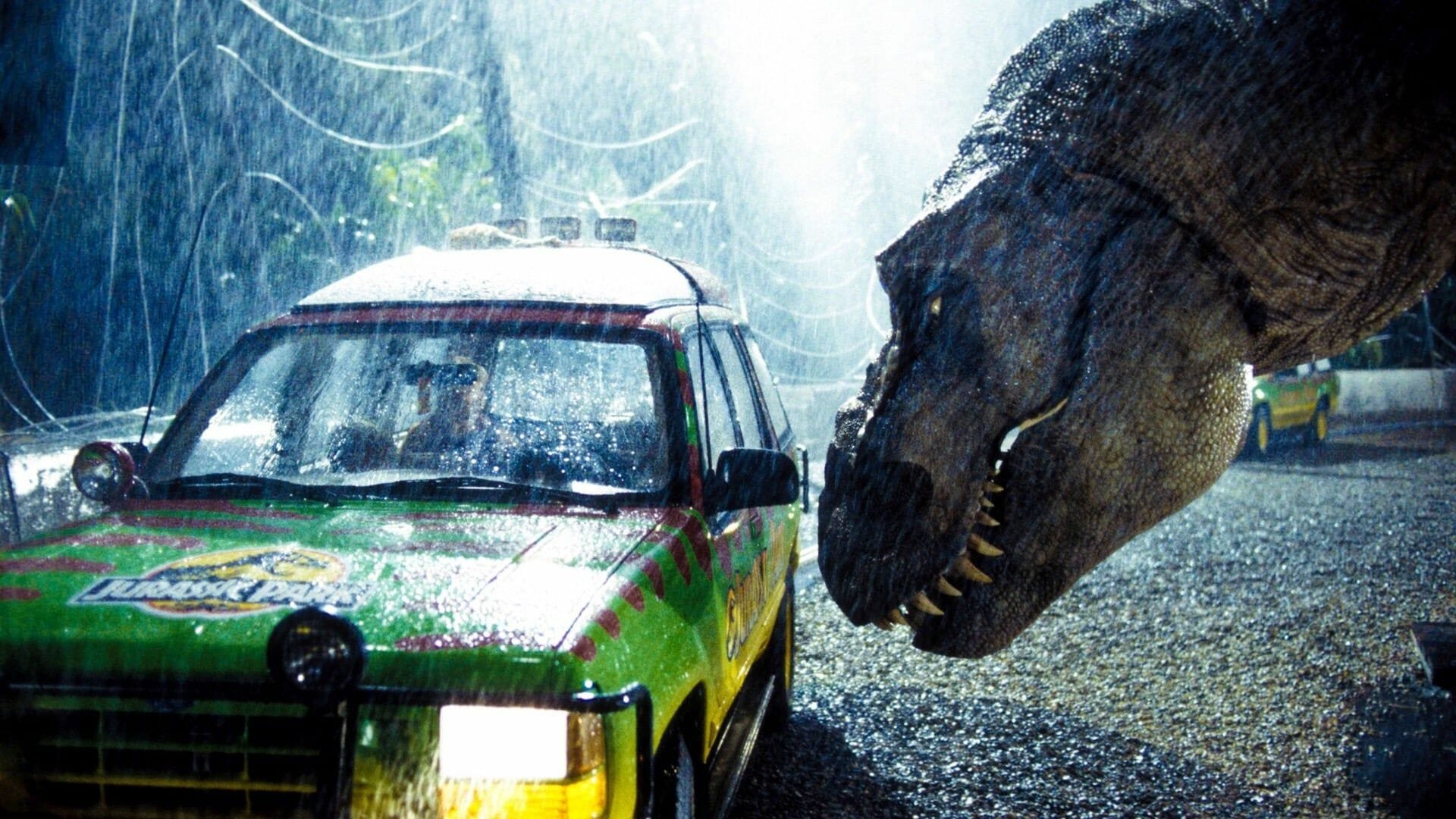 Director: Steven Spielberg
Writer: Michael Crichton David
Cast: Sam Neill, Laura Dern, Jeff Goldblum, Richard Attenborough, Samuel L. Jackson, BD Wong, Wayne Knight
IMDb Ratings: 8.2/10
Rotten Tomatoes Rating: 92%
Streaming Platform: HBO Max
Jurassic Park achieved a technical milestone with its revolutionary use of computer-made images. These special effects still are as effortless and great as they seemed to be more than two decades ago. Apart from its achievements, Jurassic Park is a fun movie to watch and is packed with adventure.
13. Pacific Rim (2013)
Director: Guillermo del Toro
Writer: Guillermo del Toro, Travis Beacham
Cast: Charlie Hunnam, Rinko Kikuchi, Idris Elba, Charlie Day, Ron Perlman, Burn Gorman and others
IMDb Ratings: 6.9/10
Rotten Tomatoes Rating: 77%
Streaming Platform: HBO Max
A long time ago, monstrous creatures referred to as Kaiju rose from the sea and brought the war with them. To fight them, Jaegers (huge robots) were developed by humans. They were piloted by two humans who got locked in the neural bridge of the Jaeger.
But, these giant robots were also not sufficient to defeat them. Humanity is on its verge and the last hope of survival is an ex-pilot (played by Charlie Hunnam), an old Jaegar, and a completely new trainee (played by Rinko Kikuchi).
12. Bill & Ted's Excellent Adventure (1989)
Director: Stephen Herek
Writer: Chris Matheson, Ed Solomon
Cast: Keanu Reeves, Alex Winter, George Carlin, and others
IMDb Ratings: 6.9/10
Rotten Tomatoes Rating: 81%
Streaming Platform: HBO Max
There will never be a more perfect role for Keany Reeves other than the one he played her in this movie as Theodore Logan or Ted. He is with his best friend Bill (played by Alex Winter). They both travel the whole Western Civilization with the help of their phone booth so that they can kidnap historical figures. This will help them to stop bunking History classes and also ensure that the human race is safe.
For many audiences, this film was a combination of pop culture and history. This would be the first time many audiences would have found out what 69 actually meant. In this world, technical rules are not valid. The film delivers a clear message that a good friend sticks with you till the end of time.
11. Planet of the Apes (1968)
Director: Franklin J. Schaffner
Writer: Pierre Boulle, Franklin J. Schaffner, Roddy McDowall, Rod Serling, Michael Wilson and others
Cast: Charlton Heston, Roddy McDowall, Kim Hunter, and others
IMDb Ratings: 8/10
Rotten Tomatoes Rating: 86%
Streaming Platform: HBO Max
George Taylor, an astronaut gets lost on a planet that is ruled by a community of intelligent apes who treat humans like they are nothing. Taylor is constantly abused by them and he now must live at the mercy of some sympathetic apes that can help him to escape from the captors.
This film's makeup artist- John Chambers won an Oscar for his work. Those who are a fan of the first film should know that this was just the start of an action-filled franchise.
10. Oblivion (2013)
Director: Joseph Kosinski
Writer: Michael Arndt, Karl Gajdusek
Cast: Tom Cruise, Olga Kurylenko, Andrea Riseborough, Morgan Freeman, and others
IMDb Ratings: 7/10
Rotten Tomatoes Rating: 53%
Streaming Platform: HBO Max
Oblivion was a film that came out of a workshop that was conducted for a science fiction movie. In this, we see Tom Cruise, and war is also seen against the aliens.
In 2077, Jack Harper (played by Tom Cruise) is seen working as a security repairman on Earth which was left devastated after war broke out with aliens. Jack has just two weeks with him before he will also have to join the colony of survivors.
His concept of reality changes when he is able to rescue a beautiful stranger (played by Olga Kurylenko) from a spacecraft. The arrival of this strange woman turns on a chain of events that helps Jack in his single-handed battle against the aliens.
9. Inception (2010)
Director: Christopher Nolan
Writer: Christopher Nolan
Cast: Leonardo DiCaprio, Ken Watanabe, Joseph Gordon-Levitt, and others
IMDb Ratings: 8.8/10
Rotten Tomatoes Rating: 87%
Streaming Platform: HBO Max
The best Christopher Nolan movie on the list has arrived. In Inception, there are different layers that exist in the world of dreams. The deeper a layer goes in the subconscious of a person, the more they have a stretched experience. One if goes too deep can end up in a bottomless pit.
Leonardo DiCaprio is seen playing the role of Dom Conn, a thief that is blessed with a rare ability to enter the dream of various people. He steals secrets from their subconscious and this made him an important part of the corporate world.
But, as we know that everything comes with a cost so, this also costs him the things he loves. Cobb is offered a chance of redemption when he has got the task of implanting an idea in someone's mind. If he succeeds then, this would be a perfect crime but his enemy knows his every move.
8. Blade Runner 2049 (2017)
Director: Denis Villeneuve
Writer: Hampton Fancher, Michael Green
Cast: Ryan Gosling, Harrison Ford, Ana de Armas, and others
IMDb Ratings: 8/10
Rotten Tomatoes Rating: 88%
Streaming Platform: HBO Max
So, the long-awaited sequel of the original Blade Runner has come and is a treat for a true science fiction fan. The first film is considered to be the genre-defining one and this movie Blade Runner 2049 proved itself to be a respectful successor. It is a must-see movie for all film enthusiasts as it takes a great spin on classic crime titles.
There is also another reason for one to watch it and that is its cast. The performance by Ryan Gosling as K is noteworthy. Harrison Ford again is seen playing the role of Rick Deckard in Blade Runner 2049. There are several rumors about a TV show being made on this and this might be the perfect time to get lost in the universe of Blade Runner.
7. Equilibrium (2002)
Director: Kurt Wimmer
Writer: Kurt Wimmer
Cast: Christian Bale, Emily Watson, Taye Diggs, Angus Macfadyen, Sean Bean, William Fichtner, and others
IMDb Ratings: 7.4/10
Rotten Tomatoes Rating: 41%
Streaming Platform: HBO Max
Taye Diggs is seen playing the role of a law enforcement officer- Brandt. Near the climax of the movie, he gets his face cut off. His face is seen separated from his head to his jawline. This film is about a future world where a regime was able to stop the war by eliminating emotions. In this world, music, art, and books are banned. Felling emotions are also punishable by death.
Clerick John Preston (played by Christian Bale), is a government agent who has the responsibility of destroying the ones who don't follow these rules. When he misses a dose of Prozium, the regime which suppressed emotions things don't go in a good way. He was the one charged with keeping things in order but now he has become the one who is not able to follow these laws.
6. The Matrix (1999)
Director: Lana Wachowski, Lilly Wachowski, Bruce Hunt
Writer: Lana Wachowski, Keanu Reeves, Lilly Wachowski and others
Cast: Keanu Reeves, Laurence Fishburne, Carrie-Anne Moss, Hugo Weaving, and others
IMDb Ratings: 8.7/10
Rotten Tomatoes Rating: 88%
Streaming Platform: HBO Max
Those who haven't watched The Matrix till now, congratulations you have not been provided with any spoilers for more than two decades. There are two sequels to this- Matrix Reloaded and Matrix Revolution that you can watch on HBO Max.
When The Matrix was released in 1999, audiences and critics got surprised equally. The effects used in the movie were extraordinary and were ahead of their time.
5. A Clockwork Orange (1971)
Director: Stanley Kubrick
Writer: Anthony Burgess
Cast: Malcolm McDowell, Patrick Magee, Adrienne Corri, and others
IMDb Ratings: 8.3/10
Rotten Tomatoes Rating: 87%
Streaming Platform: HBO Max
Stanley Kubrick is considered a great name in the cinema of modern science fiction. His ideas are still used in cinematography even after so many years. This film might not be groundbreaking in special effects used but it did push the boundaries of the stories that can be considered while making science fiction.
Clockwork Orange is a story in which crime and commentary appear on inhumane methods of psychiatry. Initially, Clockwork Orange got banned in many countries like the UK. But, despite these obstacles, it was selected by the Library of Congress for the National Film Registry.
4. Time Bandits (1981)
Director: Terry Gilliam
Writer: Terry Gilliam, Michael Palin
Cast: John Cleese, Sean Connery, Shelley Duvall, Michael Palin, Katherine Helmond, Ian Holm
IMDb Ratings: 6.9/10
Rotten Tomatoes Rating: 90%
Streaming Platform: HBO Max
This was the first film in "Trilogy of Imagination" by Terry Gilliam and was no less than cinematic magic. The story of Time Bandits has been narrated from the perspective of Kevin (played by Craig Warnock). The film shows a battle between God (played by Ralph Richardson) and Devil (played by David Warner).
Kevin meets people like Robin Hood (played y John Cleese), King Agamemnon (played by Sean Connery), and Napoleon (played by Ian Holm). It is a good science fiction movie in which a kid's bedroom is having a world-shaking war.
3. Godzilla vs. Mechagodzilla (1974)
Director: Jun Fukuda 
Writer: Jun Fukuda, Hiroyasu Yamaura
Cast: Masaaki Daimon, Kazuya Aoyama, Akihito Hirata, Hiroshi Koizumi
IMDb Ratings: 6.2/10
Rotten Tomatoes Rating: 86%
Streaming Platform: HBO Max
Godzilla vs. Mechagodzilla as an entertaining film in which Mechagodzilla appeared for the first time. It is one of the best movies in the Godzilla Showa series and is among the earliest series of these films.
Mechagodzilla is a tough component that has abilities far more superior than Godzilla. There is Godzilla's ally King Caesar who is a lion-dog hybrid. He needs to be awoken from his sleep by singing Japanese adult music.
2. Independence Day (1996)
Director: Roland Emmerich
Writer: Roland Emmerich, Dean Devlin
Cast: Jeff Goldblum, Will Smith, Bill Pullman, and others
IMDb Ratings: 7/10
Rotten Tomatoes Rating: 68% 
Streaming Platform: HBO Max
Roland Emmerich's Independence Day has well-written dialogues and the plot is also multilayered. His movies are not known for that particularly but for the enjoyment and entertainment, they bring.
Will Smith is playing the role of an elite pilot; Bill Pullman as the President of the US. They fight to save Earth from an alien invasion. The best part of this movie is its special effects that display mass destruction and huge UFOs.
1. The Faculty (1992)
Director: Robert Rodriguez
Writer: Kevin Williamson
Cast: Jordana Brewster, Clea DuVall, Laura Harris, and others
IMDb Ratings: 6.5/10
Rotten Tomatoes Rating: 55%
Streaming Platform: HBO Max
Teachers of Herrington High start behaving weirdly and then a group of clever students find out that the school serves as ground zero for an alien invasion. People praised this movie for its portrayal of teenagers in such incidents.
Robert Rodriguez is not famous among the fans of Star Wars because of the pointless twists in his films. The movie is neither so good nor so bad. Teens are investigating the mysterious things that were lately happening in their school.
Other Binge-Worthy Sci-Fi Movies on HBO Max
There are various other great films on HBO Max-like Super 8, Ready Player One, Monsters, King Kong, Mr. Nobody, and Soylent Green that you can watch. The list is short but there is other various worth watching movies on HBO Max. Various themes like the space race, alien invasion, and many others are covered in these science fiction films.