This top 35 list comprises space movies that are the best of all times and that will surely take you on a ride to infinity and beyond with the greatest space adventures ever.
Space is something that innately carries within itself, a mystery, the sense of oblivion at the same time something that seems so much in our reach. Space is an area that has been explored widely in films and it is that genre where imaginations surely run wild, and one can witness some of the greatest visions ever. This speculative science fiction genre has garnered much attention for ages and is one of the most popular genres.
35. Blade Runner (1982)
Director: Ridley Scott
Writer: Hampton Fancher and David Webb Peoples
Cast: Harrison Ford, Rutger Hauer, Sean Young, Daryl Hannah, Edward James Olmos, Brion James, Joanna Cassidy, William Sanderson, Joe Turkel, Morgan Paull.
IMDb Ratings: 8.1/10
Rotten Tomatoes Score: 89%
Platforms: Amazon Prime Video.
In 2019 Los Angeles, former cop Rick Deckard was imprisoned by Officer Gaff, who enjoys making origami figures, and managed to bring to his former boss, Bryant. For his job as a "blade runner," Deckard has been to track down and "retire" bioengineered humanoid creatures known as replicants and is notified that four droids are on Earth illegally. Deckard starts to leave, but Bryant threatens him ambiguously, so Deckard stays. The two look at an image of Holden, a blade runner, giving patients the Voight-Kampff test, constructed to differentiate replicants from participants based on their sentimental answers to inquiries. On the second question, the test subject, Leon, shoots Holden. Bryant has requested that Deckard retire Leon and three of those certain Nexus-6 replicants: Roy Batty, Zhora, and Pris.
34. Jupiter Ascending (2015)
Director: Lana Wachowski and Lilly Wachowski.
Writer: Lana Wachowski and Lilly Wachowski.
Cast: Channing Tatum, Mila Kunis, Sean Bean, Eddie Redmayne, Douglas Booth.
IMDb Ratings: 5.3/10
Rotten Tomatoes Score: 28%
Platforms: Amazon Prime Video.
An ordinary human learns she is the descendant of an intergalactic bloodline, igniting a battle for Earth's future. The Wachowskis' lavish fantasy adventure bombed on release, but it's gained a dedicated following in the years as of gratitude to its sincere, playful, swing-for-the-fences oddness.
If Stefon from Saturday Night Live were to suggest a movie, it would undoubtedly be this one. Even though Jupiter Ascending has it all: Channing Tatum as either a half-wolf space warrior speeding around through flying rollerblades; Eddie Redmayne whisper-shouting regarding destruction while swanning through a series of magnificent capes; and Sean Bean as either a former soldier who's a part bee and decided to name Stinger, which is the sort of movie this is.
33. Aniara (2018)
Director: Pella Kagerman and Huga Lilja.
Writer: Pella Kagerman and Huga Lilja.
Cast: Emelie Garbers, Arvin Kananian, Bianca Cruzeiro, Elin Lilleman Eriksson, Markus Walta, Jennie Silfverhjelm, Emma Broome, Alexi Carpentieri, Anneli Martini.
IMDb Ratings: 6.3/10
Rotten Tomatoes Score: 72%
Platforms: Amazon Instant Video.
A transport ship deviates from its intended course, ready to travel to Mars, trapping its passengers on board indefinitely. Aniara envisions a grim future wherein climate change has rendered Earth nearly uninhabitable. Then it gets even bleaker with a story about a group of passengers attempting to flee this destroyed Earth for Mars to find themselves trapped in the infinite void of space for, possibly, eternity. Despair, nihilism, hedonism, and fanaticism abound on the ship as people try — or fail — to cope with their new reality. MR is our inconspicuous caretaker of a sentient AI called the Mima, which draws from human remembrances to mirror a hyper-real-world vision.
32. Hidden Figures (2016)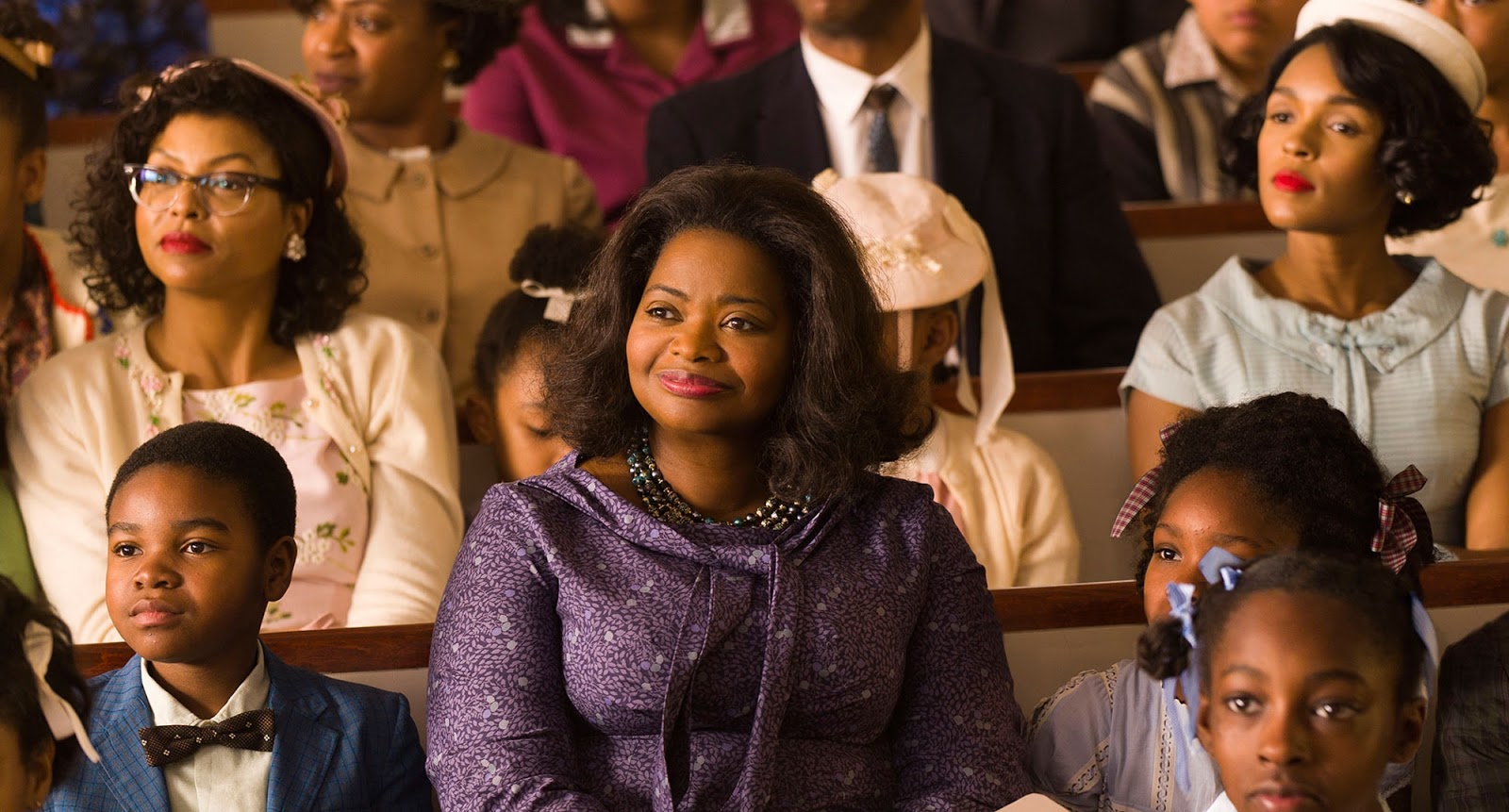 Director: Theodore Melfi
Writer: Allison Schroeder and Theodore Melfi.
Cast: Taraji P. Henson, Octavia Spencer, Janelle Monae, Kevin Costner, Glen Powell, Kirsten Dunst, Jim Parsons, John Herschel Glenn, Mahershala Ali.
IMDb Ratings: 7.8/10
Rotten Tomatoes Score: 93%
Platforms: Hotstar.
Three Black women for whom the work enabled modern space travel. The film even attempts to sanitize this by portraying Katherine's boss as continuously benevolent. Buzz Aldrin tends to make a cameo (complete with an actor) wherein he treats her with dignity. But what makes Hidden Figures shine so vibrantly is that it focuses on these incredible women for the most part. It never succumbs to the white savior narrative or empathizes with adversaries. It tells rich tales of Black joy, struggle, resilience, and conquest, with the sole purpose of no longer having kept these stories hidden.
31. Europa Report (2013)
Director: Sebastian Cordero
Writer: Philip Gelatt
Cast: Sharlto Copley, Christian Camargo, Daniel Wu, Michael Nyqvist, Anamaria Marinca, Embeth Davidtz, Karolina Wydra, Isiah Whitlock, Dan Fogler.
IMDb Ratings: 6.4/10
Rotten Tomatoes Score: 80%
Platforms: Amazon Prime Video.
A group of astronauts searches for life on a few of Jupiter's moons. On the surface, Europa Report appears to be a standard space horror hybrid. There's a journey to find another life, a situation of mysterious lights, and also the rapidly escalating tension that did come from recognizing things will soon go wrong.
Despite this, Sebastián Cordero's thriller is not derivative. The film's found footage style lends it the same realistic feel that decided to make The Blair Witch Project so creepy, and the crucial suspense of the lights — combined with a crew that continually gets picked off — creates suspense that builds beautifully as the film progresses.
30. High Life (2018)
Director: Claire Denis
Writer: Claire Denis, Jean Pol Fargeau
Cast: Robert Pattinson, Juliette Binoche, Andre Benjamin, Mia Goth, Agata Buzek, Lars Eidinger, Claire Tran, Ewan Mitchell, Gloria Obianyo, Victor Banerjee, Scarlett Lindsey, Jessie Ross
IMDb Ratings: 5.8/10
Rotten Tomatoes Score: 82%
Streaming Platform: Amazon Prime Video, Hulu, Disney +
This space film revolves around Monte and his baby daughter who are the last survivors on board a dangerous mission in outer space, rather outer reaches of the solar system. Both the father and daughter have to rely upon each other to survive and return. The group on mission is a crew of criminals who accepted a deal to be the subjects of a reproduction experiment on humans.
As a cosmic storm hits the crew's ship, one by one other members of the crew perish, leaving behind Monte and his daughter. The film is full of intergalactic adventures and the position of humans in a science-laden society.
29. Dark Star (1974)
Director: John Carpenter
Writer: John Carpenter, Dan O'Bannon
Cast: Dan O'Bannon, Brian Narelle, Cal Kuniholm, Dre Pahich
IMDb Ratings: 6.2/10
Rotten Tomatoes Score: 78%
Streaming Platform: Amazon Prime Video, JustWatch.Com
The film Dark Star depicts the life of a small crew who are in the far reaches of space on a mission. 20 years into their solitary mission of destroying unstable planets, the crew finds things going downhill for them. The film is a satire on sci-fi films that were heavily self-absorbed.
The film, which is also a directorial debut of Carpenter, depicts how the crew has to battle its alien mascot who goes into an existential crisis and starts questioning its existence. However, the twist here is that the alien is a sensitive and intelligent bombing device. How will the crew manage to save themselves and return safely?
28. Contact (1997)
Director: Robert Zemeckis
Writer: James V. Hart, Michael Goldenberg
Cast: Jodie Foster, Matthew McConaughey, John Hurt, James Woods, Angela Bassett, Tom Skerritt
IMDb Ratings: 7.5/10
Rotten Tomatoes Score: 67%
Streaming Platform: Amazon Prime Video, JustWatch.com
This epic space movie revolves around an astronomer Dr. Ellie Arroway who has been invested in finding extraterrestrial existence. Ellie and her team are met with constant threats of their work being taken over by corrupt politicians and hit shots. When life in the star Vega seems confirmed, the film takes an interesting turn.
The team receives messages from space which once decoded makes Ellie go on a quest for seeking the truth. Will Ellie be successful in uncovering the truth that has for long been hidden?
27. Apollo 13 (1995)
Director: Ron Howard
Writer: William Broyles Jr., Ak Reinert
Cast: Tom Hanks, Kevin Bacon, Bill Paxton, Gary Sinise, Ed Harris, Kathleen Quinlan
IMDb Ratings: 7.7/10
Rotten Tomatoes Score: 96%
Streaming Platform: Netflix
Apollo 13 is one of the famous sci-fi genre films that was based on the real events of the Apollo 13 lunar mission. The film depicts the journey of three astronauts on the mission Jim Lovell, Fred Haise, and Jack Swigert who are on the lunar mission. Everything goes according to plan until the oxygen tank explodes.
An accident that no one was prepared for puts the lives of the astronauts in jeopardy. Tensions arise between the crew members as well as several technical errors might hinder the safe return of the astronauts to earth.
26. Sunshine (2007)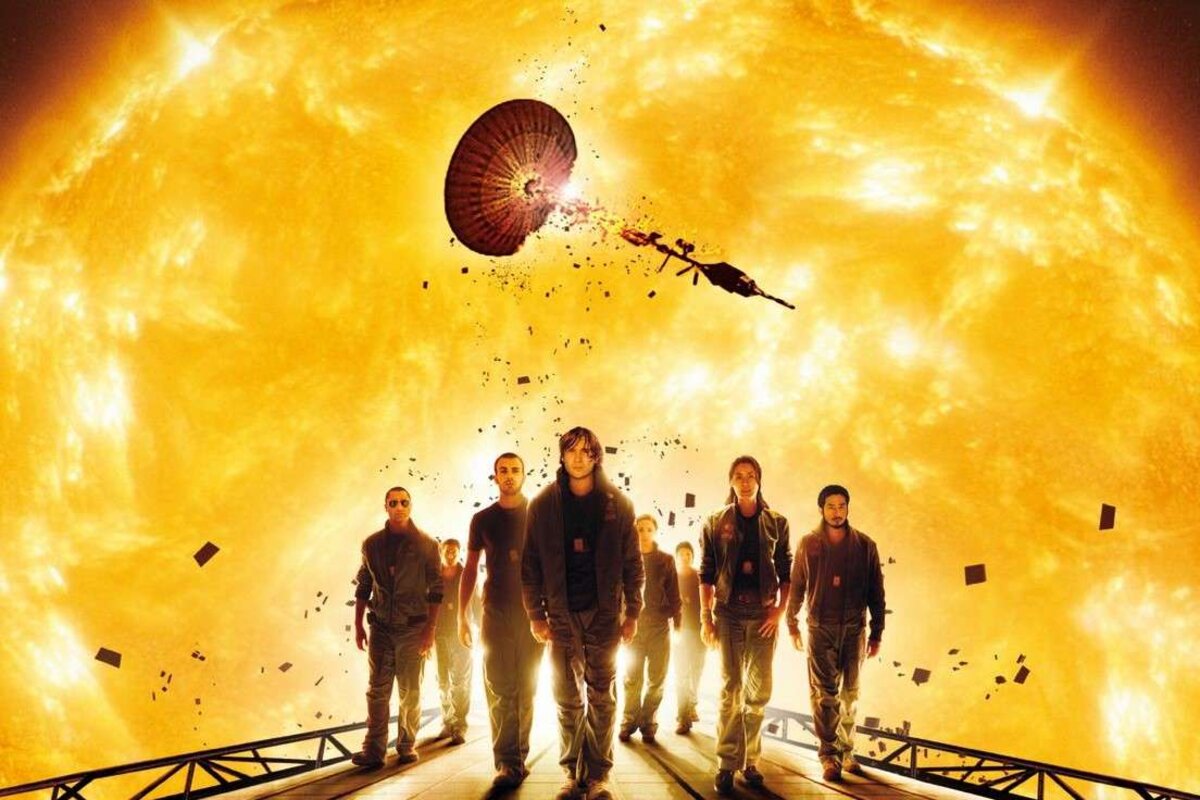 Director: Danny Boyle
Writer: Alex Garland
Cast: Cillian Murphy, Rose Bryne, Cliff Curtis, Chris Evans, Troy Garity, Hiroyuki Sanada, Benedict Wong, Michelle Yeoh
IMDb Ratings: 7.2/10
Rotten Tomatoes Score: 76%
Streaming Platform: Amazon Prime Video, Hotstar
This film takes place in the not-too-distant future when earth faces a crisis that might end its life on it. The sun is dying, and a group of astronauts is sent on a mission to save the sun and revive it. The crew which consists of eight women and men is sent to space with a device that can help in reviving the sun. However, things take a wrong turn when the crew meets with an accident and the lives of the crew members are endangered.
Will the grave mistake cost the life of the astronauts as well as the only ray of hope left for the earth? Or is there some hope still left?
25. For All Mankind (1989)
Director: Al Reinert
Writer: NA
Cast: Jim Lovell, Ken Mattingly, Russel Schweickart
IMDb Ratings: 8.1/10
Rotten Tomatoes Score: 94%
Streaming Platform: Criterion Channel, HBO Max
Directed by none other than Al Reinert and with background scores by the infamous Brian Eno, For All Mankind is more of a documentary that provides a testament by different people on the missions of the Apollo Series by NASA. The documentary film's IMDb user score is 8.1 and the film provides raw footage from the missions, by astronauts and Nasa that depict the brave journey of the moon landing and back to earth by the team.
The film is a must-watch as it covers one of the most important historical happenings and gives insights into mankind's most remarkable achievement.
24. First Men On the Moon (1964)
Director: Nathan Juran
Writer: Nigel Kneale, Jan Read
Cast: Edward Judd, Martha Hyer, Lionel Jeffries
IMDb Ratings: 6.5/10
Rotten Tomatoes Score: 67%
Streaming Platform: Netflix, Amazon Prime Video
The story revolves around a British scientist who makes his spacecraft and travels to the moon. Set in the 20th century, scientist Joseph Cavor travels to the moon along with his two associates Arnold Bedford and Kate Callender. After landing and discovering alien species that live under the land on the moon, the crew is faced with several obstacles.
First Men on the Moon is faced with the threat of their lives, and they need to return to the earth as soon as possible. Will they succeed in returning or will they fall prey to the aliens?
23. Solaris (1972)
Director: Andrei Tarkovsky
Writer: Fridrikh Gorenshtein, Andrei Tarkovsky
Cast: Donatas Banionis, Natalya Bondarchuk, Juri Jarvet, Vladislav Dvorzhetsky, Nikolai Grinko, Anatoly Solonitsyn
IMDb Ratings: 8/10
Rotten Tomatoes Score: 92%
Streaming Platform: HBO Max, Amazon Prime Video
This Soviet film confronts themes of a psychological thriller as well as space fiction that keep the audience hooked. Solaris depicts the story of A psychologist who is sent into a space station to examine the death of a doctor. Revolving around the planet Solaris, the space station also witnesses the mental health problems of the cosmonauts that keep increasing.
It is discovered that the water on the planet Solaris is a brain that brings out the repressed memories and obsessions of the people in the space station. Is there a solution to the problem before things get out of control? Solaris is one of the most famous classic sci-fi movies of all time.
22. Silent Running (1972)
Director: Douglas Trumbull
Writer: Derick Washburn, Michael Cimino, Steven Bochco
Cast: Bruce Dern, Cliff Potts, Ron Rifkin, Jesse Vint
IMDb Ratings: 6.6/10
Rotten Tomatoes Score: 71%
Streaming Platform: Amazon Prime Video, Peacock TV, Vudu, Apple TV
The film presents the time when the botanical life on earth is on the verge of extinction. Renowned ecologist Freeman Lowell preserves plants in a greenhouse in a space station for use in the future. Lowell, along with his three robots and a small human crew manage the station. However, things turn another way when Lowell is forced to let go of his greenhouse for the vessel to carry cargo.
Lowell and his team resist the decision and do everything in their favor to stop the greenhouse from being destroyed. With all the odds against him, will Lowell manage to save the greenhouse and the last ray of hope for planet earth?
21. Forbidden Planet (1956)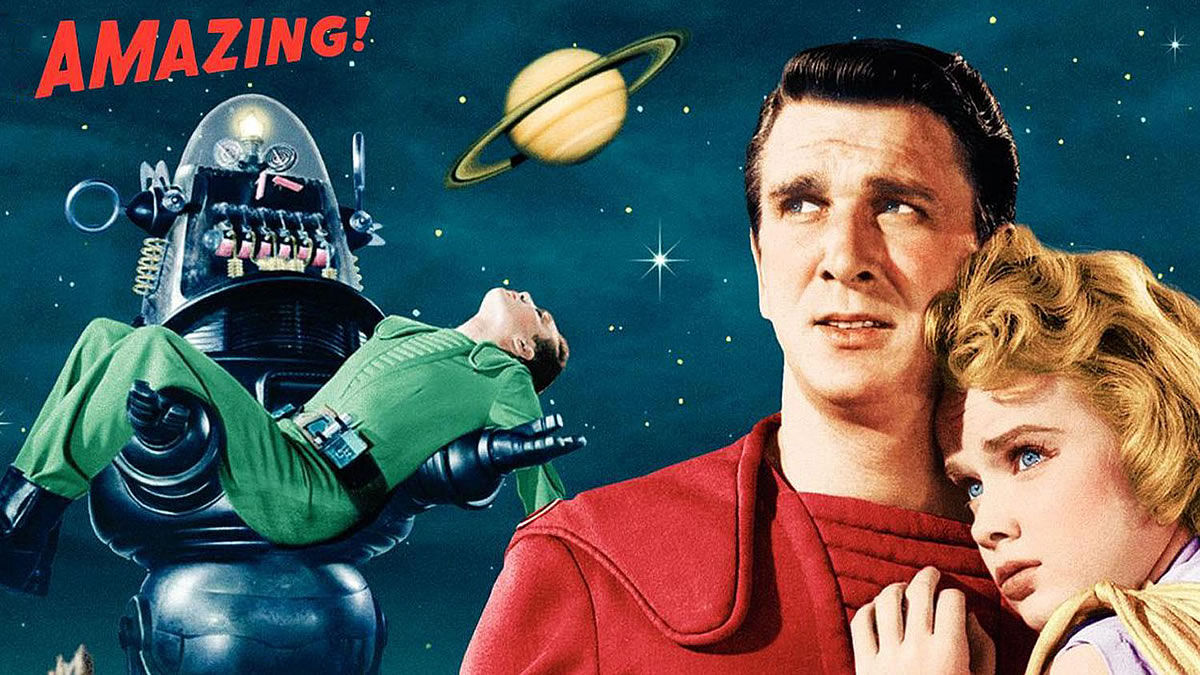 Director: Fred M. Wilcox
Writer: Cyril Hume
Cast: Walter Pidgeon, Anne Francis, Leslie Nielson, Warren Stevens, Robby The Robot
IMDb Ratings: 7.5/10
Rotten Tomatoes Score: 96%
Streaming Platform: Amazon Prime Video, Vudu, Apple TV
Considered to be one of the best space movies, the Forbidden planet is a compelling film that is set in the distant future, in the 23rd century. The film revolves around Captain Adam and his crew who are sent to investigate the lack of communication from a planet discovered 20 years ago. On reaching there, it is discovered that there are only two survivors on the planet, a doctor named Morbius and his daughter.
However, Adams doesn't know that Morbius is hiding a powerful discovery that might change the course of action. What are the consequences if Morbius takes the wrong advantage of it? Will Adam ever know the truth?
20. Ad Astra (2019)
Director: James Gray
Writer: James Gray, Ethan Gross
Cast: Brad Pitt, Tommy Lee Jones, Ruth Negga, Liv Tyler, Donald SutherlandThids
IMDb Ratings: 6.5/10
Rotten Tomatoes Score: 83%
Streaming Platform: Amazon Prime Video, Netflix
Ad Astra is one of the recent adventure films that explore the space travel of Clifford McBride who traveled to deep space with his crew. However, there was no news of them again. His son takes on the dangerous mission to the planet Neptune to uncover the mystery surrounding the disappearance of his father and his crew.
However, McBride's son is faced with a mysterious power surge that shakes the stability of the universe and threatens its existence. Will he ever find his father and uncover the truth?
19. First Man (2018)
Director: Damien Chazelle
Writer: Josh Singer
Cast: Ryan Gosling, Claire Foy, Jason Clarke, Kyle Chander, Corey Stoll, Christopher Abbott, Ciaran Hinds, Shawn Eric Jones
IMDb Ratings: 7.3/10
Rotten Tomatoes Score: 87%
Streaming Platform: Amazon Prime Video, Netflix
This is one of the best space movies in recent times that depicts Nasa's series of dangerous missions to reach the moon by the end of the decade. Featuring standout performances by the star cast, especially Ryan Gosling as the engineer Neil Armstrong who joins America's space program leading to some dangerous missions. The film depicts years of training and risky tests that Armstrong and his colleagues go through.
On July 16, 1969, Armstrong along with Buzz Aldrin and Michael Collins embark on a historical journey to the moon on the Apollo 11 spacecraft.
18. Gravity (2013)
Director: Alfonso Cuaron
Writer: Alfonso Cuaron, Jonas Cuaron
Cast: Sandra Bullock, George Clooney
IMDb Ratings: 7.7/10
Rotten Tomatoes Score: 96%
Streaming Platform: Amazon Prime Video
Gravity is one of the famous sci-fi films that was released recently and depicts the story of a brilliant medical engineer Dr. Ryan Stone, played by Sandra Bullock, who goes on her first mission with renowned astronaut Matt Kowalski, played by fan's favorite George Clooney. On a regular spacewalk, the crew is met with a disaster when their spaceship is destroyed. The crashed spaceship's crew wander into oblivion with no means of returning.
Will Ryan and Matt ever find a way back to their home on earth or is their last mission in space with no hopes of returning?
17. Apollo 11 (2019)
Director: Todd Douglas Miller
Writer: Todd Douglas Miller, Thomas Petersen, Evan Krauss
Cast: Edwin Aldrin, Neil Armstrong, Michael Collins, Charles Duke, Bruce McCandless
IMDb Ratings: 8.1/10
Rotten Tomatoes Score: 99%
Streaming Platform: Amazon Prime Video, Netflix
Apollo 11 is one of the many sci-fi movies that has been made on the historical Apollo 11's landing on the moon. This documentary is a part of a series that has only documentary/ documentaries made on the Apollo series space missions. The film exhibits the different aspects of the mission to the moon and includes footage of various people, especially the three astronauts who were the first people to set foot on the moon.
Apollo 11 landed on the surface of the moon on July 16, 1969, and what followed was history being made. The film received quite a lot of appreciation from the audience and critics and went on to win many awards majorly due to its realistic depiction of the moon landing.
16. Alien (1979)
Director: Ridley Scott
Writer: Dan O'Bannon
Cast: Tom Skerritt, Sigourney Weaver, Veronica Cartwright, Harry Dean Stanton, John Hurt, Ian Holm, Yaphet Kotto
IMDb Ratings: 8.5/10
Rotten Tomatoes Score: 98%
Streaming Platform: Amazon Prime Video, Disney+ Hotstar
This titular alien film has achieved the status of a cult classic space film that also explores the themes of horror and thriller, making it one of the best outer space thrillers. One should watch Alien. The movie largely takes place in deep space where a starship Nostromo is awakened from its cyro sleep capsules. They discover that it is a distress call from an alien ship. After evacuating the alien vessel, much to the crew's horror, they find a cluster of eggs inside it.
The crew is attacked by an organism that comes out from the egg which attaches itself to one of the crew members who instantly falls into a coma. Will the crew sustain the attack from these hidden figures inside the eggs and return to earth safely?
15. Guardians of the Galaxy (2014)
Director: James Gunn
Writer: James Gunn, Nicole Perlman
Cast: Chris Pratt, Zoe Saldana, Dave Bautista, Vin Diesel, Bradley Cooper, Lee Pace, Michael Rooker, Karen Gillan, Djimon Hounsou, John C. Reilly, Glenn Close, Benicio del Toro
IMDb Ratings: 8.1/10
Rotten Tomatoes Score: 92%
Streaming Platform: Amazon Prime Video, Peacock TV, Vudu, Apple TV
Guardians of the Galaxy is one of the best films in the Marvel cinematic universe and is based on galaxy quest. The film's protagonist Chris Pratt plays the character of Peter Quill who is a space adventurer. He finds an orb to defeat Ronan, a mysterious villain played by Lee Pace. He forms an unlikely alliance with Groot, Gamora, Drax the Destroyer, and Rocket Raccoon.
The group discovers the hidden power of the orb that might pose a cosmic threat. Quill and his team must do something soon to save the universe from impending doom.
14. Interstellar (2014)
Director: Christopher Nolan
Writer: Jonathan Nolan, Christopher Nolan
Cast: Matthew McConaughey, Anne Hathaway, Jessica Chastain, Bill Irwin, Ellen Burstyn, Michael Caine
IMDb Ratings: 8.7/10
Rotten Tomatoes Score: 72%
Streaming Platform: Amazon Prime Video
Nolan's Interstellar is one of the best sci-fi epic space movies of all time and a fantastic ensemble cast assists the film in being a masterpiece. The film is set in the future where the earth is slowly becoming uninhabitable due to crop blight and a deadly dust bowl. A renowned NASA physicist Dr. Brand works upon a plan to save humans by transporting them to another planet through a wormhole.
To find a new home for humans, NASA pilot Cooper and his team are sent across the galaxy through the hole to find the most inhabitable planet for humans. Will the humans find a new home or what awaits beyond the unknown for Cooper and his team? Nolan has surely got the talent for making mind-bending films and Interstellar is an example of that.
13. Starship Troopers (1997)
Director: Paul Verhoeven
Writer: Edward Neumeierer
Cast: Casper Van Dien, Dina Meyer, Denise Richards, Jake Busey, Neil Patrick Harris, Patrick Muldoon, Michael Ironside, Seth Gilliam
IMDb Ratings: 7.3/10
Rotten Tomatoes Score: 66%
Streaming Platform: Disney+ Hotstar
Set shortly, the film depicts earth's war with giant alien insects whose only known aim is to eradicate life on earth. The film revolves around Jhonny Rico, a young boy who joins the military to fight against these aliens and the military surely is a deadly place to be. When Rico's family dies from an asteroid crash that seems to have originated from the planet of the aliens, a group of troopers is sent on a mission to the insect planet to destroy the species.
Will Rico and his team be able to save humans from these deadly aliens? Verhoeven has beautifully brought out anti-war themes and the drawbacks of a military-controlled world.
12. Star Trek 2: The Wrath of Khan (1982)
Director: Nicholas Meyer
Writer: Jack B. Sowards
Cast: William Shatner, Leonard Limoy, DeForest Kelley, James Doohan, Walter Koenig, George Takei, Michelle Nochols, Bibi Besch, Merritt Butrick, Paul Winfield, Kirstie Allie, Ricardo Montalban
IMDb Ratings: 7.7/10
Rotten Tomatoes Score: 86%
Streaming Platform: Amazon Prime Video, Hulu, Paramount +
Set in the 23rd century, Star Trek II depicts Admiral Kirk, and his spaceship is on routine training. However, things turn out another way around when Kirk is faced with an old nemesis Khan Noonien Singh who is back from exile. Khan raided a space station and took possession of a top-secret device that has the power of creation and destruction. Star Trek is full of action, drama, and science fiction amusements.
Admiral Kirk must stop Khan before he uses the device for his evil purposes. The film Star Trek II is full of stunning visuals and is a vintage space epic that everyone should watch.
11. Treasure Planet (2002)
Director: John Musker
Writer: Ron Clements, John Musker, Tedd Eliott, Terry Rossio
Cast: Joseph Gordon Levitt, Brian Murray, Emma Thompson, David Hyde Pierce, Martin Short, Michael Wincott, Laurie Metcalf, Roscoe Lee Browne, Patrick McGoohan
IMDb Ratings: 7.2/10
Rotten Tomatoes Score: 69%
Streaming Platform: Amazon Prime Video, Disney + Hotstar
This space science fiction film revolves around the theme of galaxy quest where a 15-year-old boy Jim Hawkins goes on a quest for treasure across galaxies. Based on Treasure Island by Robert Stevenson, the film depicts the journey of a young boy in a parallel universe in his glittering space galleon.
This colorful space adventure film is one of the best space movies and the journey of the young boy depicts determination and thrill imbibed in the film. Will Jim succeed in finding the Treasure Planet or will his entire effort go to waste?
10. Event Horizon (1997)
Director: Paul W.S Anderson
Writer: Phillip Eisner
Cast: Laurence Fishburne, Sam Neill, Kathleen Quinlan, Joely Richardson
IMDb Ratings: 6.6/10
Rotten Tomatoes Score: 29%
Streaming Platform: Amazon Prime Video, Netflix
This space horror film is produced by Paramount pictures and revolves around the sudden appearance of a spacecraft named Event Horizon that went missing years ago. A team consisting of the maker William Weir along with a crew led by Captain Miller go to investigate the abandoned vessel.
What awaits them in the vessel is a trail of sinister happenings that depict the horror that befell on the previous journey. What is it that the hidden figures in the vessel suggest? Who is lurking behind the shadows?
9. Moon (2009)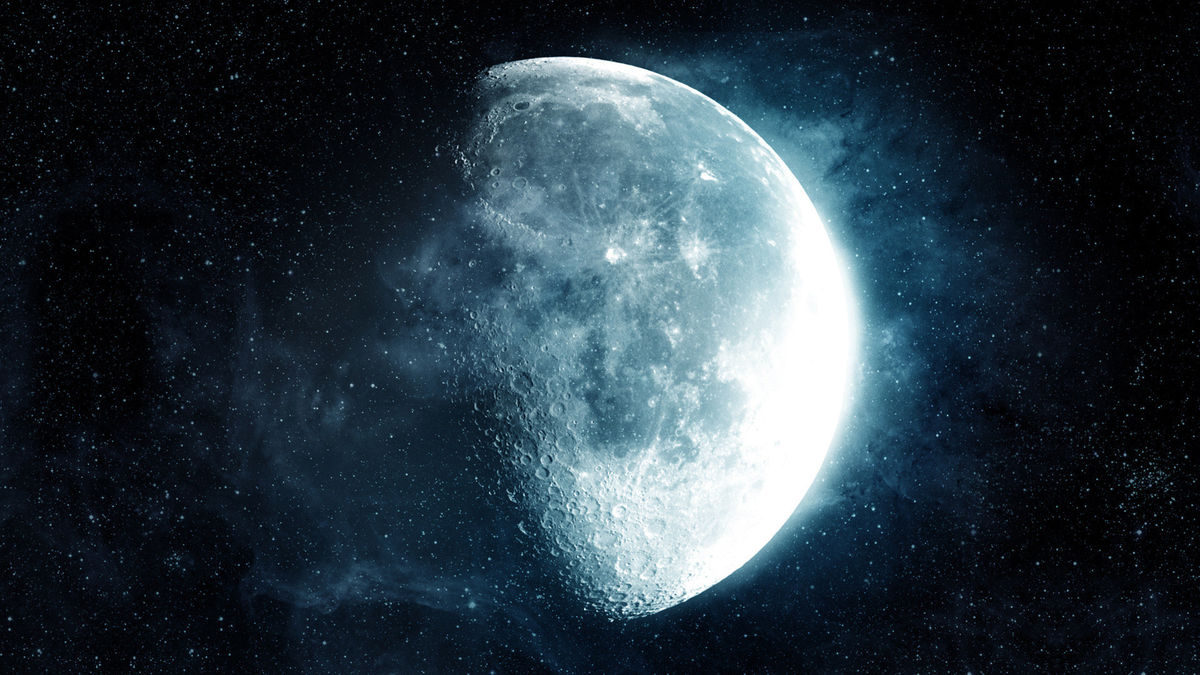 Director: Duncan Jones
Writer: Nathan Parker
Cast: Sam Rockwell, Dominique McElligott, Kaya Scodelario, Benedict Wong, Matt Berry, Malcolm Stewart
IMDb Ratings: 7.8/10
Rotten Tomatoes Score: 90%
Streaming Platform: Amazon Prime Video, Hulu, Netflix, HBO Max
This influential film revolves around the astronaut Sam Bell whose three-year shift at a lunar mine is coming to an end. As much as he is excited to be reunited with his family once back on earth, fate has something else in store for him. His health deteriorated and he starts having hallucinations and headaches. He must do something soon before the crew arrives to take him back. Sam must solve the mystery before it is too late and return to the safety of his home.
8. Galaxy Quest (1999)
Director: Dean Parisot
Writer: David Howard, Robert Gordon
Cast: Tim Allen, Sigourney Weaver, Alan Rickman, Tony Shalhoub, Sam Rockwell, Daryl Mitchell
IMDb Ratings: 7.4/10
Rotten Tomatoes Score: 90%
Streaming Platform: Amazon Prime Video, Hulu, Vudu
Galaxy Quest revolves around the life of the stars of a famous science fiction show who are living their lives in past glory. However, their lives take a completely different turn when they are taken aboard an alien spaceship. Things take a hilarious turn when they discover the reason behind their abduction. The aliens take in the stars of the show believing their on-screen heroics to be true.
The aliens seek the help of the TV stars to fight the oppressive regime in their solar system. What will happen to these humans when they have to fight in real life and will they ever win against a powerful regime?
7. Outland (1981)
Director: Peter Hyams
Writer: Peter Hyams
Cast: Sean Connery, Peter Boyle, Frances Sternhagen, James B Sikking, Kika Markham
IMDb Ratings: 6.6/10
Rotten Tomatoes Score: 56%
Streaming Platform: Amazon Prime Video, Apple TV, Vudu
It is one of the famous and old sci-fi movies that is a space epic filled with thrillers and adventure. The film revolves around the life of an honest marshall who serves in a corrupt mining colony located on Io, Jupiter's sunless third moon. He takes on a violent drug rackett despite a threat to his life.
However, after his wife leaves him, he waits alone for the company killers to eliminate him. What has fate in store for this brave marshall? The film is said to be a futuristic remake of High Noon.
6. A Trip to The Moon (1902)
Director: George Melies
Writer: George Melies
Cast: George Melies, Bleuette Bernon, Francois Lallement, Henri Delannoy
IMDb Ratings: 8.2/10
Rotten Tomatoes Score: 100%
Streaming Platform: Amazon Prime Video, HBO Max
A Trip to The Moon is one of the vintage and most loved space movies of all time. The film revolves around a group of astronomers who study the way to travel to the moon. It was considered to be a masterpiece during its time and one of the first in its genre. The film depicted the men landing on the moon and taking on the aliens called Selenites there.
When the men are outnumbered by the Selenites, they hit the king and escape the moon with the help of an alien vessel that lands in the ocean from where they are rescued. The film depicts the ambitions of space travel, even though quite humorously through a canon shot.
5. The Right Stuff (1983)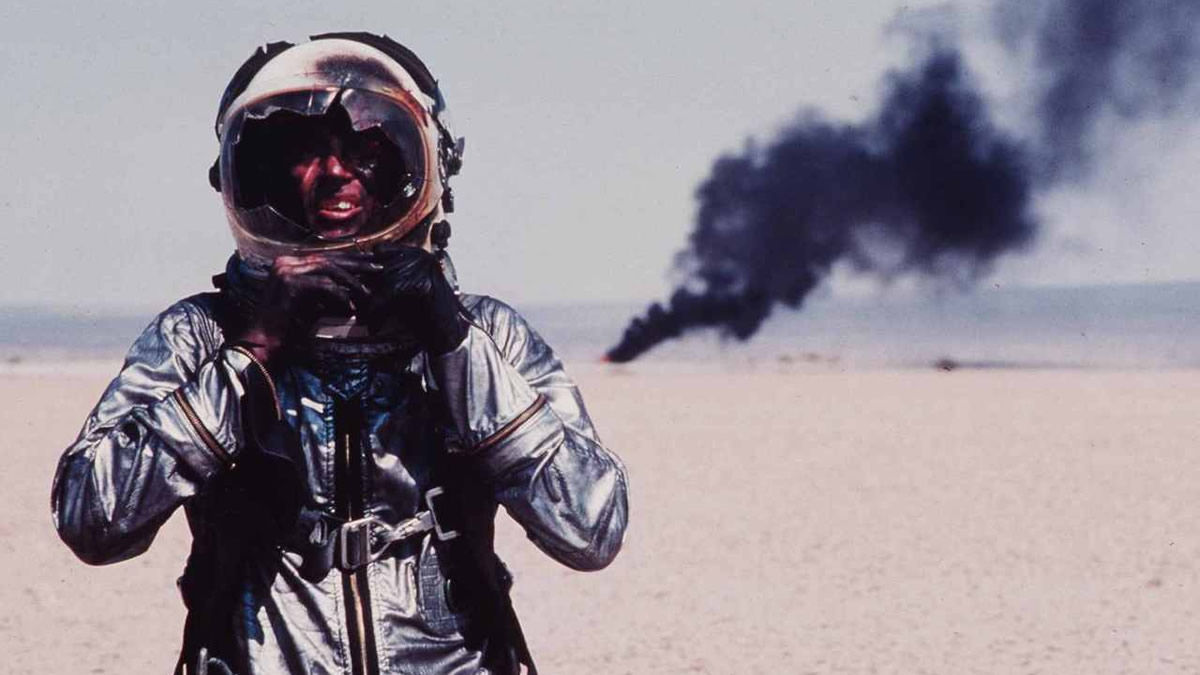 Director: Philip Kaufman
Writer: Philip Kaufman
Cast: Charles Frank, Scott Glann, Ed Harris, Lance Henriksen, Scott Paulin, Dennis Quaid, Sam Shepard, Fred Ward, Kim Stanley, Barbara Hershey, Veronica Cartwright, Pamela Reed
IMDb Ratings: 7.8/10
Rotten Tomatoes Score: 96%
Streaming Platform: Amazon Prime Video, Vudu
This film chronicles the first 15 years of America's space program. The film focuses on the lives of Mercury astronauts John Glenn and Alan Shepard and the emotional and physical turmoils they go through. The film also focuses on the dangers and frustrations that the ones involved in the earlier Nasa missions had to face.
During the times of great political turmoil as well as great technological innovations, the film beautifully brings out the personal and professional lives of those in the first space missions.
4. Star Wars (1977)
Director: George Lucas
Writer: George Lucas
Cast: Mark Hamill, Harrison Ford, Carrie Fisher, Peter Kushing, Alec Guinness
IMDb Ratings: 8.6/10
Rotten Tomatoes Score: 92%
Streaming Platform: Disney+ Hotstar
Considered one of the best classic space opera, Star Wars story depicts how under the orders of antagonist Darth Vader, Princess Leia is held, hostage. Luke Skywalker and Captain of the Millenium falcon, Han Solo join hands with a droid duo named R2 D2 and C- 3PO to rescue the princess.
Will they succeed in the rebellion against the galactic empire and be successful in rescuing the princess? Star Wars is one of the best space movies that one should watch.
3. Wall E (2008)
Director: Andrew Shanton
Writer: Andrew Shanton, Jim Reardon
Cast: Ben Burtt, Elissa Knight, Jeff Garlin, Fred Willard, Joh Ratzenberger, Kathy Najimy, Sigourney Weaver
IMDb Ratings: 8.4/10
Rotten Tomatoes Score: 95%
Streaming Platform: Disney+ Hotstar
Wall E or the Weight Allocation Load Lifter is the last robot left on earth. He cleans up the planet with one piece of garbage waste at a time. Over 700 years, Wall E has developed a personality and is no longer a lonely bot on earth. His life turns adventurous when he meets Eve, another bot sent on earth for a scanning mission.
Wall E follows Eve across galaxies, though smitten by her, he has the adventure of a lifetime. How is Wall E treated across the galaxies and which new world he goes to is something that the viewers would want to see?
2. The Martian (2015)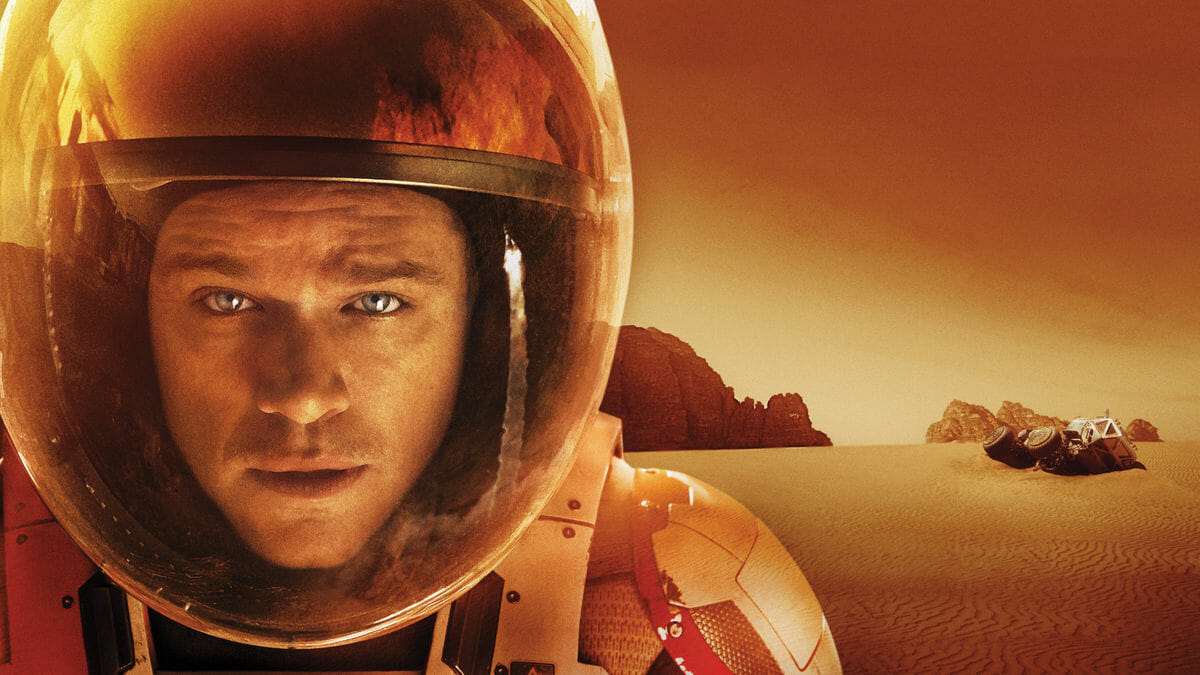 Director: Ridley Scott
Writer: Drew Goddard
Cast: Matt Damon, Jessica Chastain, Kristen Wiig, Jeff Daniels, Michael Pena, Kate Mara, Sean Bean, Sebastian Stan, Aksel Hennie, Chiiwetel Ejiofor
Rotten Tomatoes Score: 91%
Streaming Platform: Disney+ Hotstar
The story is one of the best science fiction films based on space adventures. When a group of astronauts leaves the planet Mars, they accidentally leave behind one of the astronauts Mark Watney assuming him to be dead after a storm. Left with a limited supply and harsh conditions on the planet, Walter must find a way to survive on Mars.
On the other hand, the Nasa team works tirelessly to bring him home while Watney's colleagues develop a dangerous plan for rescuing Mark. Will Mark ever return to the earth?
1. 2001: A Space Odyssey (1968)
Director: Stanley Kubrick
Writer: Stanley Kubrick, Arthur C.Clarke
Cast: Keir Dullea, Gary Lockwood
IMDb Ratings: 8.3/10
Rotten Tomatoes Score: 92%
Streaming Platform: Amazon Prime Video
Based on Arthur C. Clarke's 2001 A Space Odyssey, the film is one of the most brilliant space films to be made. 2001 A Space Odyssey depicts the imposing of a black monolith that provides a connection between the past and the future. Dr. Dave Bowman and his team are sent on a mysterious mission when their computing system HAL starts malfunctioning.
What follows is a series of strange happenings and a showdown between the humans and the machines with a mind-boggling trek between space, time, and oblivion. 2001 A Space Odyssey is a must-watch for its brilliant plot, acting, and cinematography assisted by wild imagination.