Ridley Scott's Blade Runner has become one of the world's most popular science fiction movies for over three decades. Blade Runner has inspired many cyberpunk sub-genre and sci-fi movies in recent decades. Blade Runner 2049 is a sequel to the original Blade Runner film.
If you enjoy the dystopian style and stunning imagery of Blade Runner and Blade Runner 2049 and are looking for neo-noir, futuristic, and atmospheric similar movies options to watch, then check out the following films:
20. THX 1138 (1971)
Director: George Lucas
Writer: George Lucas, Walter Murch
Cast: Robert Duvall, Donald Pleasence, Don Pedro Colley, Maggie McOmie, Ian Wolfe
IMDb Rating: 6.7/10
Rotten Tomatoes Rating: 86%
George Lucas' directorial debut, THX 1338, is a science fiction film. With outstanding acting, lighting direction, and editing, the film is an excellent blend of informative dystopian future drama and horror.
The film is set in a dystopian future where the government administers medications to the populace to numb their emotions and maintain control over them via robotic police. THX 1338 and LUH 3417, a roommate, quickly realized the horrible reality and developed feelings for one other. The film is a must-see for anyone who likes thrillers and dramas.
19. The Running Man (1987)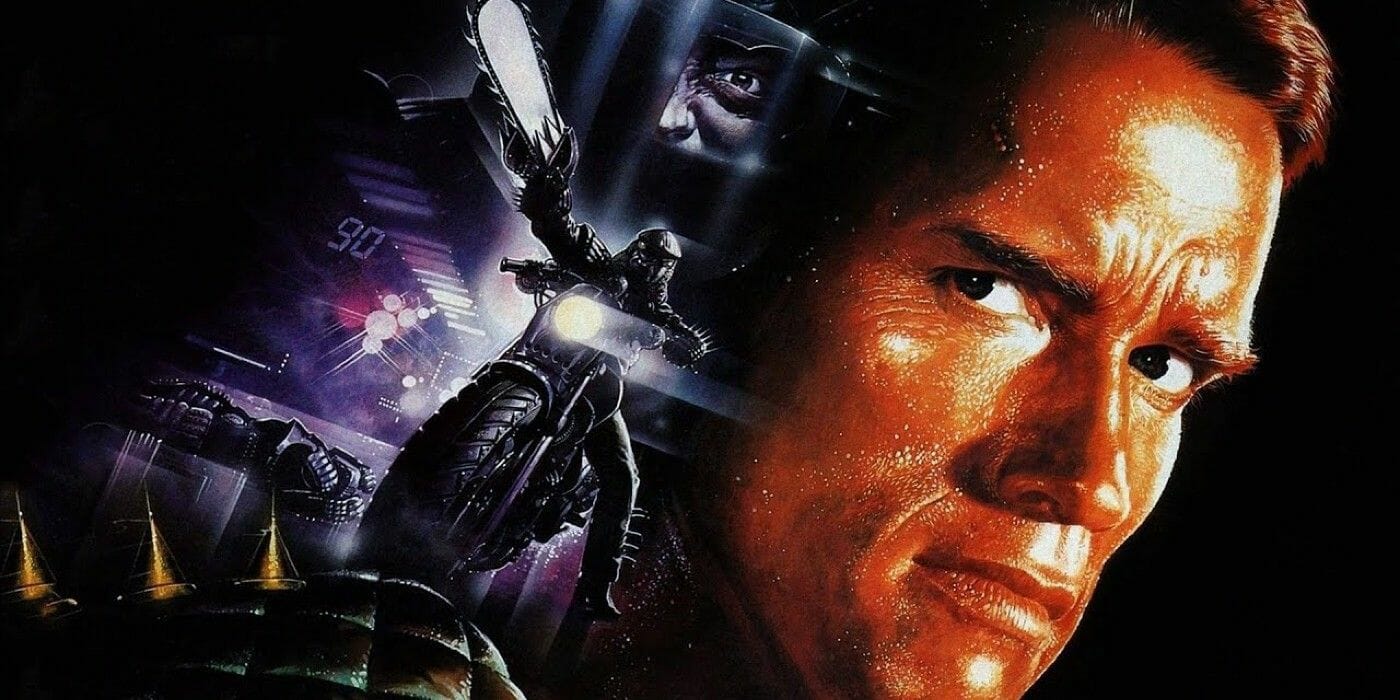 Director: Paul Michael Glaser
Writer: Stephen King, Steven E. de Souza
Cast: Arnold Schwarzenegger, Maria Conchita Alonso, Yaphet Kotto, Marvin J. McIntyre, Richard Dawson
IMDb Rating: 6.6/10
Rotten Tomatoes Rating: 66%
The Running Man is based on Stephen King's novel of the same name. The movie is loaded with intense action scenes and impressive action shots. It's a very Arnold Schwarzenegger action thriller with a science fiction twist.
The Running Man tells the story of a man who has been wrongfully accused of a crime, and his only chance for freedom is to play a dangerous game and complete all of the stages. To save his own life, he must fight savage killers and escape. The film is suitable for the audience who enjoy Arnold's action-packed performances.
18. Demolition Man (1993)
Director: Marco Brambilla
Writer: Peter M. Lenkov, Robert Reneau, Daniel Waters
Cast: Sylvester Stallone, Wesley Snipes, Sandra Bullock, Nigel Hawthrone, Benjamin Bratt
IMDb Rating: 6.7/10
Rotten Tomatoes Rating: 62%
Marco Brambilla makes his directorial debut with the sci-fi genre movie Demolition Man. The film's plot is full of twists and turns, with a fantasy world free of crime thrown in for good measure. The story centers around John Spartan, a brave and destructive cop, and Simon Phoniex, the criminal underworld leader.
Flashbacks from the past and present are used in movies to tie the character's fates together. The film is a must-watch if you enjoy suspense thrillers with twists.
17. TRON: Legacy (2010)
Director: Joseph Kosinski
Writer: Edward Kitsis, Adam Horowitz, Brian Klugman
Cast: Jeff Bridges, Garrett Hedlund, Olivia Wilde, Bruce Boxleitner, James Frain
IMDb Rating: 6.8/10
Rotten Tomatoes Rating: 51%
Action science fiction movie Tron marks Joseph Kosinski's feature film directorial debut. Tron is the follow-up to the 1982 blockbuster Tron. The film is set in a virtual fantasy world. The film's plot revolves around Flynn's adult son Sam, who received a response from his long-lost father and was transferred into "The Grid," a virtual world.
Sam attempted to stop the wicked program Clu from invading the actual world with the help of his father and the algorithm Quorra. The film will appeal to the audience who prefer spectacular effects and action.
16. Strange Days (1995)
Director: Kathryn Bigelow
Writer: James Cameron, Jay Cocks
Cast: Ralph Fiennes, Angela Bassett, Juliette Lewis, Tom Sizemore, Michael Wincott
IMDb Rating: 7.1/10
Rotten Tomatoes Rating: 66%
Strange Days is a thriller that addresses topics including racism, misuse of power, rape, and voyeurism while blending science fiction and film noir elements. The film's plot revolves around an ex-cop who now works with data discs that hold recorded memories and emotions.
Throughout the narrative, he obtains the disc with the murderer's memories, and to uncover the truth behind the murder, he investigates and falls into deep traps. Is he going to be able to get out of it?
15. Robocop (1987)
Director: Paul Verhoeven
Writer: Edward Neumeier, Michael Miner
Cast: Peter Weller, Nancy Allen, Dan O'Herlihy, Ronny Cox, Krutwood Smith
IMDb Rating: 7.6/10
Rotten Tomatoes Rating: 90%
Neumeier had the idea for the movie Robocop while working on the set of Blade Runner (1982), and he further developed it with Miner. Rob Bottin was responsible for the particular crew that created practical effects, gore, and the RoboCop suit.
The action sci-fi movie Robocop is set in a crime-ridden Detroit in the distant future, when an injured cop, with the help of Omnicorp technology, returns to the force as a strong cyborg. His abilities are unrivaled, but the shards of his humanity quickly become a problem for him.
14. Alien (1979)
Director: Ridley Scott
Writer: Dan O'Bannon, Ronald Shusett
Cast: Sigourney Weaver, Tom Skerritt, John Hurt, Veronica Cartwright, Harry Dean Stanton
IMDb Rating: 8.5/10
Rotten Tomatoes Rating: 98%
The alien movie concept was inspired by humanity's worst nightmare: an alien invasion. The film has fantastic effects that are a complete nightmare.
The science-fiction horror movie Alien is the story of the crew discovering the nest of eggs inside an alien ship. Soon the horrors get started when the organism inside the egg attaches itself to one of the crew members.
13. The Matrix (1999)
Director: Lilly Wachowski, Lana Wachowski
Writer: Lilly Wachowski, Lana Wachowski
Cast: Keanu Reeves, Laurence Fishburne, Carrie-Anne Moss, Hugo Weaving, Gloria Foster
IMDb Rating: 8.7/10
Rotten Tomatoes Rating: 88%
The Matrix is the first installment in the Matrix film series, a science fiction action film. The movie has excellent action shots and excellent graphics. The movie depicts a bleak future in which humanity is unwittingly trapped inside the Matrix, a simulated environment built by clever robots to divert humans while utilizing their bodies as a source of energy.
When computer programmer Thomas Anderson, using the hacker moniker "Neo," discovers the truth, he leads a rebellion against the computers with other people who have escaped the Matrix.
12. Metropolis (1927)
Director: Fritz Lang
Writer: Thea von Harbou, Fritz Lang
Cast: Brigitte Helm, Alfred Abel, Gustav Frohlich, Rudolf Klein-Rogge, Fritz Rasp
IMDb Rating: 8.3/10
Rotten Tomatoes Rating: 97%
The plot of the movie shows the son of the city's genius falls in love with a working-class prophet who forecasts the coming of a messiah to arbitrate their differences in the metropolis, a German expressionist science-fiction drama film set in a futuristic city vehemently split between the working class and the city planners. Metropolis is a fantastic combination of science fiction and romantic elements from a love story.
11. Gattaca (1997)
Director: Andrew Niccol
Writer: Andrew Niccol
Cast: Ethan Hawke, Uma Thurman, Jude Law, Gore Vidal, Xander Berkeley
IMDb Rating: 7.8/10
Rotten Tomatoes Rating: 83%
Andrew Niccol makes his screenplay and directing debut with Gattaca, a dystopian science fiction film. The film depicts a biopunk future civilization ruled by eugenics, in which potential offspring are conceived through genetic selection to ensure they inherit their parents' most excellent inherited features.
Vincent Freeman, played by Hawke, was born outside the eugenics program and battles to overcome genetic discrimination to achieve his dream of going to space. Gattaca is a powerful film combining inspirational elements with science fiction. Gattaca is based on and focuses on cultural conventions in the real world.
10. The Terminator (1984)
Director: James Cameron
Writer: James Cameron, Gale Anne Hurd, William Wisher
Cast: Arnold Schwarzenegger, Linda Hamilton, Michael Biehn, Paul Winfield, Lance Henriksen
IMDb Rating: 8.1/10
Rotten Tomatoes Rating: 100%
The first movie in the series, The Terminator, is action-packed, intense, and gory. In the film, Arnold starred as the Terminator, a cyborg assassin sent back in time to assassinate Sarah Connor. Sarah Connor's unborn son would one day save the planet and humans from extinction in a post-apocalyptic future by Skynet, a hostile artificial intelligence in the movie.
Kyle Reese is a soldier sent back on a mission to keep the only hope of humans, Sarah, safe from the Terminator and to prevent the wiping out of the population.
9. Ghost in the Shell (2017)
Director: Rupert Sanders
Writer: Shirow Masamune, Jamie Moss, William Wheeler
Cast: Scarlett Johansson, Pilou Asbaek, Takeshi Kitano, Juliette Binoche, Michael Pitt
IMDb Rating: 6.3/10
Rotten Tomatoes Rating: 43%
Ghost in the Shell is a science fiction action film based on Masamune Shirow's Japanese manga. The film is set shortly when the distinction between people and machines becomes increasingly blurred.
The narrative follows Major, a cyborg super soldier who is recovered from a catastrophic accident and transformed into a cyber soldier with the assistance of technology to protect the human population from the most deadly criminals. She soon discovered some disturbing truths about herself, prompting her to explore her past.
The film depicts a fictional future in which humans have invented technology to save lives and have the ability to increase their capabilities. The film is suitable for those who enjoy extreme action.
8. Total Recall (2012)
Director: Len Wiseman
Writer: Krut Wimmer, Mark Bomback, Ronald Shusett
Cast: Colin Farrell, Bokeem Woodbine, Bryan Cranston, Kate Beckinsale, Jessica Biel
IMDb Rating: 6.2/10
Rotten Tomatoes Rating: 31%
A recreation of author Philip K. Dick's iconic Sci-Fi short tale, Total Recall. The movie's plot is set when the planet faces a chemical war in the late twenty-first century. A man named Douglas, with a steady job and loving wife, discovers that a company called Rekall can grant him the memory of the ultimate espionage adventure.
The experiment doesn't go well, and he is labeled a spy. This led to authorities after him. These incidents and changes in his life soon made him realize that his memory had been tampered with long before he entered Rekall. He was living a life with false memory.
The movie Total Recall is full of thriller turns in the plot with fantastic action shots. Those who love suspense movies can watch Total Recall.
7. Dark City (1998)
Director: Alex Proyas
Writer: Alex Proyas, Lem Dobbs, David S. Goyer
Cast: Rufus Sewell, Kiefer Sutherland, Jennifer Connelly, William Hurt, Richard O'Brien
IMDb Rating: 7.6/10
Rotten Tomatoes Rating: 76%
The story follows John Murdoch, who wakes up alone in an unfamiliar hotel and discovers he has lost his memories. He's sought for a slew of odd and violent killings.
While trying to piece together his past, he stumbles onto a dark underbelly ruled by The Strangers, a group of creatures with the power to put people to sleep and change the city and its residents. Now Murdoch must figure out how to stop them before they take over his head and kill him.
Dark City is a fantastic blend of adventure and suspenseful plot. Those who prefer to watch lightweight movies with great thriller storylines can enjoy the film on streaming.
6. 2001: A Space Odyssey (1968)
Director: Stanley Kubrick
Writer: Stanley Kubrick, Arthur C. Clarke
Cast: Keir Dullea, Gary Lockwood, William Sylvester, Daniel Richter
IMDb Rating: 8.3/10
Rotten Tomatoes Rating: 92%
"The Sentinel" and other writings by Clarke inspired the most epic science fiction film, 2001: A Space Odyssey. The film noir depicts a scientifically correct space trip deceit, groundbreaking spectacular effects, and confusing images.
After a startling discovery in Africa, the movie shows monoliths driving humans to aim for the stars. After Generations, humanity embarked on an epic trip to planet Jupiter, aided by the supercomputer H.A.L. 9000, to seek the reality behind the bizarre mystery of the phenomenon.
5. A.I. Artificial Intelligence (2001)
Director: Steven Speilberg
Writer: Brais Aldiss, Ian Watson, Steven Spielberg
Cast: Haley Joel Osment, Jude Law, Frances O'Connor, Sam Robards, Jake Thomas
IMDb Rating: 7.2/10
Rotten Tomatoes Rating: 75%
Steven Spielberg directed A.I., a science fiction drama film about artificial intelligence. Spielberg's script and Ian Watson's screen narrative were based on Brian Aldiss's 1969 short story "Supertoys Last All Summer Long." The film is set shortly following the effects of global warming.
A.I. tells the story of David, a childlike android with the ability to love who is accepted by the creators as their child, and his struggle to find his place in the human and technology world.
4. Surrogates (2009)
Director: Jonathan Mostow
Writer: Michael Ferris, John Brancato, Robert Venditti
Cast: Bruce Willis, Radha Mitchell, Ving Rhames, Rosamund Pike, Boris Kodjoe
IMDb Rating: 6.3/10
Rotten Tomatoes Rating: 37%
The movie plot shows people living their lives through robotic surrogates, attractive, physically perfect artificial replicas of themselves from the comfort of their own houses. It's an ideal world without crime, suffering, fear, or repercussions.
When the first murder in years jolts this paradise, F.B.I. agent Greer uncovers a massive conspiracy behind the surrogate phenomenon and is forced to forsake his surrogate to solve the mystery.
3. Oblivion (2013)
Director: Joseph Kosinski
Writer: Karl Gajdusek, Michael Arndt, Joseph Kosinki
Cast: Tom Cruise, Morgan Freeman, Andrea Riseborough, Olga Kurylenko, Melissa Leo
IMDb Rating: 7.0/10
Rotten Tomatoes Rating: 53%
Oblivion is set in 2077 on an Earth destroyed by alien warfare, which has forced humanity to move to Titan. The plot follows Jack Harper, a mechanic brought back to Earth to maintain drones used in the war against extraterrestrials.
After seeing a spaceship crash, from which he saves a survivor, Harper gets abducted by scavengers and fights against a new and developing extraterrestrial danger.
2. Logan's Run (1976)
Director: Michael Anderson
Writer: David Zeland Goodman, William F. Nolan, George Clayton Johnson
Cast: Michael York, Jenny Agutter, Richard Jordon, Roscoe Lee Browne, Farrah Fawcett
IMDb Rating: 6.8/10
Rotten Tomatoes Rating: 63%
Logan's Run is a science fiction action film based on William F. Nolan and George Clayton Johnson's novel Logan's Run, published in 1967. The story portrays a utopian future society, but it is revealed to be a dystopia in which the population and resource consumption are kept in check by murdering everyone over 30.
Logan 5, a "Sandman" who has killed others who have sought to flee death, is now facing his end. The movie highlights the reality of the growing population.
1. Ex Machina (2014)
Director: Alex Garland
Writer: Alex Garland
Cast: Alicia Vikander, Domhnall Gleeson, Sonoya Mizuno, Corey Johnson
IMDb Rating: 7.7/10
Rotten Tomatoes Rating: 92%
Ex Machina, a science fiction film written and directed by Alex Garland, is a one-of-a-kind masterpiece. The plot follows a programmer whose C.E.O. asks to put an intelligent humanoid robot through the Turing test. Caleb wins a competition to spend a week at Nathan, the company's reclusive C.E.O. secret's mountain hideaway.
However, Caleb discovers that he will be required to engage in a unique and exciting experiment in which he will interact with the world's first natural artificial intelligence housed in the body of a gorgeous robot female.
These are some of the fine works in the sci-fi genre movies like Blade Runner 2049, which, as an audience, you can enjoy on various streaming services platforms. These recommended movies are full of adventure and fantasy with film noir and dystopian future elements like blade runner and blade runner 2049.