Ginny & Georgia is a Sarah Lampert-created Netflix original comedy-drama series that premiered on 24 February 2021, on Netflix. The show follows Georgia, a free-spirited mother who relocates to Massachusetts with her two children, Ginny and Austin. Antonia Gentry and Brianne Howey play the main characters.
Gilmore Girls heavily influenced the show's dark, thriller-like tone. The characters' uniqueness and charm draw you in and keep you invested in the show. Its fun characters and incredible storyline have made it a fan favorite, and the show is already renewed for season 2. If you're a Ginny and Georgia fan looking for something to tide you over until season 2 arrives, we've compiled a list of similar shows for you.
15. 13 Reasons Why
Cast: Katherine Langford, Alisha Boe, Dylan Minnette, Justin Prentice
Director: Tom McCarthy
Writers: Jay Asher, Brian Yorkey, Julia Bicknell
Release Date: 31 March 2017
IMDb: 7.5/10
Rotten Tomatoes: 35%
13 Reasons Why is a teen drama series and is based on a novel of the same name. The show is about high school students and all that unfolds after the death of Hannah Baker (one of their schoolmates). After her death, Clay, who had a crush on Hannah, finds a mysterious box with recordings of her telling 13 reasons why she took her life. The show is extremely popular and is available to stream on Netflix.
14. Friday Night Lights
Cast: Connie Britton, Kyle Chandler, Zach Gilford
Director: Peter Berg
Writers: David Aaron Cohen, Buzz Bissinger, Peter Berg
Release Date: 3 October 2006
IMDb: 8.7/10
Rotten Tomatoes: 97%
Friday Night is a sports drama that follows the life of the country's leading high school football team, Dillon Panthers. It shows their struggles as a sports team regarding no funding, racism, drugs, etc., and how they labor to win each match. It is known as one of the best high school movies and won quite a few awards in the sports movie category. You can definitely give it a shot if you want to watch something similar to Ginny and Georgia.
13. Dear White People
Cast: Tyler James Williams, Kyle Gallner, Tessa Thompson
Director: Justin Simien
Writer: Justin Simien
Release Date: 28 April 2017
IMDb: 6.1/10
Rotten Tomatoes: 86%
Dear white people is a Netflix original show about students of Winchester University, where the majority of the population consists of white people. The show talks about black college students and about the politics, social injustice, and racial bias that the students of the school have to face. The show shows the reality of the current world and puts light on the kind of society we are living in.
12. Never Have I Ever
Cast: Maitreyi Ramakrishnan, Darren Barnet, Jaren Lewison, Poorna Jagannathan
Director: Mindy Kaling
Writer: Mindy Kaling, Lang Fisher
Release Date: 27 April 2020
IMDb: 7.8/10
Rotten Tomatoes: 95%
Never Have I Ever is a teenage high school drama that follows the life of first-gen Indian American girl Devi. Inspired by Mindy Kalling's childhood, it shows how Devi manages her chaotic life after a bad year and also deals with her relationship with her mother and her crush Paxton.
11. Teenage Bounty Hunters
Cast: Maddie Philips, Kadeen Hardison, Anjelica Bette Fellini
Director: Kadeen Hardison
Writer: Jenji Kohan, Robert Sudduth, Tara Herrmann
Release Date: 14 August 2020
IMDb: 7.6/10
Rotten Tomatoes: 94%
Teenage Bounty Hunters is a teenage comedy series that has a very fun and entertaining storyline that will keep you hooked. Similar to Ginny and Georgia, it is about high school students. The show is about two sisters and how they manage their life as bounty hunters while studying in a prestigious high school. The show is available to watch on Netflix but, unfortunately, has only one season.
10. Good Girls
Cast: Christina Hendricks, Matthew Lillard, Lidya Jewett
Director: Dean Parisot, Micheal Weaver
Writer: Jenna Bans
Release Date: 26 February 2018
IMDb: 7.7/10
Rotten Tomatoes: 86%
Good Girls is an American thriller that follows three mothers, Beth and Annie(Sisters), and their best friend Ruby, who are struggling in life and decide to rob a grocery store. Desperate for money, they get sucked into this hole and have to manage somehow to get out of it. It is a hilarious and fun drama that will keep you hooked until the very last episode. The show has four seasons and is available on Netflix.
9. Life In Pieces
Cast: Colin Hanks, Thomas Sadoski, Betsy Brandt
Director: Jason Winer
Writer: Justin Adler
Release Date:
IMDb: 8.0/10
Rotten Tomatoes: 60%
Life in Pieces is a comedy family film showing four short stories about each family member every week. The show is about a big eccentric family that shares awkward, beautiful, and witty moments of their life. Even though there are differences and drama among the family members, they always love and support each other.
8. Killing Eve
Cast: Eve Polastri, Sandra Oh, Jodie Comer
Director: Damon Thomas
Writer: Phoebe Waller-Bridge
Release Date: 8 April 2018
IMDb: 8.5/10
Rotten Tomatoes: 89%
Killing Eve is a thriller about a British spy Eve and Villanelle, a great assassin. The two fierce ladies eventually interlink and get obsessed with each other. The show is a fantastic thriller, and the characters have done jaw-dropping work and have portrayed their characters so well. It is available to watch on Hulu and Amazon Prime.
7. The Duchess
Cast: Katherine Ryan, Rory Keenan, Katy Byrne
Director: Toby Mac Donald
Writer: Katherine Ryan
Release Date: 11 September 2020
IMDb: 6.7/10
Rotten Tomatoes: 62%
The Duchess is a historical drama series about an aristocratic girl named Georgina who gets married at an early age to the Duke of Devonshire and realizes that he only married her for an heir who can carry on their bloodline. She wants to participate in her state's affairs and take part in decision-making instead of just being a pretty wife and mother. The show has fantastic costumes, and the cast has done an amazing job.
6. The Society
Cast: Kristine Froseth, Jack Mulhern, Alex Fitzalan
Director: Marc Webb
Writer: Christopher Keyser, Anna Fishko
Release Date: 10 May 2019
IMDb: 7.1/10
Rotten Tomatoes: 86%
The Society is an American mystery thriller and is available for streaming on Netflix. The story revolves around a group of friends who, after coming back from a school trip, find themselves in a rough place. They have to make a new society after the whole population of their town miraculously disappears. The show has an excellent plot and is quite fun to watch. You can definitely consider this if you liked the thriller aspect of Ginny and Georgia.
5. Firefly Lane
Cast: Katherine Heigl, Ben Lawson, Sarah Chalke
Director: Peter O'Fallen
Writer: Kristin Hannah
Release Date: 3 February 2021
IMDb: 7.4/10
Rotten Tomatoes: 47%
Firefly Lane is an American tv show and is based on a novel of the same name. It follows the life of Tully and Kate, who met at a very young age and have been through the ups and downs of life to their 40s. It is all about love, friendship, heartbreak, and many more emotions that a person goes through in their life. The show is available to watch on Netflix, and you will love it if you are a Ginny and Georgia fan.
4. Sweet Magnolias
Cast: JoAnna Garcia Swisher, Heather Headly, Brooke Elliott
Director: Norman Buckley
Writer: Sheryl J. Anderson
Release Date: 19 May 2020
IMDb: 7.3/10
Rotten Tomatoes: 78%
Sweet Magnolias is a romantic tv-series and are based on a novel with the same title. It follows the story of long-time friends who lift each other up through the thick and thins of life and manage their careers, personal life, family, and friendship while living in a town named Serenity. It is available to watch on Netflix and is somewhat similar to Ginny and Georgia, so you can definitely give it a shot.
3. Jane The Virgin
Cast: Gina Rodriguez, Yael Grobglas, Justin Baldoni
Director: Justin Baldoni
Writer: Jennie Snyder Urman
Release Date: 13 October 2014
IMDb: 7.9/10
Rotten Tomatoes: 100%
Jane The Virgin is an incredibly popular rom-com and follows a young Latina who works as a waitress in Miami. She is studying to be a teacher and is also engaged, but a visit to the doctor turns her life around as she accidentally gets inseminated and also finds out the specimen is of her boss.
The show is loved by many and has a great storyline. If you haven't yet watched it, you can definitely try it, and you will certainly love it. This show is also a great option if you are looking for something like Ginny and Georgia.
2. Trinkets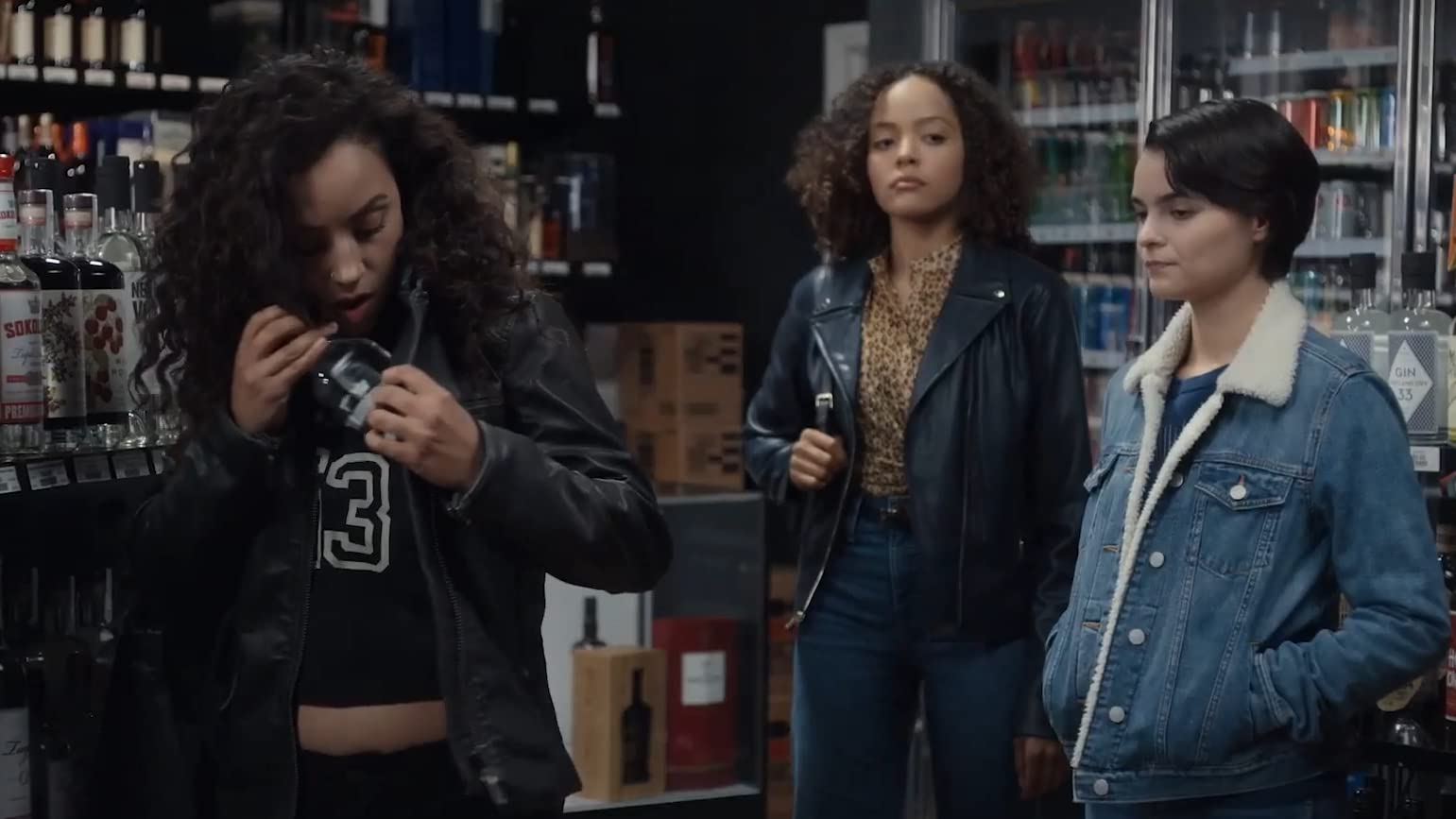 Cast: Kiana Medeira, Brianna Hildebrand, Quintessa Swindell
Director: Sara St. Onge
Writer: Amy Andelson
Release Date: 14 June 2019
IMDb: 7.0/10
Rotten Tomatoes: 60%
Trinkets is a teenage drama series that is based on a novel of the same title. The show follows the story of 3 adolescent classmates who end up becoming friends when they land in the same group named "Shoplifters Anonymus." The buddies have different personalities and have kept their friendship unknown in school. It is incredibly entertaining and is quite a popular teenage drama. The show has two seasons and is available to stream on Netflix.
1. Gilmore girls
Cast: Alexis Bledel, Lauren Graham, Keiko Agena
Director: Amie Sherman Palladino
Writer: Amie Sherman Palladino, David S. Rosenthal, Daniel Palladino
Release Date: 5 October 2000
IMDb: 8.2/10
Rotten Tomatoes: 85%
Gilmore Girls is an American tv show that shows the relationship between a single mother and her daughter living in Stars Hollow in Connecticut. The show is critically acclaimed for having excellent dialogue and humor. Gilmore Girls is clearly a major inspiration for the show. Ginny and Georgia can be easily noticed by watching the show.