We all must be aware of the popular Rose family, which lost all its wealth because of the Fraud in their business. This formerly wealthy family has to move into a small town called Schitt's Creek to carry on with their lives. Jhonny Rose (Eugene Levy), Moira (Catherine O'Hara), and their adult children David Rose (Dan Levy) and Alexis Rose (Annie Murphy), are seen moving into the motel to make ends meet. It is highly interesting to see how they survive without any form of luxury or comfort. Poor Rose family, they couldn't have imagined in their wildest dreams for their fates to mess up their lives with utmost perfection!
Schitt's Creek is one of the greatest Canadian sitcoms that made the viewers fall off their seats with laughter. The show is co-created by Dan Levy and his father, Eugene Levy. Shows like Schitt's Creek are a major dose of entertainment for all the lazy weekends when you need something solid to make it up for a good mood. So, if you have been struggling to find shows like Schitts Creek, we have curated a list of 20 top shows that are insanely hilarious and relatable.
20. Fleabag
Creators: Phoebe Waller-Bridge
Cast: Phoebe Waller-Bridge, Sian Clifford; Andrew Scott
IMDb Rating: 8.7
Rotten Tomatoes: 100%
Streaming Platform: Prime Video
If you are a fan of Schitt's Creek's wittiness and the iconic quotes used in the show, then you might want to check out Fleabag. The series features a heartfelt woman as she unravels her guilt and dating experiences. Although we know she is not purely an innocent character, we just couldn't help sympathizing with her. It's hard not to mention the unbelievably charming priest that makes Fleabag instantly fall for him.
19. The Good Place
Creator: Michael Schur
Cast: Kristen Bell; William Jackson Harper; Jameela Jamil; D'Arcy Carden; Manny Jacinto
IMDb Rating: 8.2
Rotten Tomatoes: 97%
Streaming Platform: Netflix
We had no idea a show that manages to answer some of the complex philosophical questions could be so hilarious and moving at the same time. This feel-good family sitcom deals with the concept of heaven and hell in the most creative manner while teaching its viewers the basic foundations of life and how to be a good person. The series revolves around a terrible human being named Eleanor Shellstrop, who finds herself in the afterlife after a sudden death which is nothing more than a land of dreams.
Well, the only problem is that they picked the wrong Eleanor, and if she wants to continue staying in a good place, then she needs to learn to be a better person. The only person that agrees to help her is indecisive and anxious Chidi. The chemistry between the main characters in the series is definitely going to melt your heart.
18. Workin' Moms
Writers: Catherine Reitman; Rebecca Kohler; Karen Moore; Diane Flacks
Directors: Catherine Reitman, Paul Fox, Aleysa Young
Cast: Catherine Reitman, Jessalyn Wanlim, Dani Kind, Juno Rinaldi
IMDb Rating: 7.7
Rotten Tomatoes: 79%
Streaming Platform: Netflix
Workin' Moms revolves around a bunch of independent and cool-minded moms who are determined to balance motherhood with their professional lives. They don't want to leave any stone unturned, and they can't compromise on anything in life. We bet they are the coolest and the most practical moms you'll ever know. The audience thoroughly enjoyed all six seasons, and they are desperately waiting for more.
17. Modern Family
Creators: Christopher Lloyd; Steven Levitan
Cast: Ed O'Neill, Sofía Vergara, Julie Bowen, Ty Burrell, Jesse Tyler Ferguson
IMDb Rating: 8.5
Rotten Tomatoes: 85%
Streaming Platform: Disney Plus Hotstar
One can easily find a lot of similarities between Modern Family and Schitt's Creek, and it's a great way to attract all the Schitt's Creek fans. Modern Family revolves around three quirky families from California and their journey of raising children, jobs, and also an insight into their personal lives. They might not be the most perfect families on this planet, but they certainly bring out the on-point humor and sarcasm as the writers keep putting them in strangely funny situations. If you are going through a bad day, this show will always fix your mood.
16. Kim's Convenience
Creators: Ins Choi, Kevin White
Cast: Paul Sun-Hyung Lee, Jean Yoon, Andrea Bang, Simu Liu
IMDb Rating: 8.2
Rotten Tomatoes: 100%
Streaming Platform: Netflix
Kim's Convenience is one of the most legendary Canadian television series that revolves around a middle-aged guy known as Kim, who comes from a Korean Canadian family. He runs a convenience store in Toronto, Canada. He has a hard time dealing with his dysfunctional family, just like the Rose family from Schitt's Creek. Kim's Convenience is certainly a must-watch family drama series because of its unbelievably funny characters and unique storyline. The chaos between the family members in this Canadian comedy series acts as a perfect dose of entertainment for its viewers. This is by far the best Canadian sitcom to ever exist.
15. Arrested Development
Creator: Mitchell Hurwitz
Cast: Jason Bateman, Portia de Rossi, Will Arnett, Michael Cera
IMDb Rating: 8.7
Rotten Tomatoes: 74%
Streaming Platform: Netflix
If you have been looking for a comedy show with a unique comedic style, just like Schitt's Creek, then Arrested Development is your one-stop destination. This family comedy series revolves around a dysfunctional family which incurred loss in their family real estate business after the head is proven guilty of committing fraud. The only cool-minded human in the family, Michael sets out to calm his hyper family down. Their obsession with the banana stand will always make us laugh like crazy.
The comedic brilliance, crazy characters, and heartfelt moments in the series are some of the major reasons why you need to watch Arrested Development as soon as possible. The ensemble cast and the iconic characters make this series more and more interesting. You surely cannot miss out on this gem!
14. Ted Lasso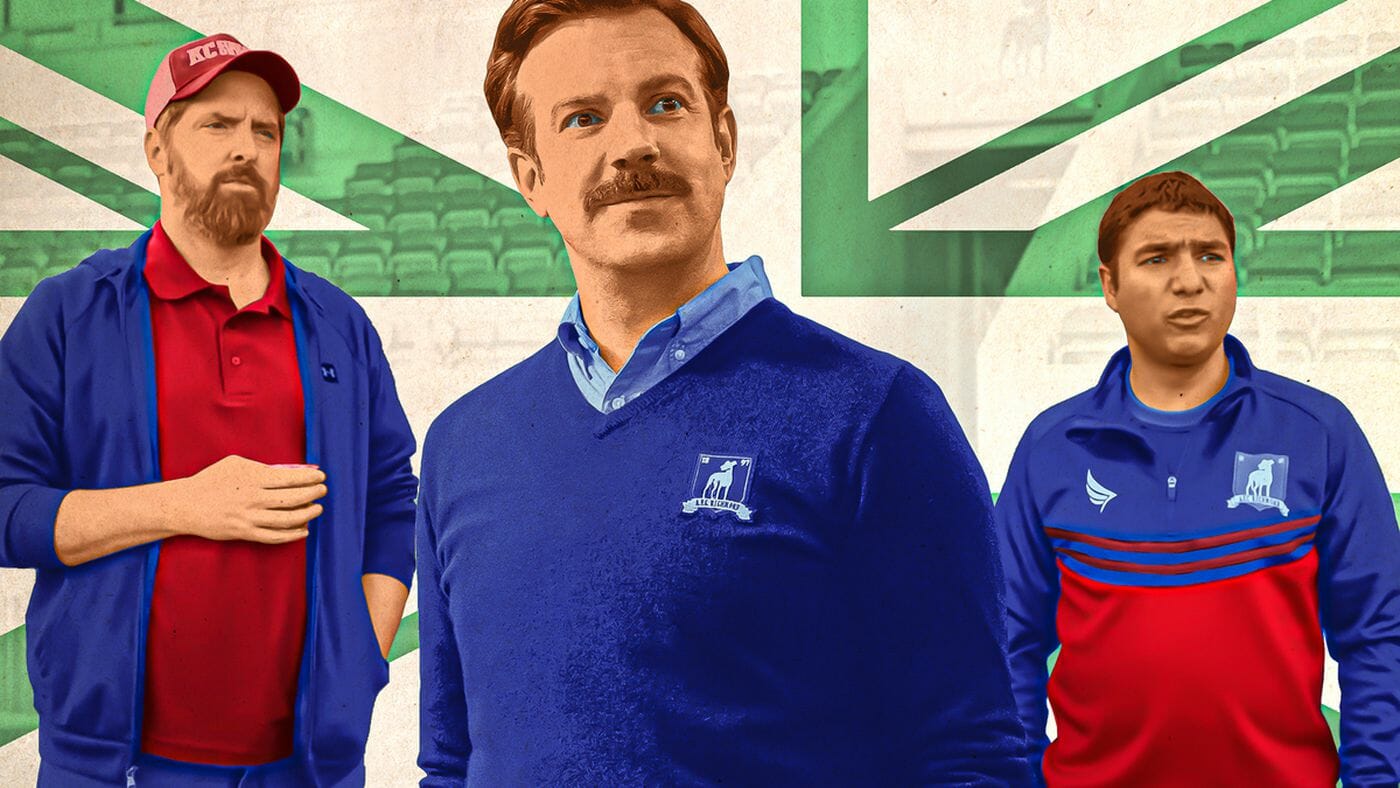 Creators: Jason Sudeikis, Bill Lawrence, Brendan Hunt, Joe Kelly.
Cast: Jason Sudeikis, Hannah Waddingham, Jeremy Swift
IMDb Rating: 8.8
Rotten Tomatoes: 94%
Streaming Platform: Apple TV
Ted Lasso revolves around an American football coach who is assigned the task of managing the British soccer team. Being completely new to the game of soccer, he lacks knowledge  experience. Ted Lasso is a hilarious show that talks about determination and how you can develop any skill in this world if you have enough willpower.
13. The Middle
Creators: Eileen Heisler, DeAnn Heline
Cast: Patricia Heaton; Neil Flynn; Charlie McDermott; Eden Sher; Atticus Shaffer; Chris Kattan
IMDb Rating: 7.6
Rotten Tomatoes: 71%
Streaming Platform: Amazon Prime
The Middle is an interesting tale about a middle-aged woman named Frances Heck who is from a middle-class background and has a hard time managing her quirky family of three kids with completely different personalities. They all struggle to get along with each other, and their mom is tired of their family antics, which we don't want to miss out on. This feel-good sitcom is surely going to make you remember Schitt's Creek by witnessing the crazy family and the life struggles they are going through.
12. Grace & Frankie
Creators: Marta Kauffman, Howard J. Morris
Cast: Jane Fonda; Lily Tomlin; Sam Waterston; Martin Sheen; Brooklyn Decker; Ethan Embry
IMDb Rating: 8.2
Rotten Tomatoes: 90%
Streaming Platform: Netflix
Grace and Frankie revolve around two women who form an unlikely bond with each other as they are seen dealing with the same situation in life. Their husbands fell for each other and are about to get married, turning the two women's lives upside down. If you love Schitt's Creek, then this is the perfect show for you.
10. The Other Two
Creator: Chris Kelly, Sarah Schneider
Cast: Case Walker, Drew Tarver, Heléne Yorke
IMDb Rating: 7.8
Rotten Tomatoes: 95%
Streaming Platform: Amazon Prime Video
The Other Two is by far one of the best creations of the writers of Saturday Night Live. The show revolves around two crazy siblings who are aiming for a lot in life. This American sitcom has a bunch of unique, well-crafted characters, which makes this series a lot more intriguing.
9. New Girl
Creator: Elizabeth Meriwether
Cast: Zooey Deschanel, Jake Johnson, Max Greenfield
IMDb Rating: 7.7
Rotten Tomatoes: 95%
Streaming Platform: Disney Plus Hotstar
New Girl has been one of the most loved series by Schitt's Creek fans. Just like the Rose family, Jess and the gang are sure to amaze you with their crazy shenanigans. This show also has a ton of romantic tension between the leads to satisfying the romantic genre fans.
8. Crazy Ex-Girlfriend
Creators: Rachel Bloom; Aline Brosh McKenna
Cast: Rachel Bloom, Vincent Rodriguez III, Santino Fontana
IMDb Rating: 7.8
Rotten Tomatoes: 98%
Streaming Platform: Netflix
Crazy Ex-Girlfriend is a popular drama series that revolves around Rebecca, a desperate young woman who shifts to California just to get her ex-boyfriend back. This show has everything you shouldn't be doing when you break up with someone you think is perfect for you. This series has a lot of hilariously funny moments that a comedy lover cannot afford to miss.
7. Santa Clarita Diet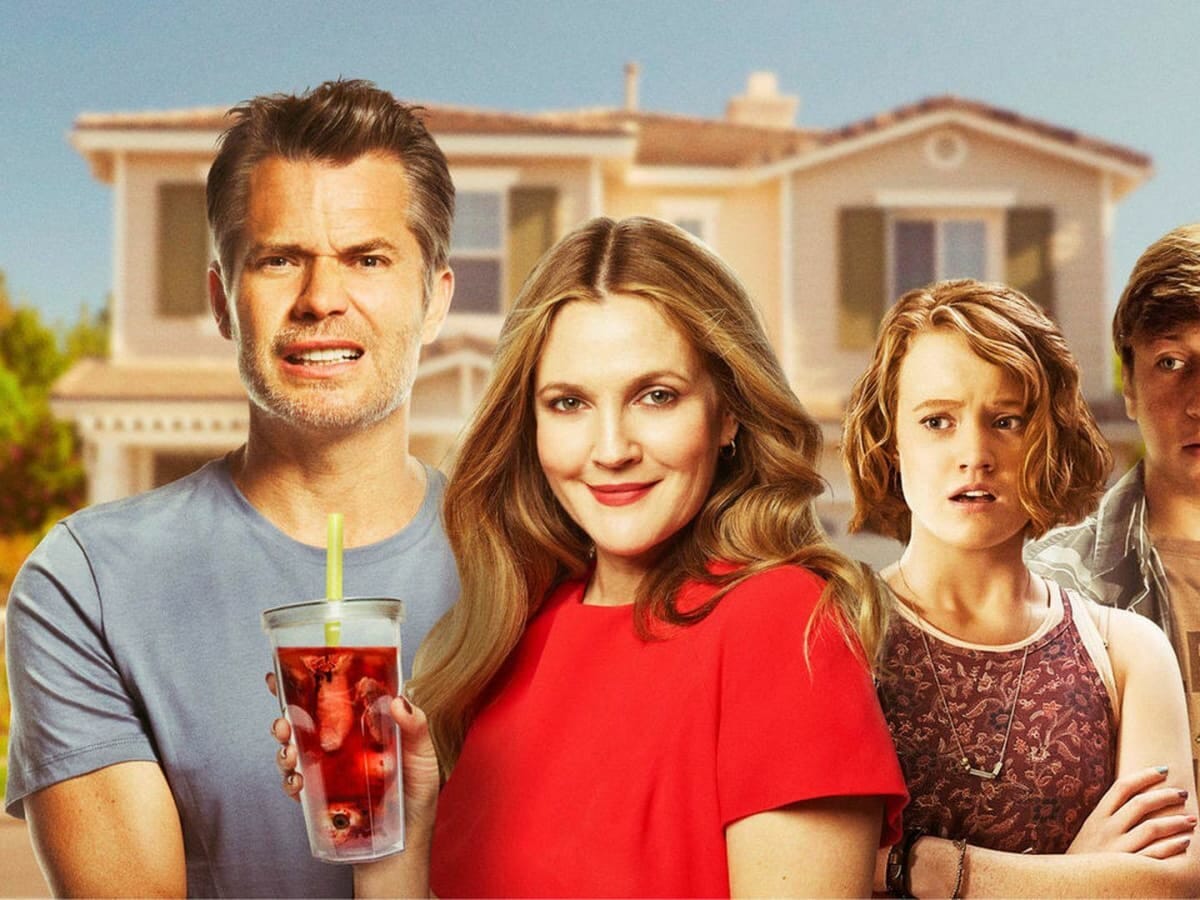 Creator: Victor Fresco
Cast: Drew Barrymore, Timothy Olyphant
IMDb Rating: 7.8
Rotten Tomatoes: 89%
Streaming Platform: Netflix
Santa Clarita Diet is a horror comedy series that you can binge-watch for hours, just like Schitt's Creek. The show revolves around Sheila and Joel, who serve as married realtors in the series. Their world turns upside down when Sheila passes away. This series pushes the viewers to explore a whole new perspective that is it possible to die and still be with your loved ones?
The character of Sheila becomes more and more exciting when we realize her diet involves the intake of a ton of human flesh after she becomes undead. This unusual show seems to tackle a lot of unresolved mysteries in the most humorous way possible.
6. Fresh Off the Boat
Creator: Nahnatchka Khan
Cast: Hudson Yang; Randall Park; Constance Wu
IMDb Rating: 7.8
Rotten Tomatoes: 89%
Streaming Platform: Disney Plus Hotstar
Fresh Off the Boat is a moving comedy series that revolves around an immigrant Taiwanese family that shifts to the US while struggling to adjust to the new neighborhood. This show is a lot like Schitt's Creek, as both families struggle to get along with the whole new environment. The people insanely adored the sixth and final season for presenting a heartwarming storyline. The series is based on the autobiography of Eddie Huang of the same name.
5. One Day at a Time
Developer: Gloria Calderón Kellett and Mike Royce
Cast: Justina Machado; Todd Grinnell
IMDb Rating: 8.1
Rotten Tomatoes: 99%
Streaming Platform: Netflix
One Day at a Time is a comedy-drama series that follows the life of a Cuban-American family that is full of unusual people, which ultimately adds a lot to the family drama in the series. This show has the best LGBTQ+ representation and a ton of progressive content in regard to mental health and identity.
4. Great News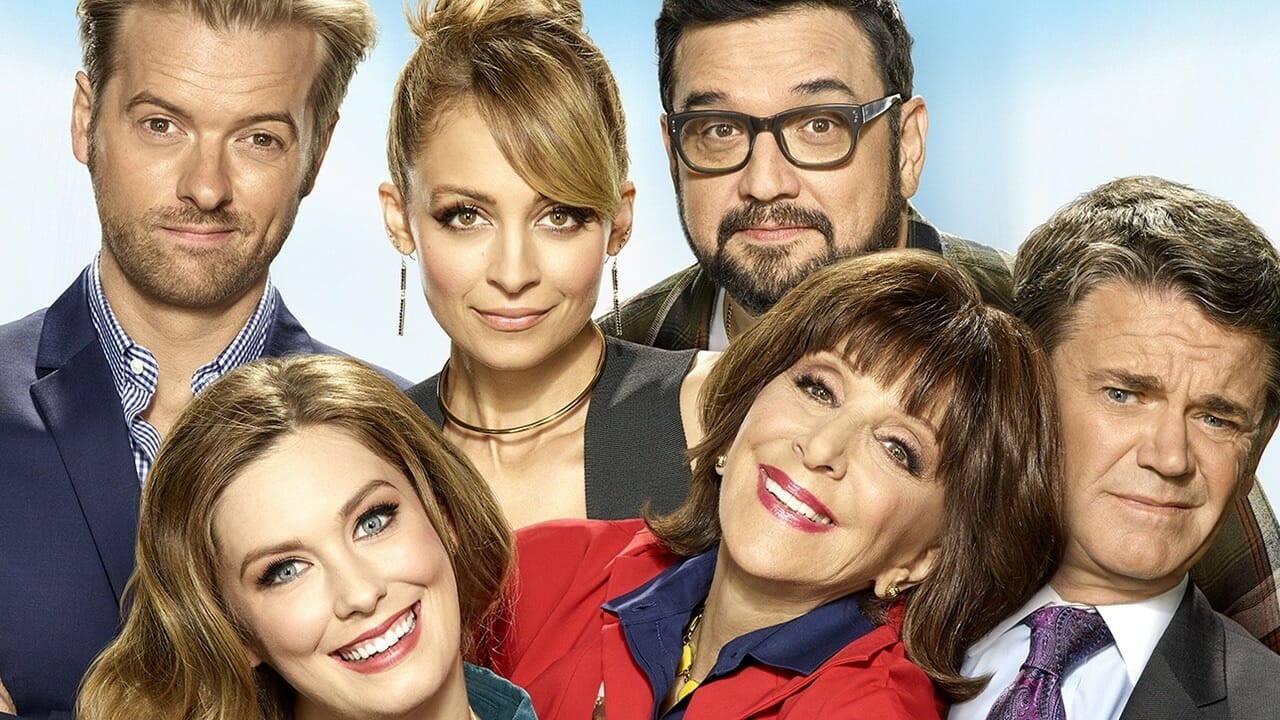 Creator: Tracey Wigfield
Cast: Briga Heelan, Andrea Martin, Adam Campbell
IMDb Rating: 7
Rotten Tomatoes: 84%
Streaming Platform: Netflix
Great News revolves around a cable news producer named Katie, who is always determined to achieve greater heights. Her professional life becomes a little chaotic after her mother joins her team as an intern. From the clashing of new anchors to the lazy editor, this series is filled with solid drama to entertain its viewers. Season two cracked all records of comedy when the comic legend Tina Fey joined the incredible cast as a powerful executive. Great News has great comedic brilliance, which makes it one of the most incredible shows like Schitt's Creek.
3. A.P. Bio
Creator: Mike O'Brien
Cast: Glenn Howerton, Lyric Lewis, Mary Sohn
IMDb Rating: 7.4
Rotten Tomatoes: 88%
Streaming Platform: Netflix
A.P. Bio is a lot similar to the popular Schitt's Creek series as they both feature self-absorbed individuals who are only concerned about themselves. A.P. Bio revolves around Jack, who returns back home after getting fired from a prestigious faculty position at Harward. He then takes up the job of teaching at the local high school, where he does absolutely nothing to teach the students. He uses this as a golden opportunity to get back at the people who made him suffer all through his life.
2. Parks & Recreation
Creator: Greg Daniels; Michael Schur
Cast: Rashida Jones, Amy Poehler
IMDb Rating: 8.6
Rotten Tomatoes: 93%
Streaming Platform: Prime Video
Parks and Recreation is a popular series about the quirky public officials of Indiana as they take up a major goal of making their city a better place to live in. The audience truly loved the political satire used in the show. While one must not find a lot of similarities between Schitt's Creek and Parks and Recreation, there are still some striking similarities between the two shows that the viewers can never ignore.
1. PEN15
Creator: Maya Erskine, Anna Konkle
Cast: Mutsuko Erskine, Maya Erskine, Anna
IMDb Rating: 8
Rotten Tomatoes: 97%
Streaming Platform: Hulu
PEN15 is a unique tale by the comic legends Maya Erskine and Anna Konkle as they presented a younger version of themselves from when they were in middle school. They presented an insight into the life of teenagers when you are an outcast and how miserable life can get as thirteen-year-olds. The relatable comedy will make you cringe and giggle throughout the series. It will also make you aware of how goofy you have been in your teenage years.
Conclusion:
Schitt's Creek is one of the most amusing family drama series in the history of television. A sudden loss in business made the rich family embrace a poor lifestyle. Rose's family leaves their luxurious lifestyle in order to move into a small town called Schitt's Creek. Shows like Schitt's Creek that is highly recommended are Broad City, Fresh off the Boat Kim's Convenience, Santa Clarita Diet, Workin' Moms, and many others.