HBO has not left any stone unturned when it comes to bringing the finest entertainment content. While the Home Box Office Inc commenced as a premium cable channel and continues to be for the cable subscriber service to date, it has also expanded its reach by moving to a wider platform from cable system to a streaming platform with the names HBO Now and HBO Go. Here are some of the best HBO Now movies you must watch right now.
The two are now merged together to form a single streaming platform called HBO Max. After going through the lot of movies the Home Box Office Streaming services have put up, we bring you a list of thirty-five best movies to watch on this platform.
1. Die Hard (1988)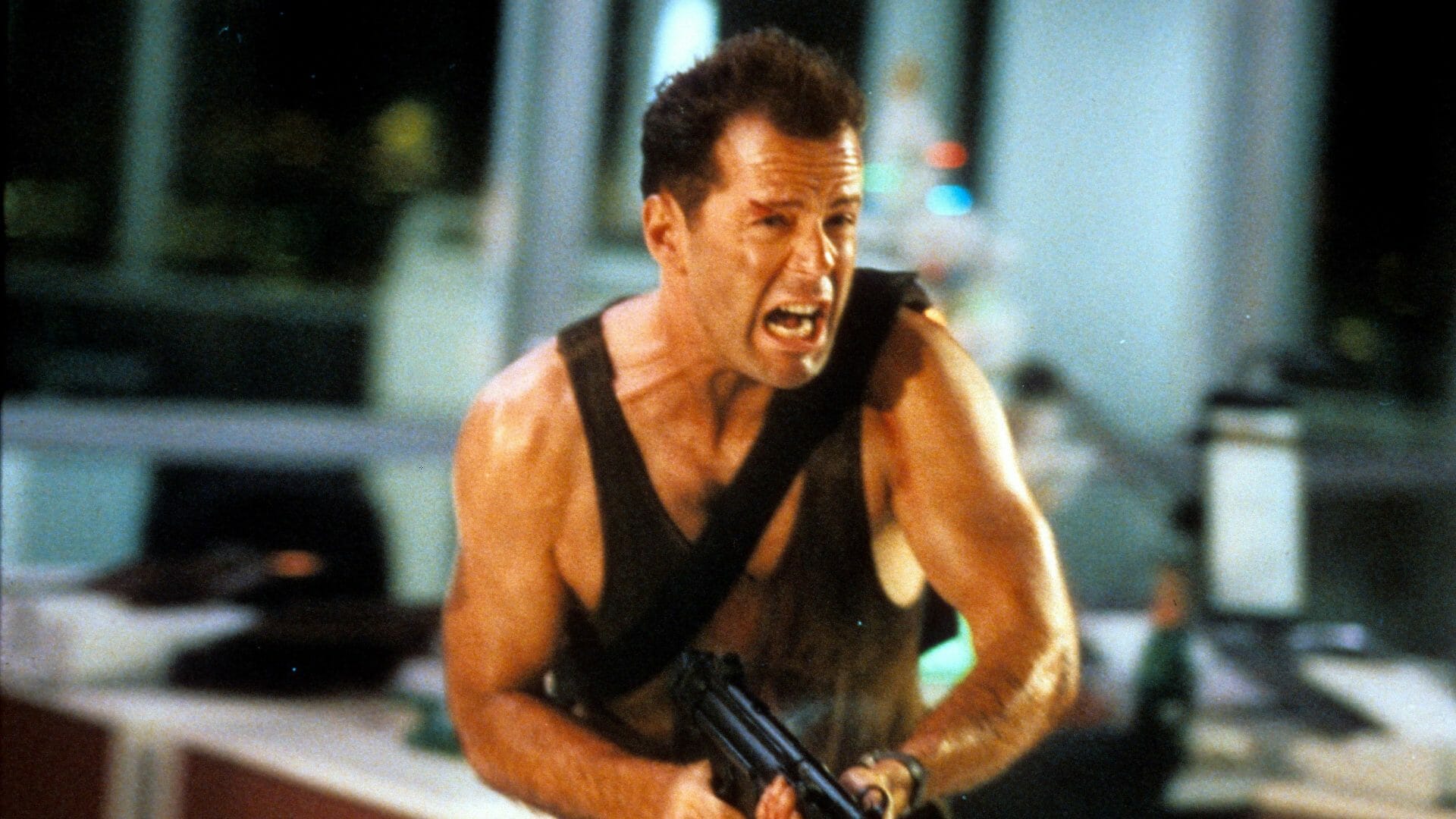 Director: John McTiernan
Writer: Jeb Stuart
Cast: Bruce Willis, Alan Rickman
IMDb Rating: 8.2
Rotten Tomatoes: 94%
1988's Die Hard is an American film set in the action genre. This HBO film is inspired by the 1979 novel Nothing Lasts Forever by Roderick Thorp. In this film, Die Hard goes after the NY City police detective John McClane (Willis), who went to visit his estranged wife but ended up getting stuck in a terrorist attack on a Los Angeles skyscraper. Available on HBO max, the film tops the list of best movies to watch on the platform.
2. Jaws (1975)
Director: Steven Spielberg
Writer: Peter Benchley
Cast: Roy Scheider, Robert Shaw, Richard Dreyfuss
IMDb Rating: 8
Rotten Tomatoes: 98%
There on HBO Movies, Jaws is a 1975 US thriller release that is inspired by Peter Benchley's 1974 novel that goes by the exact name. The Steven Spielberg film shows a human hungry, gigantic white shark that attacks visitors at the beach at a summer resort town. Prodding police chief Martin Brody to investigate the matter, he goes ahead with a marine biologist and an expert shark hunter. Murray Hamilton is there for the role of the mayor, while Lorraine Gary can be seen as Brody's wife. The credits for the story go to Peter Benchley, who originally had drafted the screenplay, after which actor and writer Carl Gottlieb rewrote the script.
3. The Talented Mr. Ripley (1999)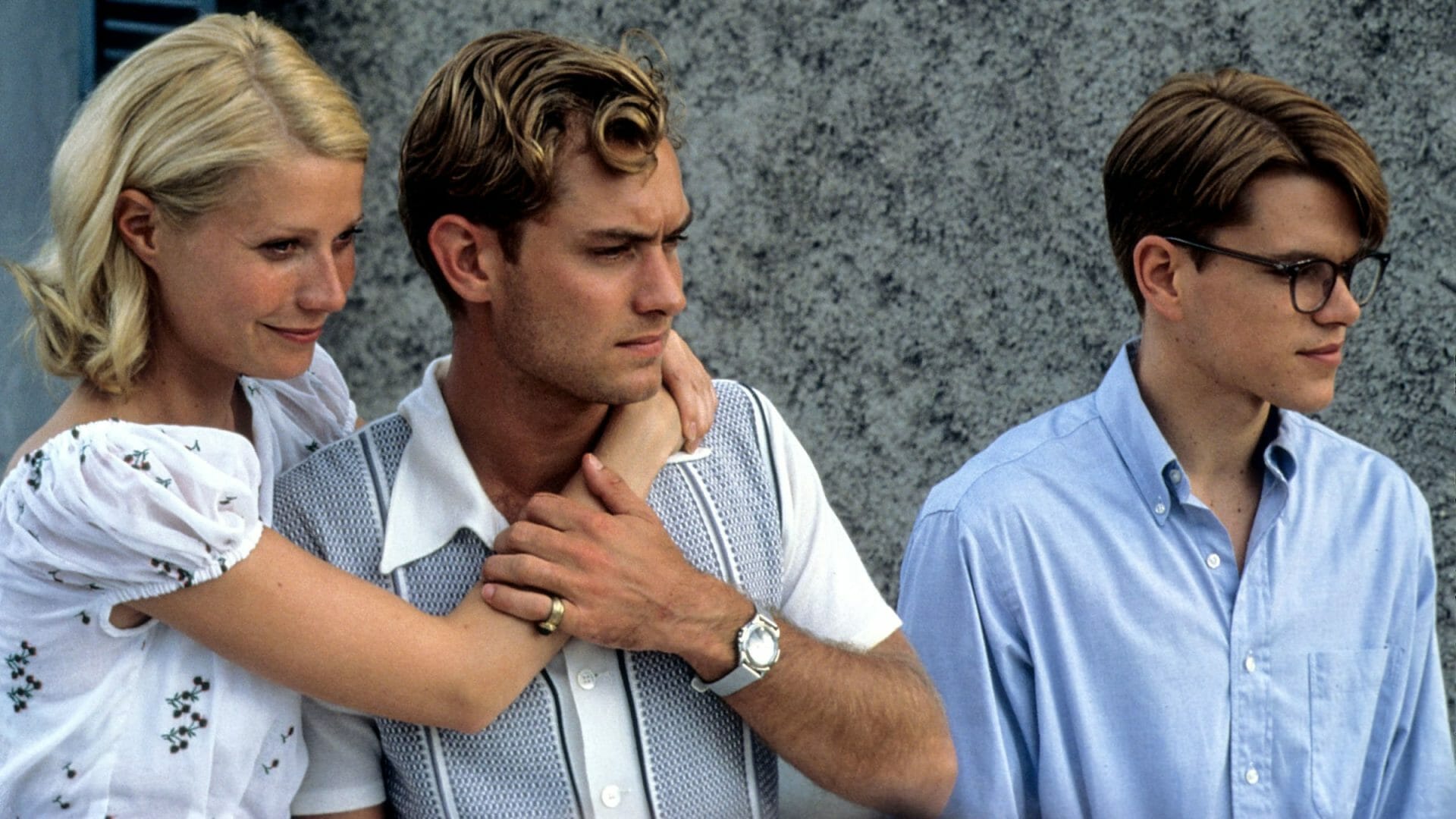 Director: Anthony Minghella
Writer: Anthony Minghella
Cast: Matt Damon, Jude Law
IMDb Rating: 7.4
Rotten Tomatoes: 83%
Released in 1999, The Talented Mr. Ripley is an American film as a psych thriller. The film is inspired by Patricia Highsmith's 1955 novel that goes also titled the same. In 1957, a 60 min running version was released for the TV series Studio One. Three years later, a complete film arrived with the title Purple Noon that was directed by René Clément. The 1968 release by Claude Chabrol called Les Biches has taken quite a lot of segments from Highsmith's novel, although it changes the gender of the lead roles
4. My Left Foot (1989)
Director: Jim Sheridan
Writer: Shane Connaughton
Cast: Daniel Day-Lewis, Ray McAnally
IMDb Rating: 7.9
Rotten Tomatoes: 98%
There on HBO, My Left Foot: The Story of Christy Brown, aka My Left Foot, is a 1989 film documentary inspired by the 1954 Christy Brown's by the same name. The film shows the story of Brown, who is an Irish man who has suffered from cerebral palsy since birth. He had no control of his body except in his left foot. He was raised up in a poverty-stricken family and later started working as a writer and an artist. The British Film Institute ranked this film as the 53rd greatest British film to be released in the 20th century. This movie is among the top documentaries on HBO Max.
5. The Mask (1994)
Director: Charles Russell
Writer: Mike Werb
Cast: Jim Carrey, Peter Greene
IMDb Rating: 6.9
Rotten Tomatoes: 77%
HBO brings 1994's superhero comedy called The Mask, which is an American release inspired by the Mask comics published under Dark Horse Comics. The first part of the Mask franchise features Jim Carrey in the lead. Carrey is seen as Stanley Ipkiss, a pathetic cashier at a bank who fortunately finds a magic mask that transforms him into his second self. The Mask is a naughty mischief-maker who becomes a superhero with superpowers. However, he, unfortunately, lands right into the target list of a mafia group when gangster Dorian Tyrell wants to use the mask to bring his boss down.
6. Before Sunrise (1995)
Director: Richard Linklater
Writer: Richard Linklater
Cast: Ethan Hawke, Julie Delpy
IMDb Rating: 8.1
Rotten Tomatoes: 100%
Before Sunrise is a 1995 romance drama available for watch on HBO. The film revolves around a young man called Jesse and a french woman Céline. The two meet each other on a journey while on a train and leave for Vienna together. Both of them spend the night roaming around the city and attending to know and falling dotty with one another.
The plot is taken into account minimalistic, as not much happens other than walking and talking. Both the characters' understanding and views on life and love are quite thorough. Going down with each other the entire night that follows, their short but memorable time spent together continues to be cherished by both of them and results in each revealing lots about themselves partly because they both initially believe they're going to never see one another again.
7. Clerks (1994)
Director: Kevin Smith
Writer: Kevin Smith
Cast: Jason Mewes, Jeff Anderson
IMDb Rating: 7.7
Rotten Tomatoes: 89%
Available on HBO, Clerks is a 1994 American film that is a part of the Clerks series of movies inspired by Dante Hicks' works. Clerks is the first and foremost release in Smith's Askewniverse series of films and establish a long list of continual characters, especially Jay and Silent Bob. The film is taken into account as a landmark in freelance filmmaking and, in 2019, was designated for preservation within the National Film written record by the Library of Congress.
8. The Matrix (1999)
Director: The Wachowskis
Writer: The Wachowskis
Cast: Keanu Reeves, Laurence Fishburn
IMDb Rating: 8.7
Rotten Tomatoes: 88%
The Matrix is a 1999 American sci-fi action film available on HBO Max. The movie shows a future wherein humanity is unknowingly stuck inside an artificial stimulation of reality called the Matrix, made by AI machines. When programmer Thomas Anderson, under his second disguising name "Neo", brings forth the reality, he "is drawn into a rebellion against the machines" together with others who are free of the Matrix.
9. The Iron Giant (1999)
Director: Brad Bird
Writer: Brad Bird
Cast: Jennifer Aniston, Vin Diesel
IMDb Rating: 8
Rotten Tomatoes: 96%
Available on HBO, the film is a 1999 American animated sci-fi action film. The film is inspired by the 1968 novel The Iron Man by Ted Hughes and was later written down by Tim McCanlies for the script. With the backdrop of the Cold War in 1957, the film revolves around a young lad called Hogarth Hughes, who befriends an enormous metallic robot whom he found when it fell from outer space. Under the guidance of a beatnik artist Dean McCoppin, Hughes tries to stop the US military and a fed agent from finding and destroying the robot.
10. Just Mercy (2019)
Director: Destin Daniel Cretton
Writer: Destin Daniel Cretton
Cast: Michael B. Jordan, Jamie Foxx
IMDb Rating: 7.6
Rotten Tomatoes: 84%
On the list of HBO Documentaries, Just Mercy is a 2019 American documentary set as a legal drama movie featuring Michael B. Jordan, Jamie Foxx, Rob Morgan, Tim Blake Nelson, Rafe Spall, and Brie Larson. The movie shows the true story of Walter McMillian, who has his aid and assistance from his defense attorney Bryan Stevenson.
McMillian appeals to the higher court against his conviction in a case for murder. The film has taken its inspiration from a memoir that goes by the same name. Just Mercy made its international debut at the Toronto International Film Festival in September the last year and was theatrically released by Warner Bros Pictures on Christmas in 2019
11. Fight Club (1999)
Director: David Fincher
Writer: Jim Ulhs
Cast: Edward Norton, Brad Pitt
IMDb Rating: 8.8
Rotten Tomatoes: 79%
Fight Club is a 1999 American movie, available to watch on the streaming service. It's inspired by the 1996 novel by Chuck Palahniuk. Norton plays the unidentified teller, who is rebellious together with his white-collar job. He forms a "fight club" with soap salesperson Tyler Durden and becomes involved during a relationship with him and a necessitous girl, Marla Singer. Palahniuk's novel was optioned by Fox 2000 photos producer Laura Ziskin, WHO employed Jim Uhls to put in writing the film adaptation. Fincher was selected owing to his enthusiasm for the story.
12. Cast Away (2000)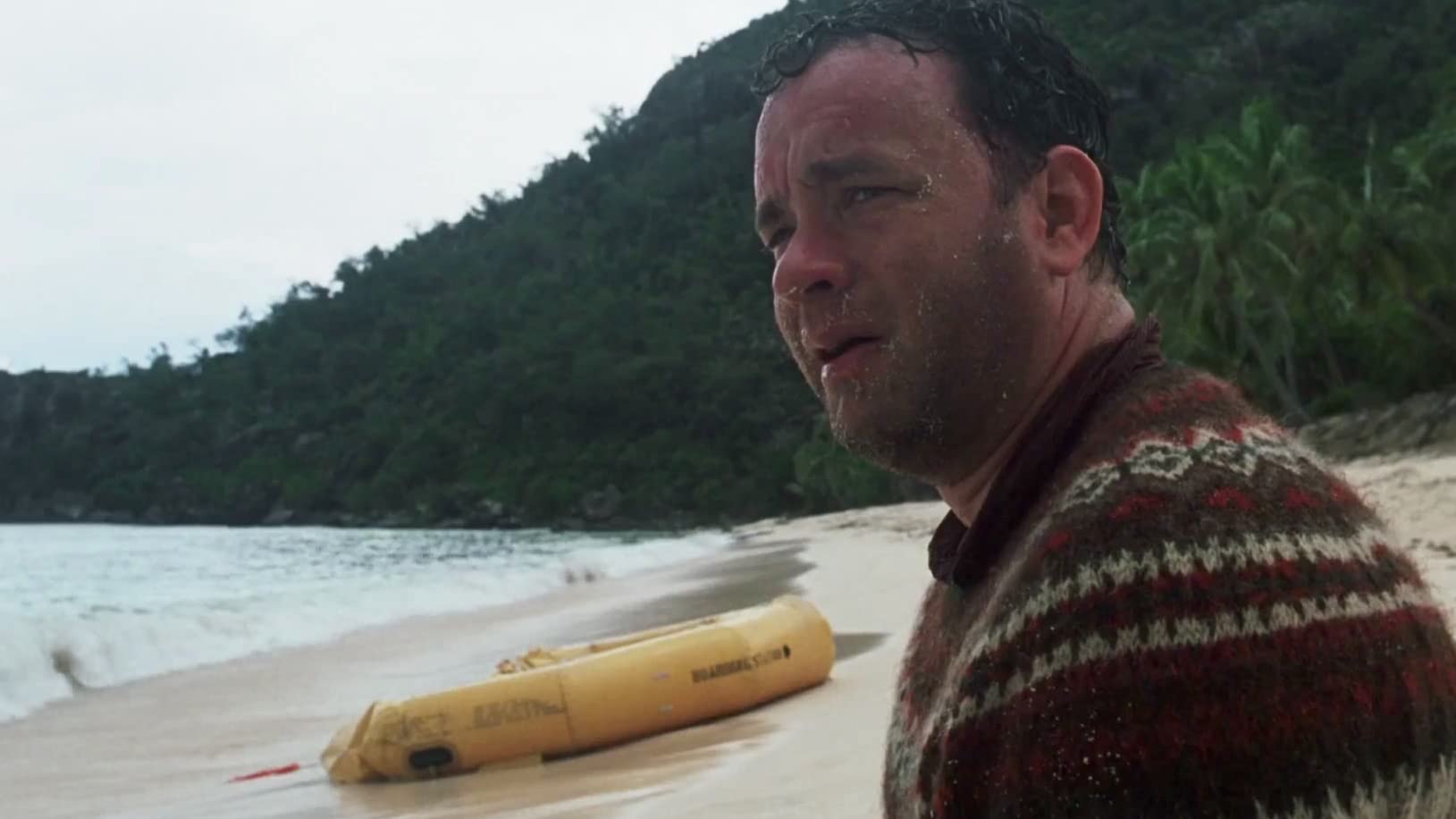 Director: Robert Zemeckis
Writer: William Broyles Jr.
Cast: Tom Hanks, Helen Hunt
IMDb Rating: 7.8
Rotten Tomatoes: 88%
Featuring Tom Hanks in the lead with Helen Hunt, and Nick Searcy, Cast Away is a 2000 American survival drama film. After his airplane suffers a crash in the South Pacific Ocean, Hanks, who plays a FedEx employee, gets stuck on a lonely faraway island. The movie majorly highlights the years of his life spent making tough attempts to survive and go back home. On December 22, 2000, the film was released, and with Hanks getting his name in for the nominees for Best Actor in a Leading Role at the 73rd Academy Awards, the film grossed $429 million internationally.
13. High Fidelity (2000)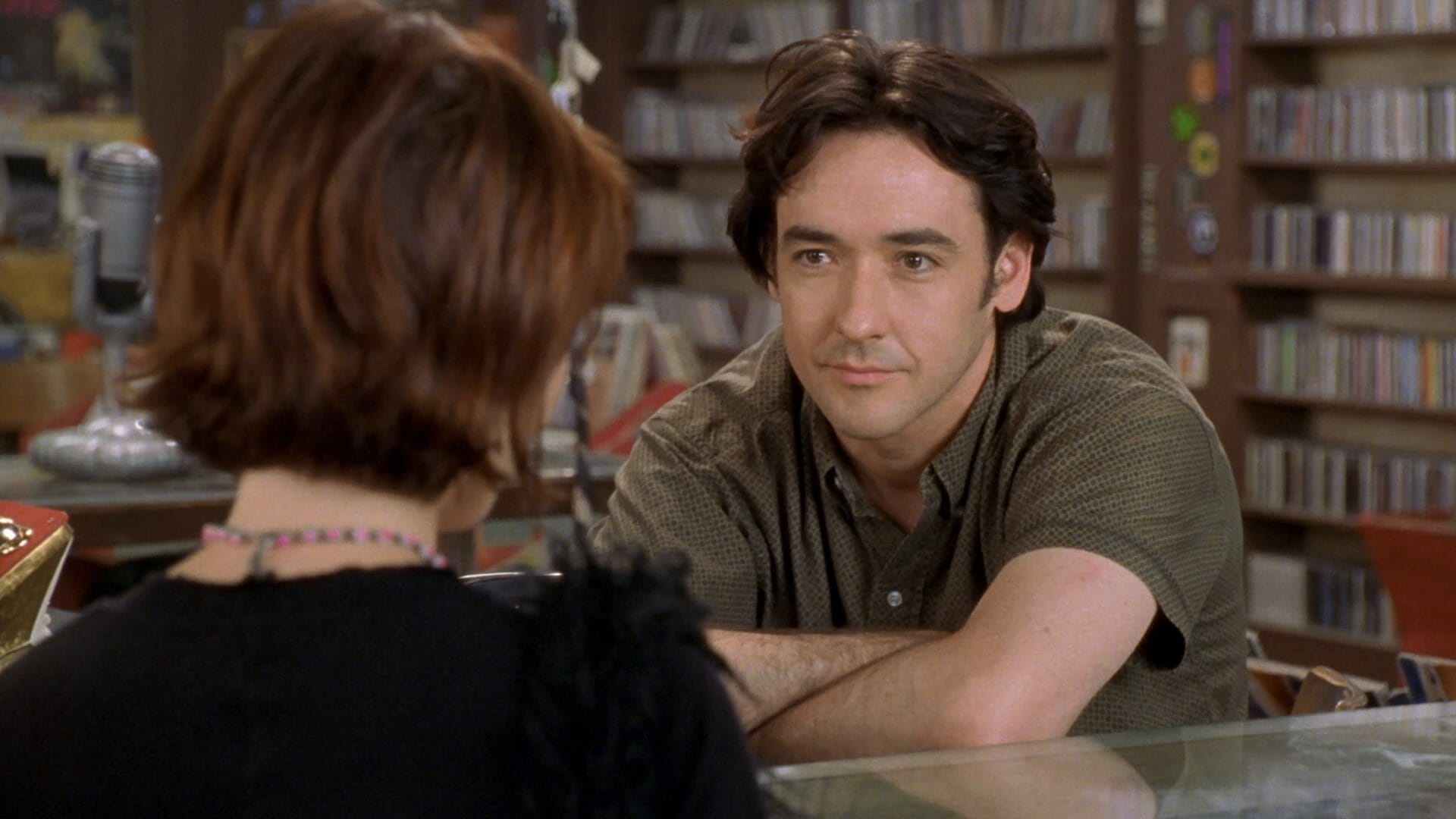 Director: Stephen Frears
Writer: Steve Pink
Cast: John Cusack, Iben Hjejle, Jack Black, Tim Robbins
IMDb Rating: 7.5
Rotten Tomatoes: 91%
High Fidelity, directed by Stephen Frears, is a 2000 American romantic comedy-drama film. It features John Cusack, Iben Hjejle, Todd Louiso, Jack Black, and Lisa Bonet. The film is based on Nick Hornby's 1995 British novel of the same name, with the setting relocated from London to Chicago and the main character's name changed. After watching the film, Hornby showcased his glee with Cusack's performance appreciating Though this may have been sarcasm or what's known as a "backhanded compliment"—banter.
14. Pearl Harbor (2001)
Director: Michael Bay
Writer: Randall Wallace
Cast: Ben Affleck, Kate Beckinsdale, Josh Hartnett
IMDb Rating: 6.2
Rotten Tomatoes: 24%
Pearl Harbor is a 2001 American movie with a genre in the romance-war-drama. The movie depicts an extremely fictional portrayal of the Japanese attack on Pearl Harbor on December 7, 1941, highlighting a love story set during the course of the attack and its aftermath. The movie went on to become a box office success and made $59 million within and nearly $450 million worldwide. However, the movie also got many negative reviews from critics, who didn't appreciate the story, screenplay, and dialogue.
15. Conspiracy (2001)
Director: Frank Pierson
Writer: Loring Mandel
Cast: Kenneth Branagh, Stanley Tucci, Colin Firth
IMDb Rating: 7.7
Rotten Tomatoes: 100%
Conspiracy is a 2001 American TV war-themed release that highlights the 1942 Wannsee Conference. The exploitation of the authentic script taken from the sole living transcript that was recorded throughout the meeting, the film delves into the psychological science of Nazi Officers who were concerned within the "Final resolution of the mortal Question" throughout warfare II. The has its screenplay given by Loring Mandel. It features Colin Firth, David Threlfall with Kenneth Branagh as Reinhard Heydrich, and Stanley Tucci as Eichmann.
16. Gangs of New York (2002)
Director: Martin Scorsese
Writer: Jay Cocks
Cast: Leonardo Di Caprio, Daniel Day Lewis
IMDb Rating: 7.5
Rotten Tomatoes: 73%
This HBO Film is a 2002 American epic historical crime film set within the big apple town slums and galvanized by musician Asbury's 1927 nonfictional prose book The Gangs of New York. In 1863, In the slums of Five Points, two gangs got to war for the ultimate fight in Paradise Square, betting on "who holds sway over the Five Points". The two criminal crews that take part in this event are the Nativist Protestants headed by William "Bill the Butcher" Cutting, and the other is a group of Irish Catholic immigrants, with "Priest" Vallon as their leader.
17. Before Sunset (2004)
Director: Richard Linklater
Writer:  R. Linklater
Cast: Ethan Hawke, Julie Delpy
IMDb Rating: 8.1
Rotten Tomatoes: 95%
2004's Before Sunset is an American romance sequel to the movie Before Sunrise (1995). Writer Richard shares script credits with Hawke and Delpy and with Kim Krizan, who was the scriptwriter for the previous film that includes these two characters. The film continues from the story in Before Sunrise of the young man (Hawke), and French lady (Delpy) United Nations agency spent a fanatical night along in Austrian capital.
Their methods come across nine years later in Paris, and therefore the film seems to require a place in real-time as they pay a day along. Before Sunset got overall acknowledged acclaim and has made its mark on several publications' lists of the most effective films of the 2000s. The film was then also nominated for Oscar in the category Best tailored script.
18. Walk the Line (2005)
Director: James Mangold
Writer:  Gill Dennis
Cast: Joaquin Phoenix, Reese Witherspoon, Ginnifer Goodwin
IMDb Rating: 7.8
Rotten Tomatoes: 82%
116 minutes running Walk the road is a 2005 American biographic musical romantic drama film on HBO. The playscript, written by beet and Gill Dennis, relies on two autobiographies penned down by lyricist Johnny Cash. The film revolves around Cash's adolescence, his love story with June Carter, and his ascent within the folk scene. Walk the line was also showcased at the Telluride Film festival on September 4, 2005, and went on for global release on November eighteen.
19. Before the Devil Knows You're Dead (2007)
Director: Sidney Lumet
Writer: Kelly Masterson
Cast: Philip Seymour Hoffman, Ethan Hawke, Marisa Tomei
IMDb Rating: 7.3
Rotten Tomatoes: 88%
Before the Devil knows you are Dead is an American release of 2007 themed as a crime drama by Sidney Lumet. The movie has its screenplay scripted by Kelly Masterson and features Prince Philip Jane Seymour Hoffman and Prince Albert Finney. The movie's name comes from a local Ireland saying: "May you be in heaven a full unit of time before the devil knows you are dead".
The film opens up non-linearly, traveling back and forth in time constantly, having few scenes shown from numerous instances from the last film by Lumet. This was the last film directed by Lumet before his death in 2011. The film was seen on twenty-one critics' end-of-the-year high ten lists indexed by Metacritic and was chosen mutually of 2007's ten most influential American films.
20. Michael Clayton (2007)
Director: Tony Gilroy
Writer: Tony Gilroy
Cast: George Clooney, Tilda Swinton, Tom Wilkinson
IMDb Rating: 7.2
Rotten Tomatoes: 91%
Michael Clayton is a 2007 American legal thriller featuring directorial debut and starring George Clooney, Tom Wilkinson, and Sydney Pollack. The film narrates the attempts by attorney Michael Clayton to address a colleague's mental breakdown alongside the corruption and flowing in and out a serious client of his firm being sued in an exceedingly class-action suit. The movie got its nomination for wherein Swinton won for the Best Supporting Actress for Swinton.
21. Precious (2009)
Director: Lee Daniels
Writer: G. Fletcher
Cast: Gabourey Sidibe, Mo'Nique, Paula Patton
IMDb Rating: 7.3
Rotten Tomatoes: 92%
Precious: inspired by the Novel' Push' by Sapphire, or just Precious, inspired by the sad life of a girl, is a 2009 American film by Lee Daniels. The script was written by Geoffrey S. Fletcher, custom-made from the 1996 novel Push by Sapphire. The film stars Gabourey Sidibe, Mo'Nique, Paula Patton, and Mariah Carey.
This film marked Sidibe's debut of her life as an actor, who portrays a girl troubled against impoverishment and abuse. The film, then while not a distributor, premiered to acclaim at each the 2009 Sundance festival and also the 2009 city fete, beneath its original title inspired by the novel. It is among the best movies to watch on HBO.
22. Temple Grandin (2010)
Director: Mick Jackson
Writer: C. Monger
Cast: Claore Danes, Mariah Carey
IMDb Rating: 8.3
Rotten Tomatoes: 100%
2010's release Temple Grandin is an American documentary themed drama movie helmed by Mick Jackson and features Claire Danes in the lead as Temple Grandin. Grandin is shown as an autistic woman whose innovations have done practices for the humanly handling of livestock in cattle revolutionary. The film bagged several awards, including five Primetime Emmy Awards and Golden Globe and Screen Actors Guild prizes for Danes.
23. Ad Astra (2019)
Director: James Gray
Writer: James Gray
Cast: Brad Pitt, Liv Tyler, Roy McBride
IMDb Rating: 6.5
Rotten Tomatoes: 83%
Available on the streaming service, Ad Astra is a 2019 American sci-fi film created, directed by James Gray. It follows a traveler who ventures into the house in search of his lost father, whose obsession in the least prices to seek out intelligent alien life threatens the system and everyone life on the earth; ironically, he threatens to precisely destroy what he's searching for within the universe: sentient life. The storyline and depiction hold a robust similitude to Apocalypse Now, which is in itself another adaptation of the Joseph Conrad novel Heart of Darkness.
24. Contagion (2011)
Director: Steven Soderbergh
Writer: Scott Burns
Cast: Matt Damon, Jude Law
IMDb Rating: 6.7
Rotten Tomatoes: 85%
Contagion is a 2011 American thriller that recently got famous since Covid hit the entire world. The movie features Matt Damon, Laurence Fishburne, Jude Law, Gwyneth Paltrow, Kate Winslet, and other famous actors.
The storyline revolves around the spread of an endemic transmittable by air dew and moist. To continue the many plots that come next, the movie uses the idea of the multi-narrative "hyperlink cinema" style, which is very famous when it comes to Soderbergh's films.
25. Bridesmaids (2011)
Director: Paul Feig
Writer: Kristen Wiig
Cast: Kristen Wiig, Maya Rudolph, Melissa McCarthy
IMDb Rating: 6.8
Rotten Tomatoes: 90%
Bridesmaids, a 2011 American comedy movie with production credits to Judd Apatow, and Barry monastic. The comedy film plot centers on Annie, who suffers a series of misfortunes once being asked to function as maid of honor for her ally, Lillian.
There are also Rose Byrne, McCarthy, Ellie Kemper, and Wendi McLendon-Covey co-starring as Lillian's bridesmaids, with Chris O'Dowd, Rebel Wilson, Matt Lucas, Alfred Joseph Hitchcock, Jon Hamm, and Jill Clayburgh, in her final film look, in supporting roles.
26. Bad Education (2013)
Directed by: Cory Finley
Writer: Mike Makowsky
Cast: Hugh Jackman, Allison Janney
IMDb Rating: 7.1
Rotten Tomatoes: 94%
Bad Education is a 2019 American drama film. It is inspired by the true story of the most important public school embezzlement in American history. Set within the island village of Roslyn within the early 2000s, the film tells the story of college district superintendent Dr. Frank Tassone (Jackman) and assistant superintendent Pam Gluckin (Janney), who steal countless dollars from the identical public territorial division that they seek to create the most effective within the country. It is one of the most appreciated documentaries on HBO.
27. La La Land (2016)
Directed by: Damien Chazelle
Writer: Damien Chazelle
Cast: Ryan Gosling, Emma Stone
IMDb Rating: 8.1
Rotten Tomatoes: 91%
La La Land is a 2016 musical romantic drama PG-13 movie by Damien Chazelle. It stars Ryan goose as a jazz piano player and Emma Stone as an aspiring thespian, who meet and fall enamored while following their dreams in LA. Having been keen on musicals throughout his time as a percussionist, Chazelle initially conceptualized the film aboard Justin Hurwitz whereas attending Harvard University along.
When moving to la in 2010, Chazelle wrote the book however failed to realize a studio willing to finance the assembly while no changes to his style. This entire film carries an effortlessly cool vibe and has a killer soundtrack. Emma Stone also won the best actor Oscar for a leading role. this was one of the few films that were also under the best picture nomination.
28. Boy Erased (2018)
Directed by: J. Edgerton
Writer: J. Edgerton
Cast: Lucas Hedges, Nicole Kidman
IMDb Rating: 6.9
Rotten Tomatoes: 80%
Boy Erased is a 2018 American biographical drama film supported by Garrard Conley's 2016 memoir of the identical name. With writer and director Joel Edgerton, the man who also produced with Kerry Kohansky Roberts and Steve Golin, the movie features Lucas Hedges, N. Kidman, Russell Crowe, and Edgerton.
The plot of the movie revolves around the son of Baptist parents, who is forced to participate in a very gay conversion therapy program. The center stage is around mental well-being. It is the best picture for teenagers are undergoing the same issue.
29. Native Son (2019)
Directed by: Rashid Johnson
Writer: Susan Parks
Cast: Ashton Sanders, Margaret Qualley, Nick Robinson
IMDb Rating: 5.7
Rotten Tomatoes: 62%
Last year's release Native Son is an American drama by Rashid Johnson scripted by Suzan-Lori Parks. The movie is loosely based on the novel that goes by the same name by the author. The movie features Ashton Sanders, Margaret Qualley in the lead, with Nick Robinson, KiKi Layne, Bill Camp, and Sanaa Lathan, among others. The movie made its global premiere at the Sundance festival on January 24, 2019. it absolutely was released on April 6, 2019, by HBO Films.
30. Jojo Rabbit (2019)
Director: Taika Waititi
Writer: Taika Waititi
Cast: Roman Griffin Davis, Thomasin McKenzie, Scarlett Johansson
IMDb Rating: 7.9
Rotten Tomatoes: 80%
Last year's release Jojo Rabbit is a comedy-drama genre PG 13 movie by Taika Waititi. It is taken from Christine Leunens's 2008 book Caging Skies. Roman mythical monster Davis portrays the title character, Johannes "Jojo" Betzler, as Adolf Hitler finds out his mother is the activity a soul lady in their attic.
He should then question his beliefs whereas handling the intervention of his imagined friend, a whimsical version of Der Fuhrer with a comedic stand on the politics of the war. The film additionally stars Rebel Wilson, Stephen merchandiser, Alfie Allen, and guided-missile Norman Rockwell.
31. Good Boys (2019)
Director: Gene Stupnitsky
Writer: Lee Eisenberg
Cast: Jacob Tremblay, Keith L. Williams, Brady Noon
IMDb Rating: 6.7
Rotten Tomatoes:  80%
This HBO max movie, Good Boys, is a 2019 American release coming-of-age comedy directed by Gene Stupnitsky, in his first release as a director, with the script given by Stupnitsky and Lee Eisenberg.
The film stars Jacob Tremblay, Keith L. Williams, and Brady noonday as three sixth-graders realize themselves concerned in a very series of misadventures as they fight to attend a celebration hosted by their fashionable classmates. Seth Rogen and Evan Goldberg function producers through their purpose gray footage banner
32. Joker (2019)
Director: Todd Phillips
Writer: Todd Phillips
Cast: Joaquin Phoenix, Robert De Niro
IMDb Rating: 8.5
Rotten Tomatoes: 68%
Last year's very famous movie Joker is an American psychological thriller by Todd Phillips, the man who also co-wrote the script with scriptwriter Scott Silver. The film supported DC Comics characters, stars Joaquin Phoenix because of the Joker, and provides another origin story for the character.
Set in 1981, it follows Arthur Fleck, a failed clown, and comic whose descent into insanity and nihilism moves a threatening counter-cultural revolution against the rich in a dying Gotham City.
33. Richard Jewell (2019)
Director: Clint Eastwood
Writer: Billy Ray
Cast: Paul Walter Hauser, Kathy Bates, Jon Hamm
IMDb Rating: 7.5
Rotten Tomatoes: 77%
Available on HBO, Richard Jewell is a 2019 American historical drama film. The film is inspired by the 1997 modus vivendi article "American Nightmare: The Ballad of Richard Jewell" by Marie Brenner and also the 2019 book The Suspect: Associate in Nursing Olympic Bombing, the FBI, the Media, and Richard, the person Caught within the Middle by Kent Alexander and Kevin Salwen.
The film depicts the July twenty-seven Centennial Olympic Park bombing and its aftermath, as watcher Jewell finds a bomb throughout the 1996 Summer athletic contest in Atlanta, Georgia, and alerts authorities to evacuate, solely to later be the wrong defendant of getting placed the device himself.
34. Birds of Prey (2020)
Directed by: Cathy Yan
Writer: Christina Hodson
Cast: Margot Robbie, Ewan McGregor, Rosie Perez, Mary Elizabeth Winstead
IMDb Rating: 6.1
Rotten Tomatoes:  78%
Birds of Prey is a DCEU film and also the third DC Films production to be rated R by the Film Association of America, following Joker (2019). Birds of Prey (And The Fantabulous Emancipation of 1 Harley Quinn) is a 2020 home box office film by the DC Comics. Having distribution done by Warner Bros.
Pictures, it's the eighth release within the DC Extended Universe and a follow-up to Suicide Squad (2016). The film shows Harley Quinn, post her break-up with Mr. J., aka The Joker. She then joins forces with Helena Bertinelli, Dinah Lance, and Renee Montoya to rescue Cassandra Cain from Gotham City crime lord Roman Sionis. The Suicide Squad (Warner Bros.) can also be watched here.
35. The Invisible Man (2020)
Directed by: Leigh Whannell
Writer: Leigh Whannell
Cast: Elisabeth Moss, Storm Reid
IMDb Rating: 7.1
Rotten Tomatoes: 91%
The Invisible Man is a 2020 Australian-American fantasy horror film available to watch on HBO. Somewhat inspired by the novel of the identical name by H. G. Wells., the 2020 home box office film highlights a woman who believes that she is being targeted by a stalker who is none other than her gaslighting and an abusive wealthy boyfriend who has apparently been dead after a presumed suicide.
The story later draws the fact that he hadn't died but had acquired the ability to become invisible. The film is taken to be one of the top horror movies of 2020.
36. The French Dispatch
Directed by: Wes Anderson
Writer: Wes Anderson, Roman Coppola
Cast: Benicio Del Toro, Adrien Brody, Tilda Swinton
IMDb Rating: 7.2
Rotten Tomatoes: 75%
This Wes Anderson-produced comedy drama centres on a bunch of reporters who work at an outpost of an American newspaper and is set in a fictitious French town. Wes Anderson stars many well-known actors, such as Owen Wilson and Bill Murray, will be present in this film.
A tribute to journalists that calls to mind a number of tales from "The French Dispatch Magazine" in a fictional 20th century French city that is home to an outpost of an American newspaper. It is inspired from The Grand Budapest Hotel. It is one of the best films available.
37. Tenet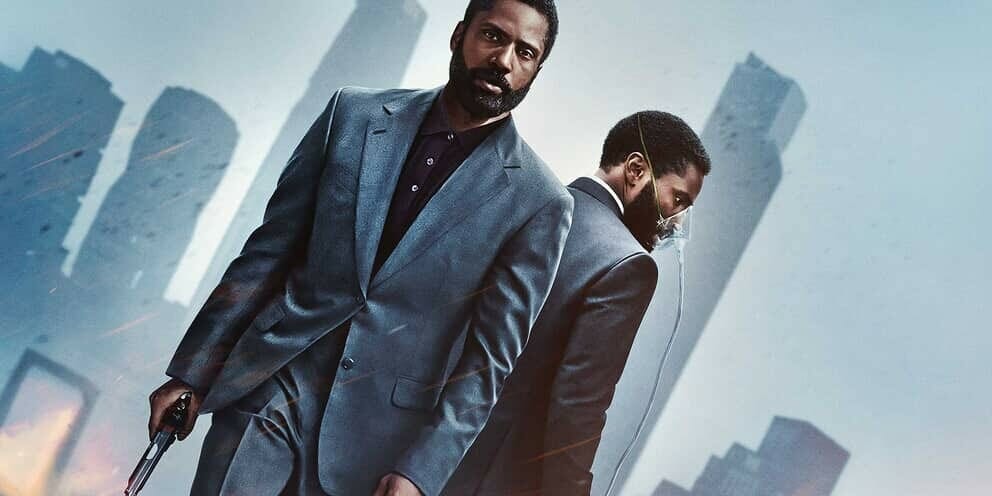 Directed by: Christopher Nolan
Writer: Christopher Nolan
Cast: John David Washington, Robert Pattinson, Elizabeth Debicki
IMDb Rating: 7.3
Rotten Tomatoes: 69%
Tenet is one of those rare movies that gets better with each viewing. You can now comprehend the storyline that goes along with its breathtaking images because it was released on HBO Max. The protagonist, played by John David Washington, is on a James Bond mission to stop a devastating attack from the future, as implied by the name of the character.
With the aid of Robert Pattinson's dapper Neil, the protagonist learns to control the passage of time. Tenet is as amusing as it is thought-provoking—possibly the most Christopher Nolan of Christopher Nolan films. The movie by Warner bros received seven Academy Award nominations.
38. The Truman Show
Directed by: Peter Weir
Writer: Andrew Niccol
Cast: Jim Carrey, Ed Harris, Laura Linney
IMDb Rating: 8.2
Rotten Tomatoes: 95%
An insurance agent is unaware that his family members are merely extras in his life, which is a TV drama. He makes the decision to flee as he begins to notice things and learns the truth. It is definitely one of the best movies on HBO max
39. The Great Gatsby
Directed by: Baz Luhrmann
Writer: Craig Pearce, F. Scott Fitzgerald
Cast: Leonardo DiCaprio, Carey Mulligan, Joel Edgerton
IMDb Rating: 7.2
Rotten Tomatoes: 42%
Nick Carraway, a warrior of World War I who relocates to New York in the hopes of being successful, finds himself drawn to Jay Gatsby and his extravagant way of life. Gatsby's story is just as important today as that when it was penned, despite being a commentary on a different time and set of characters, because it examines topics that are universal: human follies, the futility of social structures, and man's struggle with time and destiny. Leonardo DiCaprio performed amazing. It is an essential movie to be watched by people.
40. The Dark Knight Rises
Directed by: Christopher Nolan
Writer: Christopher Nolan; David S. Goyer
Cast: Christian Bale, Tom Hardy, Anne Hathaway
IMDb Rating: 8.4
Rotten Tomatoes: 87%
The eight-year reign of peace in Gotham City is shattered when the intimidating terrorist known as Bane attacks the city. Bruce Wayne is compelled by this to emerge from concealment and don the Batman cape and cowl once more. Zack Snyder's justice league is a must watch.
41. Modern Times
Directed by: Charlie Chaplin
Writer: Charlie Chaplin
Cast: Charles Chaplin, Paulette Goddard, Henry Bergman
IMDb Rating: 8.5
Rotten Tomatoes: 98%
In one of the best comedies by Charlie Chaplin; Due to his manic behavior, a manufacturing production line worker is discharged onto the street. After that, he attempts to create a home with a young, orphaned girl who is homeless and on the streets.
Following the success of City Lights, Chaplin traveled the globe and observed the circumstances in Detroit's car lines and how the tedium of contemporary life affected young people. Chaplin seems to be suggesting that the Great Depression was the first indication of how profoundly technology might destroy human spirits.
42. Promising Young Woman
Directed by: Emerald Fennell
Writer: Emerald Fennell
Cast: Carey Mulligan, Bo Burnham, Alison Brie
IMDb Rating: 7.5
Rotten Tomatoes: 90%
Carey Mulligan plays Cassie in this revenge thriller. Cassie is a medical school dropout who works at a cafe during the day and seeks revenge on her closest friend, who committed suicide after being viciously attacked by a student in medical school, at night. Promising young woman is an interesting movie on hbo max.
The film, which won four Oscars including Best Picture, Director, and Adapted Screenplay, is a heartbreaking meditation on morality and chance. It is definitely one of the best movies on HBO max.
43. American Psycho
Directed by: Mary Harron
Writer: Bret Easton Ellis, Mary Harron, Guinevere Turner
Cast: Christian Bale, Justin Theroux, Josh Lucas
IMDb Rating: 7.6
Rotten Tomatoes: 69%
Rich investment banker Patrick Bateman keeps his psychotic ego hidden from his acquaintances. Later, his irrational dreams intensify as he yields to an unrestrained bloodlust. This horror movie serves as a timely reminder to be wary of the one percent, with pop culture-inspired murders and spooky hyper-designed business cards.
44. Justice League
Directed by: Zack Snyder
Writer: Jerry Siegel, Joe Shuster, Chris Terrio
Cast: Ben Affleck, Gal Gadot, Jason Momoa
IMDb Rating: 6.1
Rotten Tomatoes: 39%
After ages, Steppenwolf and his Parademons make a comeback to seize Earth. To gather Flash, Cyborg, and Aquaman in order to battle the formidable new foe, Batman turns to Wonder Woman for assistance in Justice League. Eventhough this is not one of the best superhero movies, it is still worth a shot.
45. Locked Down
Directed by: Doug Liman
Writer: Steven Knight
Cast: Anne Hathaway, Chiwetel Ejiofor
IMDb Rating: 5.2
Rotten Tomatoes: 42%
The pandemic is the setting of this crime thriller/heist film, which was written and produced when the city was under lockdown. When most shops in London are closed, in the lead role Hathaway and Ejiofor portray a couple who decide to rob a jewelry store.
Disgruntled Londoners Linda and Paxton attempt a high-risk theft at a business that, unexpectedly, brings them closer together as they wait to go their separate lives following the end of a lockdown. Make sure to watch this thrilling heist movie on HBO max. This film has an A list cast.
46. Citizen Kane
Directed by: Orson Welles
Writer: Herman J. Mankiewicz, Orson Welles, John Houseman
Cast: Orson Welles, Joseph Cotten, Dorothy Comingore
IMDb Rating: 8.3
Rotten Tomatoes: 99%
Additionally, "Citizen Kane" is just incredibly fun. Orson Welles co-wrote, produced, directed, and starred in this ground-breaking film that follows the life and career of a mysterious and successful newspaper publisher from his death forward.
Reporters race to understand the significance of publishing magnate Charles Foster Kane's last words, "Rosebud," after he passed away. this is one of the greatest film of that era. This entire film is a must-watch.
47. No Sudden Move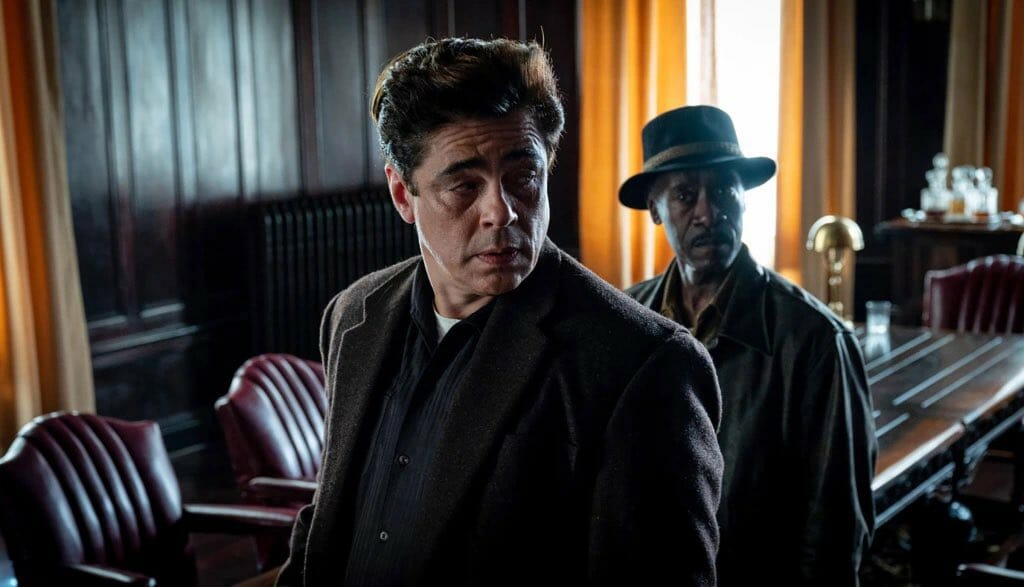 Directed by: Steven Soderbergh
Writer: Ed Solomon
Cast: Don Cheadle, David Harbour, Jon Hamm, Julia Fox
IMDb Rating: 6.4
Rotten Tomatoes: 92%
Small-time crooks are hired in 1954 Detroit to steal a document. When their heist goes disastrously wrong, they must search around the entire race-torn, rapidly evolving city to find out who hired them and why. The dryness of Soderbergh's cast plays the slick con artists planning to loot a Las Vegas casino in the best way possible. Don Cheadle did an amazing job here.
48. Dune
Directed by: Denis Villeneuve
Writer: Jon Spaihts, Denis Villeneuve
Cast: Timothée Chalamet, Rebecca Ferguson, Zendaya
IMDb Rating: 8
Rotten Tomatoes: 83%
After his father accepts the responsibility of overseeing the hazardous planet, a gifted young man Paul Atreides arrives there. However, after a betrayal, pandemonium breaks out as rival factions fight for possession of the valuable resource melange. The film has an incredible cast and is one of the best films by warner bros. Director Jon has done an amazing job.
49. The Eyes of Tammy Faye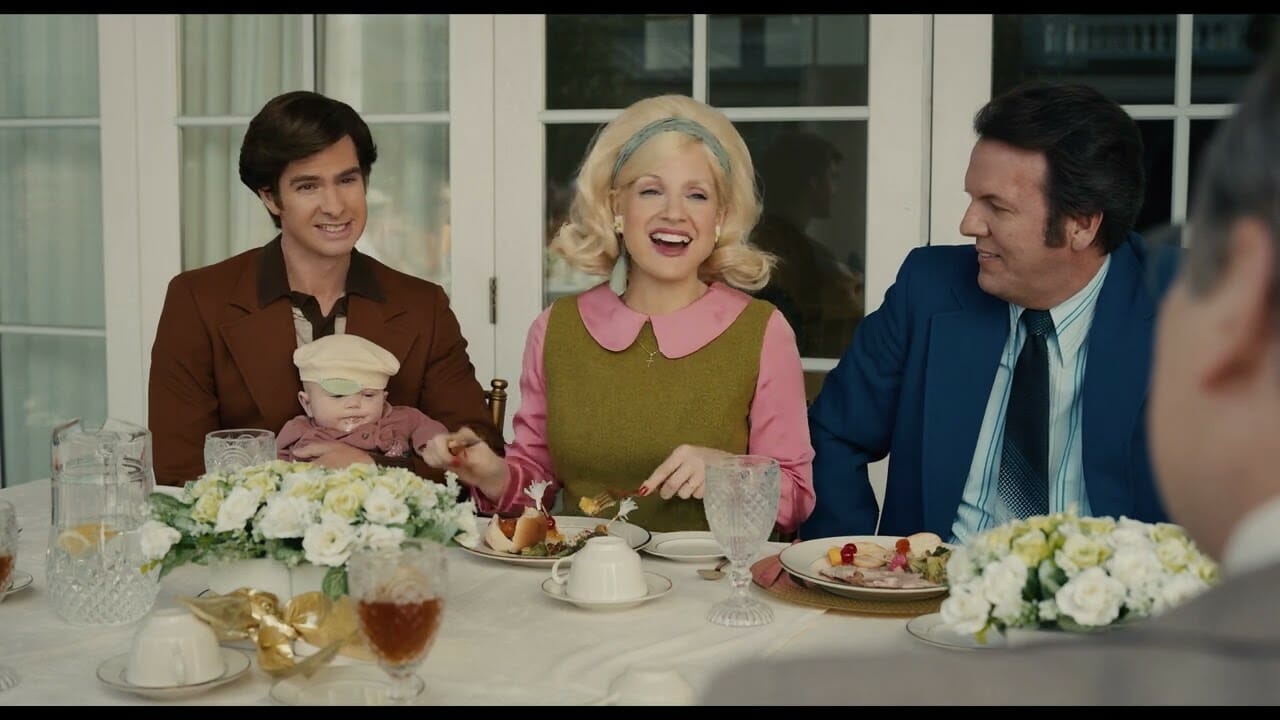 Directed by: Michael Showalter
Writer: Fenton Bailey, Randy Barbato, Abe Sylvia
Cast: Jessica Chastain, Andrew Garfield, Cherry Jones
IMDb Rating: 6.6
Rotten Tomatoes: 68%
You can just see another Oscar winner on HBO Max. From modest beginnings, Tammy Faye Bakker and her husband Jim build the largest religious broadcasting network and theme park in the 1970s. Tammy Faye's unique eyelashes, eccentric vocals, and passion to embrace people from all backgrounds help her become renowned.
But soon, their meticulously crafted empire is in danger of collapsing due to financial irregularities, cunning competitors, and a scandal. It is one of the recent best movies on HBO.
50. Four Weddings and a Funeral
Directed by: Mike Newell
Writer: Richard Curtis
Cast: Hugh Grant, Andie MacDowell, James Fleet
IMDb Rating: 7.1
Rotten Tomatoes: 96%
The plot by Warner bros follows a close-knit friend group and, as the title suggests, is set at literally four distinct weddings and one funeral. Of particular note is the burgeoning romance between characters portrayed by Hugh Grant and Andie MacDowell.
As he attends the wedding of four of his friends and a burial, Charles, a kind-hearted young introvert, seeks to understand his actual feelings for Carrie.
So, for viewers, here are the best HBO Now Movies of all time. You can watch it all from blockbuster movies to independent dramas to significant Oscar winners on the streaming service because Warner Bros. owns it. So, what you are waiting for, go grab your popcorn tub and start watching these amazing and mind-blowing movies and have an amazing and best-watching experience. Until Stay Home, Stay Safe! Happy watching!