While Disney has developed several classic characters for movies and television, we believe the Disney Princesses are the most beautiful. Youth alike are enthralled by tales of pure love, female empowerment (we hear ya, Mulan), and the ultimate triumph of good over evil. These official Disney princesses are also known among the best Disney princess character and have acted as positive examples for every developing youngster over the generations.
When it comes to becoming a Disney princess, there are several characteristics that they all share: compassion, courage, and the capacity to advocate for others. Nevertheless, not all Disney princesses are made equal, and some are far more powerful than others.
Strength can originate from a princess's knowledge, capacity to lead, imagination, and active involvement in her plot, as well as from her physical characteristics—much of the disparity in how Disney princesses from the era were in their movies.
So here is our rundown of the best Disney princesses of all ages, including a summary of their happily ever afters.
20. Eilonwy – The Black Cauldron
Director: Ted Berman, Richard Rich
Writer: Ted Berman, Vance Gerry, Joe Hale
Cast: Grant Bardsley, Susan Sheridan, Freddie Jones, Nigel Hawthorne
IMDb Ratings: 6.3
Rotten Tomatoes: 55%
Eilonwy is among Disney's "forgotten princesses," and many Disney enthusiasts are unaware of her existence. Eilonwy might be recognized for starting the Disney revival if the 1980s were already nicer to her. However, despite rigorous editing, the PG animated movie wherein she featured, a first for Disney, was regarded as too gloomy by most.
It's a pity since since she's not the strongest princess in the world; she is surely more resilient than many of her contemporaries. She was terrified and perplexed when viewers first encountered her after being abducted and confined, but she wasn't waiting to be freed. Rather, she was constantly seeking a way out of the cell where she was imprisoned, and she even managed to free Taran, the movie's hero.
She may have been a Disney princess ahead of her time, expressing her individuality and assuring Taran that she's no damsel in distress and that becoming a girl didn't make her a weaker hero.
19. Anastasia – Anastasia
Director: Don Bluth, Gary Goldman
Writer: Susan Gauthier, Bruce Graham, Bob Tzudiker, Noni White
Cast: Meg Ryan, John Cusack, Christopher Lloyd, Kelsey Grammer
IMDb Ratings: 7.1
Rotten Tomatoes: 86%
Before anybody points out that Anastasia was not a Disney film, the long-lost princess gets added to the roster in the hopes of one day becoming one. The animated film Anastasia was produced by Fox, which later merged with Disney. Even though she will never be an official Disney princess, she does have a large following.
Anya was just an orphan with no recollection of her upbringing in the 1990s animated film. Rather than taking it sitting prone, she embarked on her journey, seeking to make a life and discover who she was. She accidentally walked across a couple of scam artists who were planning to use her to collect a reward.
Although Anya first agreed to go ahead with their scheme to pose as Princess Anastasia, she did so, unaware that they didn't believe she was indeed the genuine deal. When she discovered her parents, she criticized their scheme, but she didn't completely abandon them, saving her former traveling partner from a terrible wizard.
18. Namaari – Raya and the Last Dragon
Director: Don Hall, Carlos López Estrada
Writer: Qui Nguyen, Adele Lim
Cast: Kelly Marie Tran, Awkwafina, Izaac Wang, Gemma Chan
IMDb Ratings: 7.3
Rotten Tomatoes: 75%
After Namaari decides to take the dragon jewel for her mum's realm, she becomes the villain in Raya and the Last Dragon. Raya feels they are friends until she is betrayed, and her treachery makes it difficult for Raya in trusting anybody again. Namaari, on the other hand, is also the princess of Fang, so she passes much of the movie under her mother's control, doing precisely what her mother wants.
Namaari realizes that the manner her mom has been guiding her folks isn't the best way for all after encountering the genuine final dragon.
Although she betrays Raya once again for the sake of glory, Namaari is capable of putting her disagreements with Raya behind her and helping rescue the world in the end. Her genuine strength comes from pursuing her heart rather than adhering to her mother. It also doesn't harm that she's one of the most powerful Disney princesses, having been trained as a warrior.
17. Kida – Atlantis: The Lost Empire
Director: Gary Trousdale, Kirk Wise
Writer: Tab Murphy
Cast: Michael J. Fox, James Garner, Cree Summer, Don Novello
IMDb Ratings: 6.9
Rotten Tomatoes: 49%
Kida is among Disney's "forgotten" princesses since she's the ancient of the Disney princesses (she is over 8,000 years old throughout the actions of Atlantis: The Lost Empire).
It's become something of a cult favorite, although Kida deserves to be elevated to mainstream popularity. Kida, like many others on this lineup, is not married into a monarchy; she was born into it.
She was also born into a mystical realm with ancient mysteries hidden beneath the sea, which alone renders her quite amazing. As Moana in the present animated movie, Kida is a dissident amongst her people, attempting to uncover the past in terms of offering them a future.
16. Raya – Raya and the Last Dragon
Director: Don Hall, Carlos López Estrada
Writer: Qui Nguyen, Adele Lim
Cast: Kelly Marie Tran, Awkwafina, Izaac Wang, Gemma Chan
IMDb Ratings: 7.3
Rotten Tomatoes: 75%
Raya is, without a doubt, physically capable. Unlike the majority of Disney princesses, she devotes a significant chunk of her youth to learning how to protect the holy dragon stone. She's a skilled martial artist who also knows how to handle a sword.
Raya has a rough existence as well since almost everyone she knows has turned to stone. It must be difficult to survive on her planet, that is the most catastrophic of any Disney scenario.
Raya resolves to find a solution to her world's problems on her own. She travels the length and breadth of the globe in search of a single living dragon.
Raya turns into the most lovable character in the movie, despite her initial distrust of others and her attempt to do everything alone. She acknowledges and learns from her weaknesses and puts her whole faith in someone she has seen as an adversary for years. That is actual power.
13. Vanellope Von Schweetz – Wreck-It Ralph
Director: Rich Moore
Writer: Rich Moore, Phil Johnston, Jim Reardon
Cast: John C. Reilly, Sarah Silverman, Jack McBrayer, Jane Lynch
IMDb Ratings: 7.7
Rotten Tomatoes: 87%
Vanellope, a chatty and lively kart-racer inside the candy-coated game Sugar Rush, is regarded as somebody with a glitch. She considers herself being "princess" of Candy Land since she is one of the best racers in the tournament.
With her infantile sense of humor and overly exuberant temperament, she frequently behaves like an ordinary youngster in the movie. Let's throw in the word "annoying" for good measure. Underneath those childlike antics, though, is a darling, as seen by her one-of-a-kind connection with Ralph.
14. Elsa – Frozen
Director: Chris Buck, Jennifer Lee
Writer: Chris Buck, Jennifer Lee
Cast: Kristen Bell, Idina Menzel, Jonathan Groff, Josh Gad
IMDb Ratings: 7.5
Rotten Tomatoes: 90%
Elsa began her life as a princess, but after her parents perished in a tragic accident, she was thrust into the role of Disney queen at an early age. Elsa was blessed with the ability to control ice and snow, which her family was first pleased with.
After Elsa's strength provoked Anna's injury, however, she was afraid that her abilities might kill the people she cared about. Inside the movie, she was kept separate during most of her childhood by her parents, losing out on a lot of opportunities.
Elsa's fears would eventually overwhelm her as she struggled to manage her abilities. She withdrew far into the woods to safeguard her sister as well as the kingdom, in which she could live isolated indefinitely. With Princess Anna's support, she was able to overcome her worst flaw and simply let it go.
13. Moana – Moana
Director: Ron Clements, John Musker
Writer: Jared Bush
Cast: Auliʻi Cravalho, Dwayne Johnson, Rachel House, Temuera Morrison
IMDb Ratings: 7.6
Rotten Tomatoes: 95%
There's no saying how much further Moana can travel with her passion for exploration and the waters. Her grandma described her as a "standout" among the gathering.
She was required to act calmly as the Village Chief's child, as she would presumably take over the duties. While Moana attempted to appear like a respectable chief-in-training at first, the thought of voyaging tormented her thoughts.
She had to act since the town was still suffering from a shortage of resources. Moana concentrated her concentration on the search after learning that the ocean had chosen her to heal Te Fiti's heart.
Her affection for her family, the inhabitants of Motunui, and her goal of voyaging drove her to persevere in the face of adversity.
12. Merida – Brave
Director: Mark Andrews, Brenda Chapman
Writer: Mark Andrews, Brenda Chapman
Cast: Kelly Macdonald, Emma Thompson, Billy Connolly, Julie Walters, Robbie Coltrane
IMDb Ratings: 7.1
Rotten Tomatoes: 78%
Princess Merida is a fiery Scottish redhead princess who appears in the movie Brave as a fearless, bold, and clever character.
Queen Elinor intended her daughter to grow up to be a perfect royal princess, but Merida was the complete antithesis of her mother. Merida loved going on "rucksack" expeditions with her pony, Angus, and bringing her bow and arrow alongside her.
She was a talented archer, according to the account, even greater than many of the kingdom's troops or the suitors who begged for her permission to marry. Merida's rashness disrupted her mother's relationship, although it was she who discovered a way to restore their pride-torn link.
11. Anna – Frozen
Director: Chris Buck, Jennifer Lee
Writer: Chris Buck, Jennifer Lee
Cast: Kristen Bell, Idina Menzel, Jonathan Groff, Josh Gad
IMDb Ratings: 7.5
Rotten Tomatoes: 90%
Princess Anna (presently Queen) of Arendelle, the eternal optimist, tells us something that is frequently missed in today's fast-paced world: family can be everything. For ages, Anna was overlooked by Elsa (who was also dealing with her demons) after they lost their parents.
Anna attempted to mend her friendship with her sister despite being kept out or even publicly shamed. She was prepared to give her life for the sake of her family, which she feels is worth the fight to the end.
10.Pocahontas – Pocahontas
Director: Mike Gabriel, Eric Goldberg
Writer: Carl Binder, Susannah Grant, Philip LaZebnik
Cast: Joe Baker, Christian Bale, Irene Bedard, Billy Connolly, James Apaumut Fall
IMDb Ratings: 6.7
Rotten Tomatoes: 55%
Pocahontas is indeed the free-spirited daughter of Chief Powhatan, a Native American tribe's head. She is self-sufficient, clever, and open-minded to the extent that she made friends with an Englishman called John Smith against her father's explicit prohibition.
Pocahontas' relationship with John grew into love, much more to her father's chagrin. The disparity between settlers' and indigenous' customs and morals practically ruined her house. Pocahontas restored harmony and peace to the area before any conflict could take place because of her affection for John.
9. Princess Aurora – Sleeping Beauty (1959)
Director: Clyde Geronimi
Writer: Erdman Penner
Cast: Mary Costa, Bill Shirley, Eleanor Audley, Verna Felton
IMDb Ratings: 7.3
Rotten Tomatoes: 89%
Princess Aurora, or Briar Rose, as her "aunts" called her, is yet another Disney princess whose true love's kiss awakened her. Aurora was first perceived as a naïve, quiet, yet smart young girl, which might be due to her upbringing in a secluded environment.
Just after the villain, Maleficent, cursed her as an infant, Princess Aurora was handed to fairies. Flora, Fauna, especially Merryweather, her fairy "aunts," constantly told her of the main principle: never talk to strangers. On the other hand, Aurora felt immediately captivated by Prince Phillip when she met him.
8. Snow White – Snow White and the Seven Dwarves
Director: David Hand
Writer: Ted Sears, Richard Creedon, Otto Englander, Dick Rickard
Cast: Adriana Caselotti, Lucille La Verne, Harry Stockwell, Roy Atwell, Pinto Colvig
IMDb Ratings: 7.6
Rotten Tomatoes: 98%
Snow White was a girl with having snow-white complexion and rose-red lips. These traits made her stepmother/Evil Queen jealous of her attractiveness to the extent where she wished the character killed. The mercenary employed by the Queen saved Snow White from death, who led her to the seven dwarfs who embraced her in their abode.
However, the narrative does not stop there, as the Queen eventually discovered Snow White sheltering in the woods. She pretended to be an elderly woman and presented the cursed red apple to the young girl. Snow White should have died till true love's kiss awoke her.
7. Cinderella – Cinderella (1950)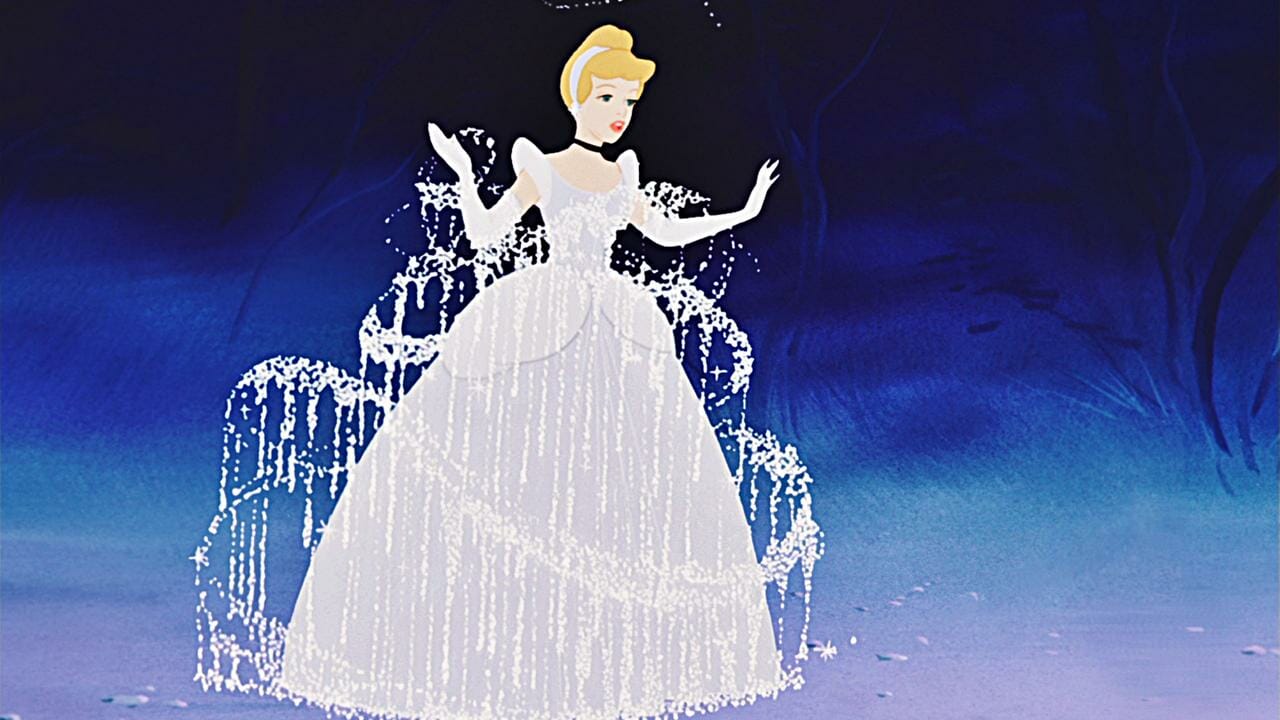 Director: Wilfred Jackson, Hamilton Luske, Clyde Geronimi
Writer: William Peet, Ted Sears, Homer Brightman
Cast: Ilene Woods, Eleanor Audley, Verna Felton, Rhoda Williams
IMDb Ratings: 7.3
Rotten Tomatoes: 97%
Cinderella was among the most well-known and legendary Disney princesses of all ages, and she was gentle, cheerful, and upbeat. Oh, and have we said that she was an animal person? After her dad passed, they forced her to employ her nasty stepmother and hideous stepsisters.
Cinderella is either preparing in the kitchen or washing the grounds in the Disney picture. Cinderella met her prince with the assistance of her fairy godmother (as well as the glass slippers, of course), and finally, the couple lived in harmony forever, just like in fairy tales.
6. Tiana – Princess and the Frog
Director: John Musker, Ron Clements
Writer: John Musker, Ron Clements
Cast: Anika Noni Rose, Bruno Campos, Keith David, Michael-Leon Wooley
IMDb Ratings: 7.1
Rotten Tomatoes: 85%
Tiana is the very first African-American Disney Princess to touch the screen, earning her among the most well-known princesses of all time.
She began as a dedicated waiter who aspired to build her restaurant and share her deceased father's delicacies with others. She was doing well when Prince Naveen of Maldonia arrived.
Once the playboy prince transformed into such a frog, he requested Tiana's assistance in reversing the transformation. Because Tiana was not a princess, the magical curse grew stronger, so they both turned into frogs. The pair in the movie had to face several challenges. However, having a relationship all along the road was unavoidable.
5. Mulan – Mulan
Director: Barry Cook, Tony Bancroft
Writer: Rita Hsiao, Chris Sanders, Philip LaZebnik
Cast: Ming-Na Wen, Eddie Murphy, BD Wong, Miguel Ferrer
IMDb Ratings: 7.6
Rotten Tomatoes: 86%
Fa Mulan is the ideal embodiment of female empowerment. Notwithstanding her mother's continuous reminders to act like a sophisticated woman, this Disney "princess" is brave and tough, exhibiting her power and wit. She had a lot of personalities. Mulan stepped in for her wounded war veteran father since they ordered him to protect China yet again, unknown to her family.
In the film, she dressed as just a guy named Ping and practiced with the males (gender equality, people), eventually becoming the class's standout. Mulan gained glory for her family by assisting Shan Yu in defeating him with her good decision-making.
4. Jasmine – Aladdin
Director: John Musker, Ron Clements
Writer: John Musker, Ron Clements
Cast: Scott Weinger, Robin Williams, Linda Larkin, Jonathan Freeman
IMDb Ratings: 8.1
Rotten Tomatoes: 95%
As the Sultan of Agrabah's child, Jasmine was behind the royal gates and they did not allow her to leave. Although Jasmine adored her adoring father in the movie, there is only so much an autonomous and astute princess could do to aid her realm.
She was adamant about not partaking in ludicrous behaviors. As a result, there is a rare outburst of dissent. Princess Jasmine encountered the street mous, Aladdin, on one of her travels outside the castle. Once Aladdin presented her with the world, affection developed, and the inevitable happened.
3. Rapunzel – Tangled
Director: Nathan Greno, Byron Howard
Writer: Dan Fogelman
Cast: Mandy Moore, Zachary Levi, Donna Murphy
IMDb Ratings: 7.7
Rotten Tomatoes: 89%
Rapunzel is so far from the despondent girl you'd anticipate, although being secluded in a supposedly towering tower with an unstable mother, a sneaky chameleon, and her insanely long golden hair for companionship. She, on the other hand, is vivacious and enthusiastic.
Rapunzel was looking forward to the start of her existence. As luck would get it, Flynn Rider came upon her, and after beating him with a frying pan, they set outside to see the "light" (for a price, of course). All's well that concludes well, however,  they eventually revealed in the film that she has been the long-lost princess of the Corona island empire.
As she finds the positive in everybody, she is by far the most endearing of all the Disney Princesses.
2. Belle – Beauty and the Beast
Director: Gary Trousdale, Kirk Wise
Writer: Linda Woolverton
Cast: Paige O'Hara, Robby Benson, Richard White, Jerry Orbach
IMDb Ratings: 8.0
Rotten Tomatoes: 94%
In her sense, Belle is a rebel. Belle went around, grabbing books, and assisting her dad with his innovations back when women existed to sit at home, maintain, and make their husbands pleased. She was the only princess who promoted literacy and education.
Belle was intelligent, brave, and possessed a strong personality. She was dubbed "mad" by some residents of the area. She had aspirations in the Disney film that weren't suited to living in the country.
Belle's ability to see past another's imperfections is admirable. For illustration, consider the Beast. He wasn't simply hideous in appearance; you can define him as unpolished, harsh, and cruel.
But, in the end, Belle's love and compassion transformed him. Lumiere and Cogsworth, for example, were two of the greatest sidekicks in the movie.
1. Ariel – The Little Mermaid
Director: Ron Clements, John Musker
Writer: Ron Clements, John Musker
Cast: Jodi Benson, Christopher Daniel Barnes, Pat Carroll, Kenneth Mars
IMDb Ratings: 7.6
Rotten Tomatoes: 93%
Ariel is the first character that comes to mind when folks think of classic Disney Princesses. We all recognize Ariel as a brave and inquisitive young mermaid. Life on earth always captivates her, and the opportunity to be a portion of "your" life. Look more closely at her in-film assortment of baubles, devices, and gizmos.
She may, nonetheless, be rash and impetuous at moments, like when she gives Ursula, the sea witch evil, her gorgeous vocals. It's all for pure love. She eventually learned her lesson, regained her voice, reconciled with her dad, and ultimately accepted herself for who or what she truly was. Oh, although, in a sense, she also wound up marrying Prince Eric.