Technology for viewing TV has evolved over the years. People currently watch television content on streaming services the most. With Amazon Prime, you can stream thousands of movies and television shows. You can watch television shows, the best documentaries on Amazon Prime, and the best sports-themed series/movies on the platform.
The quality of documentaries continues to improve, making them a popular choice for many television viewers. A documentary tells a true story about various subjects across time and space, not a fictional plot.
Many great documentaries are available on Amazon Prime, making it difficult to choose one. This guide will provide you with insight into how to find intriguing documentaries.
From famous actors to mostly anonymous booksellers, you can gain insight into the lives of everyone from stars to murder victims in these documentaries.
Films are often referred to as society's mirrors. You can see the world's Characters and the elements. That's true to a large degree.
Documentaries, on the other hand, represent the raw, unbiased truth. Their realness surpasses a film's because they don't sugar-coat any story or pose some idealistic, dreamy conclusion. It shows the world as it is. We need an eye-opener occasionally, especially during times like these.
There's a documentary for just about everyone on Amazon's streaming service. Anyone looking for the best documentaries on Amazon Prime should start with the accompanying list.
30.

L

ife

Itself
Year: 2014
Director: Steve James
IMDb Rating: 7.8/10
Runtime: 120 minutes
Although Life Itself may describe a remarkable life, it is most illuminating when discussing death.
The Roger Ebert documentary by Steve James naturally details its subject's exploits, struggles, and victories as he rose to become the most well-known film critic in the United States.
Still, it also weaves footage from his final months into the narrative so that viewers can observe how his physical limitations and impending death affect him and his loved ones.
The historical segments of Life Itself have a slick production quality that would be more closely associated with Ken Burns—complete with old photos and naturalistic interviews—in contrast to the director's best-known works, such as Hoop Dreams and The Interrupters, which primarily use location footage and naturalistic interviews shot by James himself.
29.

Dior and I
Year: 2015
Director: Frederic Tcheng
IMDb Rating: 7.2/10
Runtime: 90 minutes
Christian Dior, a French fashion designer, chronicled his life and the first ten years of his renowned fashion house in a memoir published in 1956.
When Dior died at age 52, a year later, the luxury company lost its creator. Six creative directors have since led the House of Dior, including the illustrious Yves Saint Laurent.
The documentary Dior and I follows the harrowing journey of the brand's most recent leader, Belgian designer Raf Simons, as he tries to establish himself in the long shadow cast by everything that has come before and introduce his first Dior collection.
Simons was a relative unknown when he was chosen to lead in 2012.
Also Read: The 25 Best Music Documentaries on Netflix You Can't Miss
28. Human Flow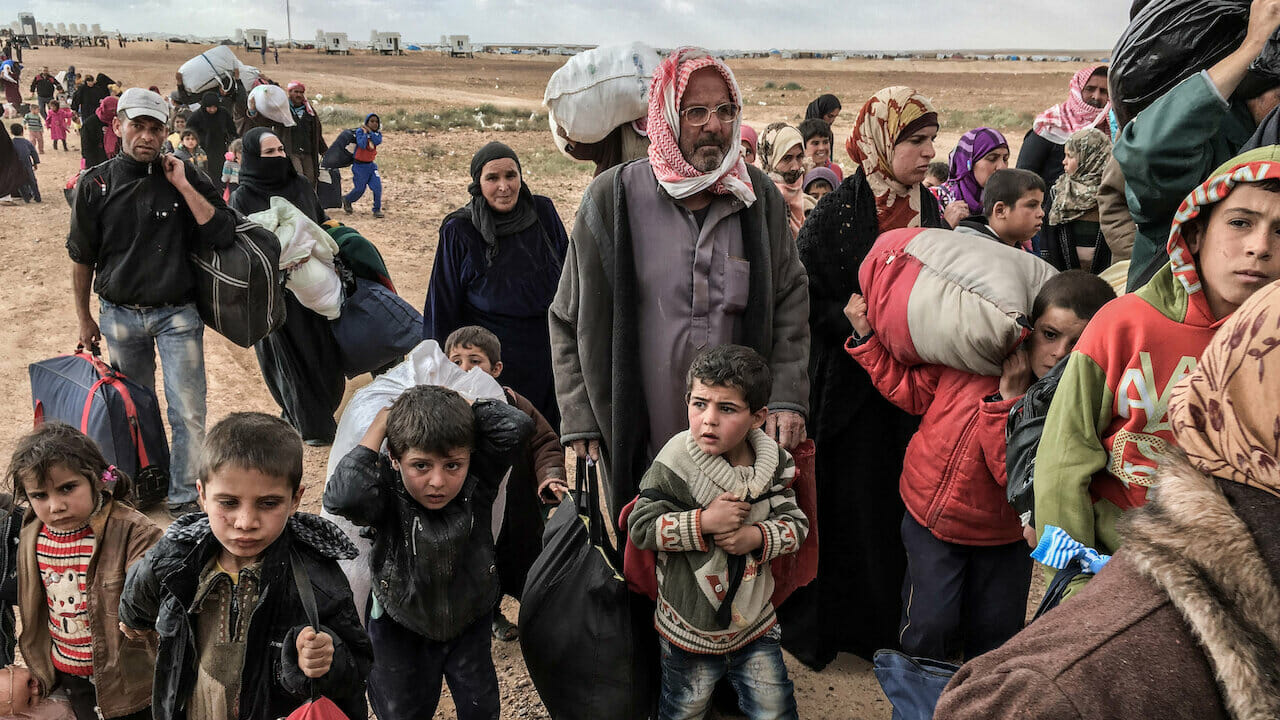 Director: Ai Weiwei
Writer: Chin-Chin Yap, Tim Finch, Boris Cheshirkov
Cast: Israa Abboud, Hiba Abed, Rami Abu Sondos
IMDb Ratings: 7.1
Rotten Tomatoes Score: 91
Streaming Platform: Amazon Prime
Human Flow documents the lives of people living on the Mexican-US border. Director Ai Weiwei emphasizes the necessity of explaining the human refugee crisis. In their quest for human rights, those seeking refuge from their home countries have a much closer sense of the motivations and goals that drive them.
The work Human Flow is part of Weiwei's project since he feels an intense connection between the stories of those who have faced similar challenges and his own experiences in Beijing, China.
"Human Flow" reveals the uncensored truth about real people facing real crises and provides a reply to their cries for help. It is one of the best documentaries on Amazon Prime.
27. Gimme Danger
Director: Jim Jarmusch
Writer: Jim Jarmusch
Cast: Iggy Pop, Jim Jarmusch, Bob Waller
IMDb Ratings: 7.2
Rotten Tomatoes Score: 95
Streaming Platform: Amazon Video
In Gimme Danger, the Stooges are traced from their formation in Ann Arbor, Michigan in 1967, through their rise, fall, and reunion with guitarist Ron Asheton and drummer Scott Asheton, respectively.
Asheton switched to bass after Alexander was fired, and guitarist James Williamson joined eventually.
It was a difficult start to the band's career. The band recorded three albums, but the sales were less than expected, and they played to an indifferent or hostile audience.
Pop became a moderately successful solo artist after the band broke up in 1974. As punk rock developed in the 1970s, the Stooges played a major role.
26. Cartel Land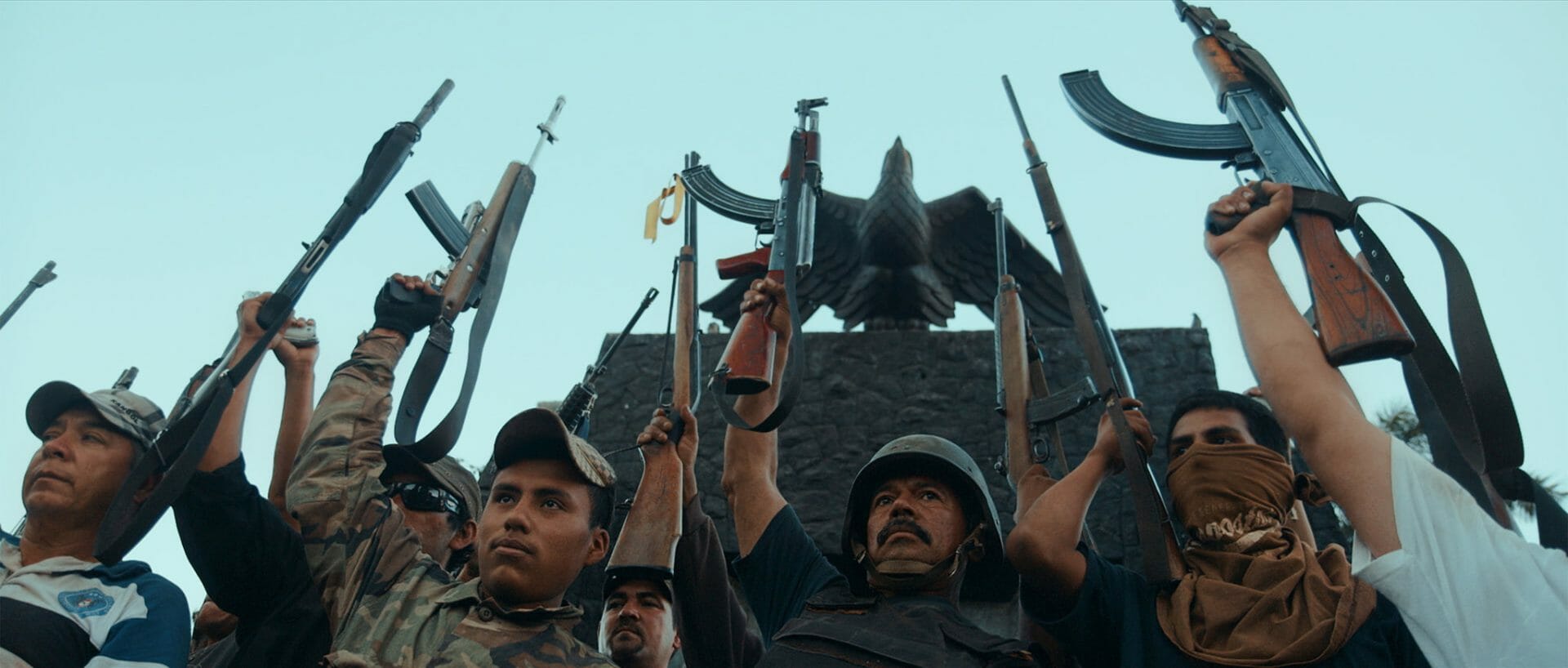 Director: Matthew Heineman
Writer: –
Cast: Timm Nailer Foley, José Manuel Mireles, Paco Valenci
IMDb Ratings: 7.3
Rotten Tomatoes Score: 90
Streaming Platform: Amazon Prime Video
The Mexican drug cartels have caused enormous violence over the years, which is apparent from watching shows like 'El Chapo' and 'Narcos: Mexico.'
Many Mexicans became tired of this constant threat in their lives and formed militias of their own to defend themselves.
In the first part of this documentary, one such militia was established in Michoacan by a doctor named Jose Mireles to fight against the Knights Templar Cartel. In the second part of the article, we see how a paramilitary group known as Arizona Border Recon tried to stop the cartel's operations in the United States.
This documentary gives us an insider's look at the lives of those tasked with fighting cartels instead of providing for their families.
The difficult conditions that the people in 'Cartel Land' endured are rawly portrayed, making it an unforgettable experience to watch. True Crime fans would enjoy this show.
25. Particle Fever
Director: Mark Levinson
Writer: NA
Cast: David Kaplan, Fabiola Gianotti, Sherwood Boehlert
IMDb Ratings: 7.4
Rotten Tomatoes Score: 96
Streaming Platform: Amazon Prime
The science nerd who hasn't seen this documentary would be doing themselves a great disservice. The movie Particle deals with cutting-edge physics ideas that may change how we see ourselves and the universe. 'Particle' has an interesting narrative structure that consists of two parts.
One concerns scientists at CERN, the Swiss particle accelerator, who are trying to make the Large Hadron Collider work to simulate the conditions of the Big Bang (behind the scenes) to understand better how the universe we see around us began.
This forum has two threads; one deals with experimental physics, and the other is about theoretical physics behind the scenes, with physicists Nima Arkani-Hamed and Savas Dimopoulos offering predictions of how the Big Bang occurred.
Multiverse theory and supersymmetry theory are among the topics they discuss.
24. City of Ghosts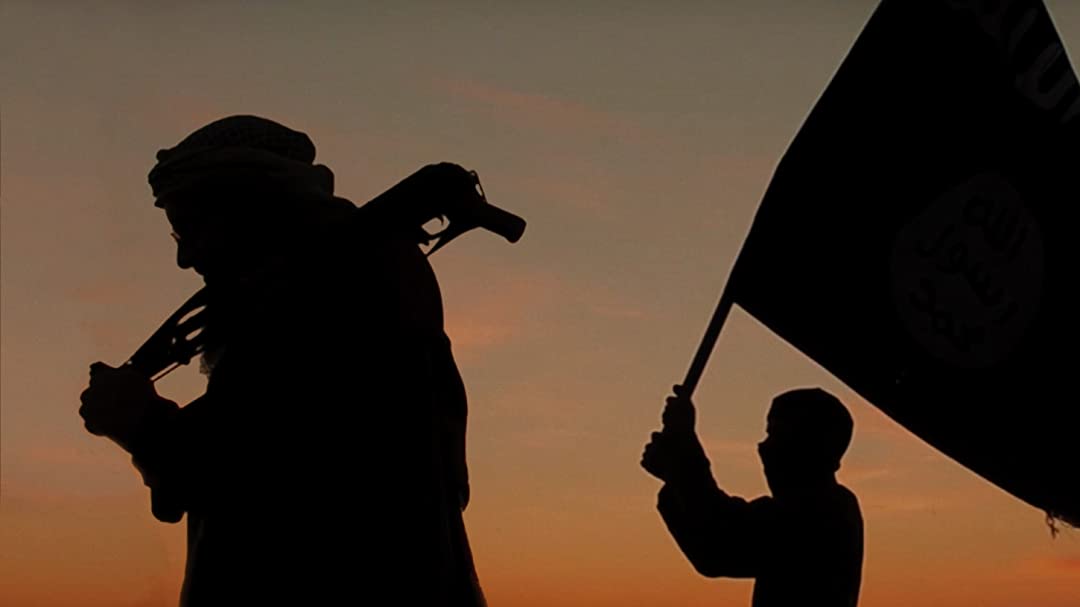 Director: Matthew Heineman
Writer: NA
Cast: Abdelaziz Alhamza, Mohamad Almusari, Hamoud Almousa
IMDb Ratings: 7.4
Rotten Tomatoes Score: 98
Streaming Platform: Amazon Video
For quite some time, the whole world has been aware of the situation in Syria. Syria's people suffered under ISIS' regime, trying to survive and break free from the people who wreaked havoc on their lives.
They had to endure irrational and lunatic methods of achieving their goal. It was from Raqqa that a citizen journalist group reported on ISIS' atrocities and relayed them to the world, which made it the de facto capital of ISIS.
The work of these researchers exposed a lot of surprises, but more importantly, they dispelled misconceptions surrounding the Syrians stuck inside the country.
'Raqqa Is Being Slaughtered Silently' is the name of this group. Throughout the documentary, the people who worked with this activist group are given a glimpse into their lives.
There is a good discussion of the risks involved in operating undercover, how some people had to flee for their lives, and how some were exiled from their land.
True Crime fans would enjoy this show.
23. Stories We Tell
Director: Sarah Polley
Writer: Sarah Polley, Michael Polley
Cast: Michael Polley, John Buchan, Mark Polley
IMDb Ratings: 7.5
Rotten Tomatoes Score: 94
Streaming Platform: Amazon Prime
A genre-twisting tale, The Truth Depends on Who Tells It tells the story of writer/director Sarah Polley – and the whole truth depends on who tells it. Filmmaker and detective Polley investigated The story of a family of storytellers.
She often obtains contradictory but refreshingly candid answers to the same questions by carefully interviewing and interrogating a cast of characters of varying reliability. You might not have seen anything like this before with home video footage.
Polley reveals her real father peel by peel in this highly personal film.
Polley's journey to find her biological father can sometimes feel intrusive, but it is handled with such light-heartedness, smoothness, and interest that you would want to be a part of it. It is one of the best Amazon Prime documentaries.
22. One Child Nation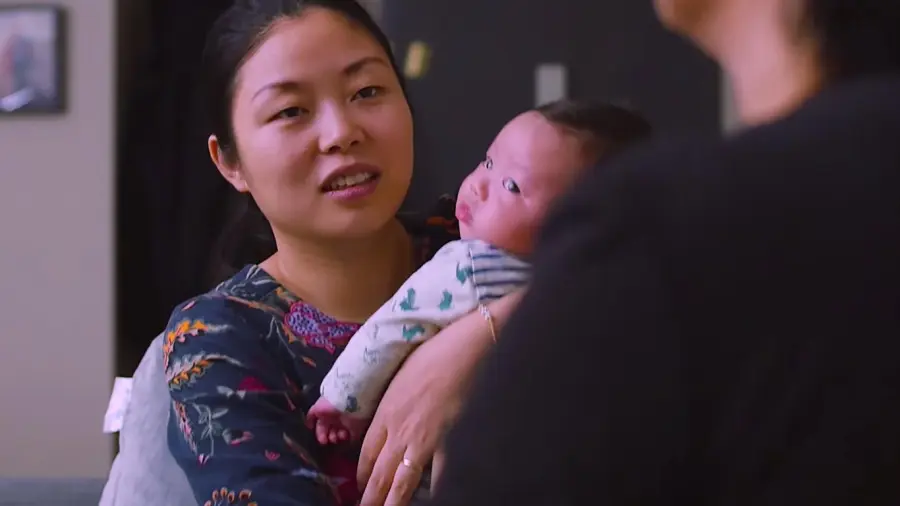 Director: Nanfu Wang, Lynn Zhang
Writer: NA
Cast: Nanfu Wang, Zaodi Wang, Zhimei Wang
IMDb Ratings: 7.5
Rotten Tomatoes Score: 98
Streaming Platform: Amazon Prime
Having become a mother herself, a filmmaker investigates China's untold history and how their generation of parents and children have been affected in One Child Nation.
Despite Nanfu Wang's first-person account of China's one-child policy, the extremely strict "family planning" mandate that was in operation from 1979 to 2015, and its repercussions continue both within China and internationally today, there is not much hope to be found.
Using personal memoirs and investigative journalism, Zhang reveals the history of China's one-child policy. Examining propagandistic and in-depth messages in featured artifacts reveals more about how China promoted subliminal messages to limit a rapidly growing population.
21. The Endless Summer
Director: Bruce Brown
Writer: Bruce Brown
Cast: Robert August, Michael Hynson, Lord James Blears
IMDb Ratings: 7.6
Rotten Tomatoes Score: 100
Streaming Platform: Amazon Prime
One of the most popular and exciting water sports is surfing. The sport is popular worldwide. While traveling and surfing might seem commonplace now, they were new and foreign when this documentary came out.
Through the lives of Mike Hynson and Robert August, Bruce Brown brought to life a new set of surfers' lives in his film The Endless Summer.
Through their travels, they found perfect surfing spots around the world. Witty humor follows Brown's crude narration during the film.
Traveling from California to the then-undiscovered and lesser-known surfing spots is entertaining and incites interest in surfing those spots. The title suggests traveling around the globe to chase the endless summer.
Also Read: The 35 Best Documentaries on Hulu to Watch Right Now
20. The Invisible War
Director: Kirby Dick
Writer: NA
Cast: Kirby Dick, Jessica Hines, Amy Ziering
IMDb Ratings: 7.6
Rotten Tomatoes Score: 99
Streaming Platform: Amazon Video
Keeping the balance in today's tumultuous world relies heavily on the Armed Forces. Their work helps bring peace to suffering areas of the world by saving people from atrocities.
A question comes into play when a section of the military suffers and, rather than being dealt with fairly, is silenced and even reprimanded.
'The Invisible War' depicts An account of sexual assaults in the US military.
Throughout the article, the author discusses the frequency of such things occurring, how often they remain unseen, how they remain in the shadows, and why it is so difficult for victims to receive justice despite the system they choose to serve.
19. Val
Director: Ting Poo, Leo Scott
Writer: NA
Cast: Val Kilmer, Jack Kilmer, Mercedes Kilmer
IMDb Ratings: 7.6
Rotten Tomatoes Score: 93
Streaming Platform: Amazon Prime
Based on the past, present, and future of actor Val Kilmer, Val is a self-portrait of the actor as he documents his own life. Jack narrates this documentary about his father's career with a voice reminiscent of his father's.
The actor shares his perspectives about his work, self-image, and life's work throughout the film, which he weaves with clips from the actor himself.
Kilmer's past fight with throat cancer is only a brief chapter in his career. (Their on-set arguments with John Frankenheimer and Joel Schumacher (Batman Forever ) are the stuff of legends.)
Val promises that he is much more than that. He sees his history as a retold story and is a spectator as this unfolds. The film sets aside the myths surrounding Kilmer and calls on the audience to view him differently.
18. Gonzo: The Life and Work of Dr. Hunter S. Thompson
Director: Alex Gibney
Writer: NA
Cast: Nanfu Wang, Zaodi Wang, Zhimei Wang
IMDb Ratings: 7.6
Rotten Tomatoes Score: 86
Streaming Platform: Amazon Prime
Dr. Hunter S. Thompson's documentary about Gonzo journalism fills the void left by Thompson's suicide in 2006. Thompson's erratic lifestyle is brought to life by Johnny Depp's voice.
The stories that prompted Thompson's boldness are rekindled by highlighting cornerstones in her life and are executive produced by Alex Gibney.
With the same freshness that made them unique, his adventures are revived with a new level of suspense.
However, the audio recordings that accompany them shine when recalling Thompson's most memorable moments, despite being exaggerated for the sake of the documentary.
17. The Central Park Five
Director: Sarah Burns, David Mcmahon, Ken Burns
Writer: Sarah Burns, David Mcmahon, Ken Burns
Cast: Antron McCray, Kevin Richardson, Kharey Wise
IMDb Ratings: 7.7
Rotten Tomatoes Score: 92
Streaming Platform: Amazon Video
Trisha Meili, a young woman, was jogging in Central Park when she was assaulted and raped by two men in April 1989. Trisha Meili was 28 at the time.
A teenager was charged with assault, robbery, rape, sexual abuse, and attempted murder after five young men were wrongly accused of suspected gang activity in the park that same night.
As a result of a media firestorm, the defendants were convicted of the crime amid the racism evident in courtrooms and on the front pages of the tabloids.
It places the central park five in the context of one of the most notorious crimes in recent memory, a decade after a second man confessed to the crime of domestic violence and their convictions were overturned.
A series of conversations between the Central Park Five and their onscreen counterparts explored how painful, proud, and emotional it was to revisit those fateful events thirty years later. This collection of condensed excerpts has been edited and condensed for clarity.
16.

Super Size Me
Year: 2004
Director: Morgan Spurlock
IMDb Rating: 7.2/10
Runtime: 98 minutes
In Super Size Me, director Morgan Spurlock describes his attempt to eat only McDonald's food for 30 days, including breakfast, lunch, and dinner, while doctors track changes in his vital signs. It's a subject that is getting more attention. As a society, we have created a device that saves us money today but costs us later through health expenses.
Also Read: 25 Best Documentaries on HBO Max To Watch Right Now
15. 4 Little Girls
Director: Spike Lee
Writer: Spike Lee
Cast: Spike Lee, Helen Pegues, Janie Gaines
IMDb Ratings: 7.8
Rotten Tomatoes Score: 99
Streaming Platform: Amazon Video
In the early days of the Civil Rights Movement, opposing forces were committing horrendous acts against activists to defeat their willpower. The Civil Rights Act of 1964 occurred after one such incident in 1963. The incident shocked the nation so much that it shook the entire country.
Was it a bad incident? And if so, how bad was it? The incident took place on September 15, 1963. Four girls were killed in the church when Ku Klux Klan members threw a bomb exploded. Director Spike Lee explores what happened before and after this event in this documentary.
Interviews with activists include Friends and family of the four girls and coverage of the main events and demonstrations.
While it shows how the incident had a historical and emotional impact, it also comments on how many things have changed and haven't changed since.
14. Sound City
Director: Dave Grohl
Writer: Mark Monroe
Cast: Trent Reznor, Tom Petty, Mick Fleetwood
IMDb Ratings: 7.8
Rotten Tomatoes Score: 100
Streaming Platform: Amazon Prime Video
Music is a vital part of everyone's life, regardless of age. While not everyone is into the same type of music, no matter what you enjoy, you will feel the same emotions when listening to it.
A place where music is equally as important as the music itself. This music documentary film is about a place where they make music. The story's focus is a recording studio called Sound City Studios, where some of the world's most celebrated artists and bands recorded some of their most famous music.
When Nirvana recorded the album Nevermind, drummer Dave Grohl decided to make this documentary here.
Mick Fleetwood, Paul McCartney, Stevie Nicks, Tom Petty, Rick Springfield, and Neil Young recorded their music in this film. This film has the added advantage of original songs and some covers of famous songs recorded by some of these musicians.
13. Requiem For The American Dream
Director: Peter D. Hutchison, Kelly Nyks, Jared P. Scott
Writer: Peter D. Hutchison, Kelly Nyks, Jared P. Scott
Cast: Noam Chomsky, Alan Greenspan, Malcolm X
IMDb Ratings: 7.8
Rotten Tomatoes Score: 100
Streaming Platform: Amazon Prime Video
A documentary devoted to Noam Chomsky's perspectives on society and the economic structure of modern societies is worthy of our attention when made by one of the world's most renowned philosophers.
A series of interviews with the great thinker is presented in 'Requiem For The American Dream,' he discusses how the market's policies have led to a certain section of society becoming richer and concentrating wealth among a select few over the years.
This documentary explains how this inequality has permeated society and eroded the middle class.
Chomsky shows us how it has crept into our lives. To comprehend how society has systematically been molded to put such enormous pressure on you and understand how student loans and standard of living influence you, a section about women's rights you can watch the documentary.
12. The Tillman Story
Director: Amir Bar-Lev
Writer: Amir Bar-Lev, Mark Monroe
Cast: Pat Tillman, Richard Tillman, Josh Brolin
IMDb Ratings: 7.8
Rotten Tomatoes Score: 93
Streaming Platform: Amazon Prime
Pat Tillman's life and death in Afghanistan are explored in "The Tillman Story." The film covers up the claims that the Taliban killed Tillman. In particular, critics praised it as an anti-propaganda piece that resulted in Tillman's death through "friendly fire." As a result, the film's release was overturned.
According to at least one of his fellow soldiers, Tillman died due to friendly fire. A week after Tillman's death, his family says they learned that he had passed on the fabrication to the military based on reports the government knew to be false.
11. Bill Cunningham New York
Director: Richard Press
Writer: NA
Cast: Bill Cunningham, Anna Wintour, Michael Kors
IMDb Ratings: 7.9
Rotten Tomatoes Score: 99
Streaming Platform: Amazon Prime
Throughout his life, Bill Cunningham took pictures of New York fashions in every part of the city, which he documented through his photographic collection.
As a photographer, he does not restrict himself to taking pictures of New York's elite but has also taken pictures of ordinary people in the street and how they carry their garments.
As audiences, we are bound to be drawn to his work due to his all-encompassing approach. The chief editor of Vogue, Anna Wintour, has stated that they all dress for Bill.
Also Read: The 30 Best True Crime Documentaries on Netflix Right Now
10. I Am Not Your Negro
Director: Raoul Peck
Writer: NA
Cast: Anthony Weiner, Sydney Leathers, Stephen Colbert
IMDb Ratings: 7.9
Rotten Tomatoes Score: 99
Streaming Platform: Netflix
Many things had happened in James Baldwin's time. Medgar Evers, Malcolm X, and Martin Luther King II were three of his closest friends in the Civil Rights Movement.
He wrote a book called 'Remember This House' before he died in 1987. In his book, he describes everything he saw during those turbulent times while interacting with activists. But, sadly, they didn't complete the book.
The song is based on an unfinished manuscript by the artist. A portion of the book would have comprised Baldwin's notes and letters, narrated by Samuel L. Jackson.
To illustrate how things have changed and how much reform is needed to improve things, the film draws a parallel between the events that occurred then and what is happening now.
9. Wasteland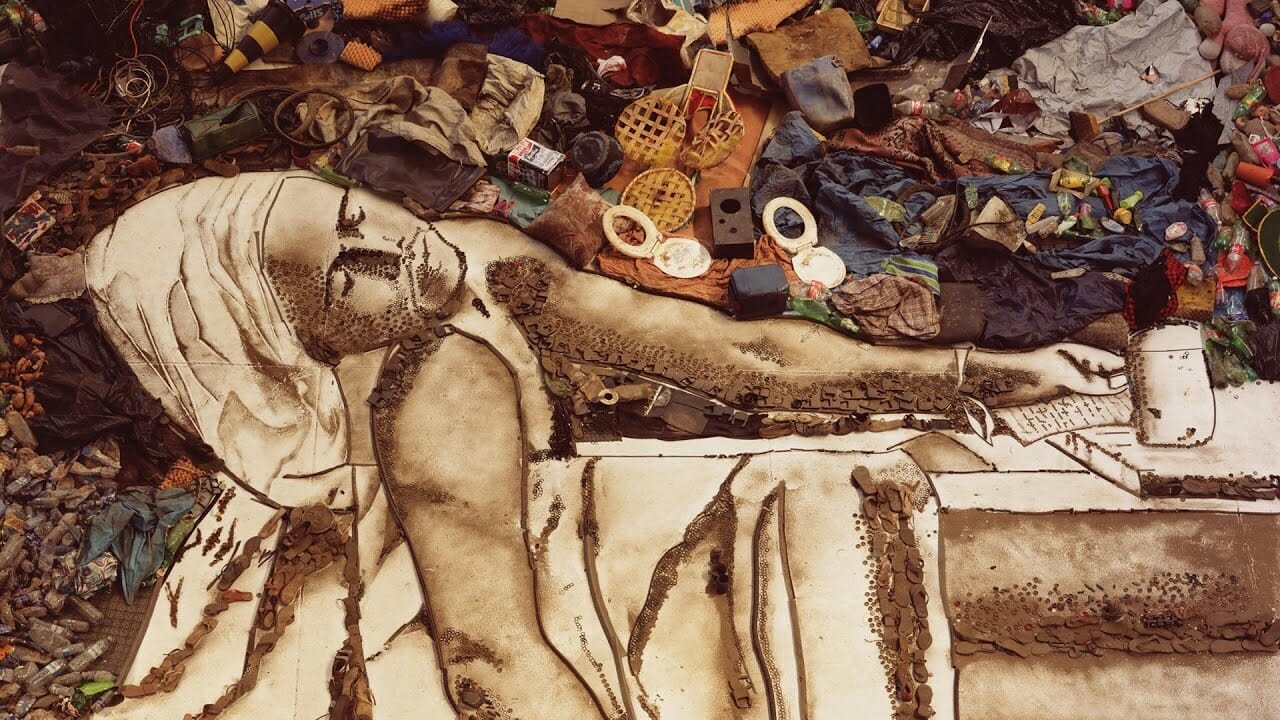 Director: Lucy Walker
Writer: Karen Harley
Cast: Vik Muniz
IMDb Ratings: 7.9
Rotten Tomatoes Score: 100
Streaming Platform: Prime Video
Some men and women earn their living sifting garbage at Jardim Gramacho, the world's largest landfill, on the outskirts of Rio de Janeiro. By drawing portraits of the workers, Vik Muniz discovers their lives.
Art transforms people and lives. This documentary explores the same. From the world's largest landfill to the heights of international stardom, contemporary artist Vik Muniz takes us on an emotional journey. Make sure you take part in this long strange trip of a documentary to get a lot of information on this.
Vik works with the brilliant catadores, performers of social anthropology who pick up recyclables in the garbage, showing us how we can upcycle goods and enlighten us about global warming too.
8. The Act of Killing
Director: Joshua Oppenheimer
Writer: Christine Cynn
Cast: Anwar Congo, Herman Koto, Syamsul Arifin
IMDb Ratings: 8.2
Rotten Tomatoes Score: 95
Streaming Platform: Amazon Video
Indonesia experienced a turbulent mid-60s period. It was a time of political upheavals and a wave of hatred towards the communist community.
Officials in high places committed one of the most atrocious acts after Indonesia underwent a regime change. They massacred the communists in large numbers.
It examines those horrendous acts and the people who committed them. A notorious death squad leader from North Sumatra was Anwar Congo. A filmmaker invited Joshua Oppenheimer to talk to him about what happened then.
The film's tone gradually shifts from a light comedy to a dark commentary, questioning the morality of those who do such things.
7. Paradise Lost: The Child Murders at Robin Hood Hills
Director: Joe Berlinger, Bruce Sinofsky
Writer: NA
Cast: Tony Brooks, Diana Davis, Terry Wood
IMDb Ratings: 8.2
Rotten Tomatoes Score: 100
Streaming Platform: Amazon Video
Robin Hood Hills was the site of the discovery of three bodies in May 1993. They stripped and sexually mutilated These women after hogtieing with shoelaces.
Three teenage boys carried out these brutal killings, making them all the more horrifying. According to them, the three victims were in some Satanic ritual.
This film covers what happened in the aftermath of that event. After the killers were arrested, the film proceeds with what happened in the aftermath.
It revealed the testimony of the parents of the victims and killers in the violent crimes along with the proceedings at the trial; the evidence handed down against the teens, how they behaved during the trial, as well as what they were served.
Furthermore, it considers the political and religious views of the society in which they lived. Two more documentaries dive into what later became known about the case and how it affected it.
6. Lucy & Desi: A Home Movie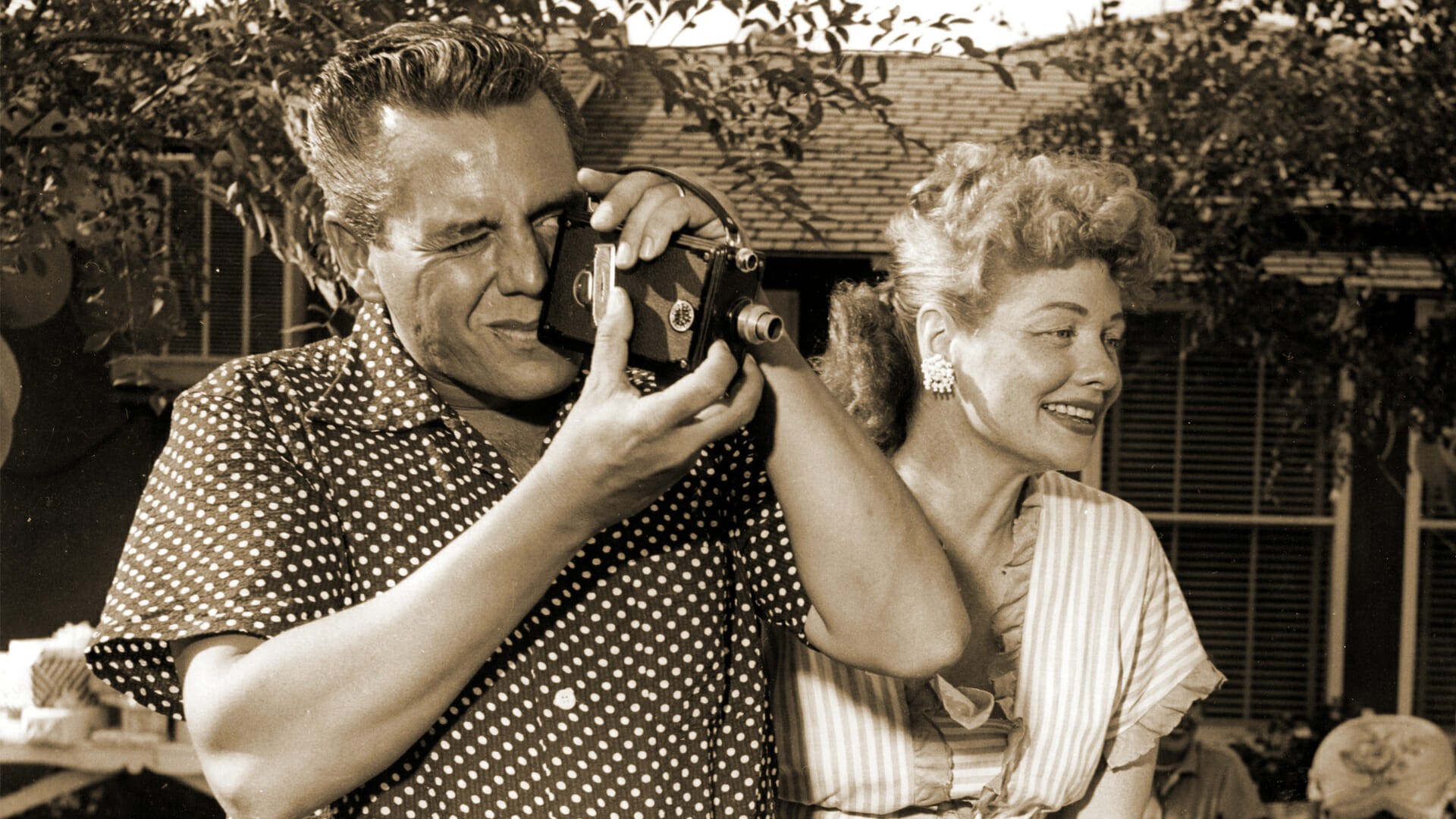 Director: Amy Poehler
Writer: Mark Monroe
Cast: Lucie Arnaz, Bette Midler, Carol Burnett
IMDb Ratings: 8.2
Rotten Tomatoes Score: NA
Streaming Platform: Amazon Prime
During this documentary, we will learn how Lucille Ball's partnership with Desi Arnaz forever changed Hollywood, insinuating the legacy of her groundbreaking show I Love Lucy long after she died in 1989.
Also Read: The 30 Best Music Documentaries Of All Time, Ranked
5. Gleason
Director: Clay Tweel
Writer: Clay Tweel
Cast: Steve Gleason, Mike Gleason, Scott Fujita
IMDb Ratings: 8.3
Rotten Tomatoes Score: 96
Streaming Platform: Amazon Prime
The National Football League's New Orleans Saints employed Steve Gleason. One of the most famous plays in his career was the blocked punt he made after Hurricane Katrina in 2006. When he was diagnosed with ALS in 2011, his life took a turn for the worse. Neurological disorders slow down the functioning of the nervous system.
The disease cripples the respiratory system and causes death in the most severe cases. Gleason decided to record his time as soon as he became aware of his problem.
His wife was pregnant at the same time. Gleason's battle with diabetes and his son's birth charts in the documentary.
The disease heavily affected Gleason's life, and he could have fallen into the pits it dug for him if he had fallen into them. He held onto certain things, and this film shows where and how he found strength and used it in his life.
4. Dear Zachary: A Letter to A Son About His Father
Director: Kurt Kuenne
Writer: Kurt Kuenne
Cast: Kurt Kuenne, Kathleen Bagby, Earlene Bagby, Bob Bagby
IMDb Ratings: 8.4
Rotten Tomatoes Score: 95
Streaming Platform: Amazon Prime
Dear Zachary is a tearjerker that tells the story of Andrew Bagby, a long-time friend of the filmmaker who goes on a mission to create a video diary of sorts for a little boy who will never meet his father and is chasing happiness.
3. The Cove
Director: Louie Psihoyos
Writer: Mark Monroe
Cast: Richard O'Barry, Louie Psihoyos, Hardy Jones
IMDb Ratings: 8.4
Rotten Tomatoes Score: 95
Streaming Platform: Prime Video
An activist group led by famous dolphin trainer Ric O'Barry infiltrates a cove near Taijii, Japan, with state-of-the-art equipment to expose both a shocking practice of animal abuse and serious health hazards.
The film, directed by O'Barry, follows the filmmaker Louie Psihoyos as he attempts to expose one of the cruelest acts committed against wild dolphins in Taiji, Japan, where dolphins are routinely corralled either for sale in aquariums and marine parks or slaughtered for meat.
An incredibly brave tale of the atrocities committed against dolphins, 'The Cove', this film offers thrilling and heartbreaking simultaneously – so much so that the filmmakers risked their safety for almost an Oscar-winning documentary. This two-hour chronicle has fans' love.
2. When the Levees Broke: A Requiem in Four Acts
Director: Spike Lee
Writer: Spike Lee
Cast: Darleen Asevedo, Jay Asevedo, Shelton Shakespear Alexander
IMDb Ratings: 8.5
Rotten Tomatoes Score: 94
Streaming Platform: Amazon Video
Hurricane Katrina inundated About 80% of New Orleans in 2005. This documentary features Spike Lee interviewing residents of New Orleans on the impact of Hurricane Katrina, its effects, and the aftermath. Several levees and floodwalls failed, causing most of this destruction.
The hurricane was supposed to protect the city, but the storm's destructive force consumed the city when the walls crumbled. It focuses mainly on this topic in 'When the Levees Broke.'
It attempts to identify where things went wrong and what might have been done to prevent it by interviewing people involved on different levels with the construction and functioning of the levees.
What makes it more powerful is the indomitable spirit and indomitable will of the people of New Orleans to rebuild themselves and their city. It had a nomination for Best Documentary Feature at the Academy Awards.
1.

Muscle Shoals
Year: 2013
Director: Greg "Freddy" Camalier
Genre: Documentary, Music
IMDb Rating: 7.8/10
Runtime: 1111 minutes
Freddy Camalier's accomplished Muscle Shoals is a documentary that chronicles the birth and heyday of Muscle Shoals, Alabama's recording industry. This small town improbably and irrevocably altered the course of rock 'n' roll.
Camalier, a first-timer, is undoubtedly a natural storyteller, but the documentary offers much more than meets the eye.
The cinematography is lush and beautiful, the editing is precise and sharp, and it alternately manages to be heartbreaking, inspiring, wry, thought-provoking, nostalgic, and genuinely funny. Simply put, it's a stunning debut picture.